Professor Paul Kind, University of Leeds, led the International Centre for Health Economics, Management and Policy seminar at the HSE St Petersburg.
30 October  2015
The QS University Rankings: EECA 2015 was published on October 21, assessing universities from 30 countries in Emerging Europe and Central Asia for 150 coveted positions in the ranking. Over the past year, the Higher School of Economics has gone from 37th place to 31st, improving across all metrics

HSE in Rankings
21 October  2015
HSE St Petersburg initiated and organised an international conference on Minorities and Conflicts: Asian and African States in the Modern World.  Academics from Russia, South Korea, South Africa, Turkey and Armenia gathered for the event on 9th and 10th October.
12 October  2015
Russia will be able to overcome current economic problems if it adopts a combination of fiscal discipline, regulatory restraint, and institutional capacity building, according to the World Bank, which published Russia Economic Report 34: Balancing Economic Adjustment and Transformation at the end of September. Its main author and World Bank Lead Economist for the Russian Federation, Birgit Hansl, presented the report during a briefing organized by HSE St. Petersburg and American Chamber of Commerce. 30 managers of leading consulting, financial, and recruiting companies, as well as foreign mission and higher education representatives, participated in the event.
8 October  2015
Samrat Sil, a student from Presidency University in Kolkata, India is currently studying on the Master's programme in Applied and Interdisciplinary History at HSE St. Petersburg. In an interview with the HSE News Service, Samrat told us about his studies and the reasons why he would recommend every history student to take the opportunity to head to HSE St. Petersburg.
8 October  2015
The beginning of a new academic year is a good time to tell your classmates about your summer holidays. We asked the participants of our international Summer School "Russian Studies: Identity and Political Culture" to share their experiences.
4 October  2015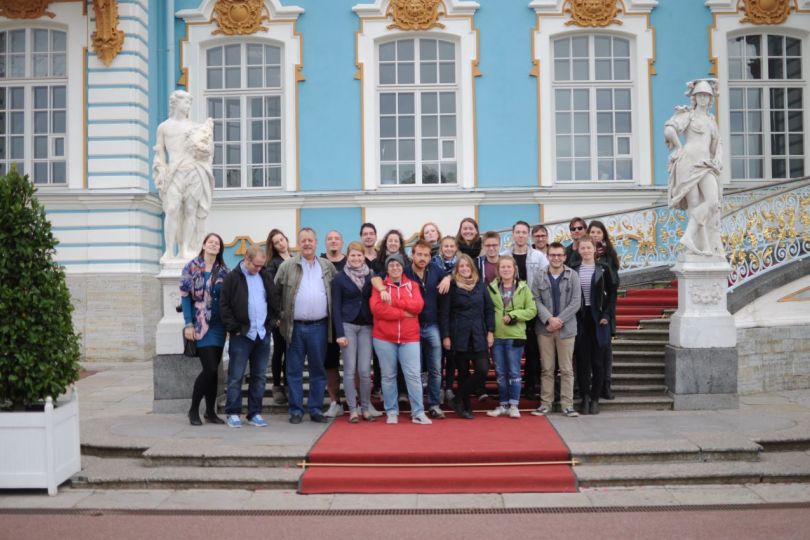 The International Summer School organized by the History Department of HSE St. Petersburg in partnership with German Academic Exchange Service (DAAD) has finished. On the 29th of September 22 students from17 German universities, who had come to Saint Petersburg to study Russian history, culture and language, received their certificates of participation in the programme. The next day they set off for home taking with them their unique experience of studying in the most beautiful Russian city, new ideas and understanding of this country and its people.
2 October  2015
From September 15 to 18, 2015, a delegation from HSE took part in The Annual EAIE Conference for the second time. This year international experts in higher education gathered in Glasgow.
30 September  2015
The International Laboratory for Comparative Social Research (LCSR) was established in 2010 in the first wave of a competition for government mega-grants to attract major academics from abroad to Russian universities. The famous American sociologist and political scientist Ronald Inglehart, Founding President of the World Values Survey and professor at the University of Michigan, became the laboratory's first Academic Supervisor.  
30 September  2015
Artyom Sedov, a student of HSE in St. Petersburg is currently pursuing his Master's Programme in Marketing Technologies. Aside from studying, he is also participating in the volunteer programme called "Student Buddies" — using his free time to help international students with everyday issues. Artyom gave an interview to the HSE news service about the buddy network.
28 September  2015