Samrat Sil, a student from Presidency University in Kolkata, India is currently studying on the Master's programme in Applied and Interdisciplinary History at HSE St. Petersburg. In an interview with the HSE News Service, Samrat told us about his studies and the reasons why he would recommend every history student to take the opportunity to head to HSE St. Petersburg.
8 October  2015
The beginning of a new academic year is a good time to tell your classmates about your summer holidays. We asked the participants of our international Summer School "Russian Studies: Identity and Political Culture" to share their experiences.
4 October  2015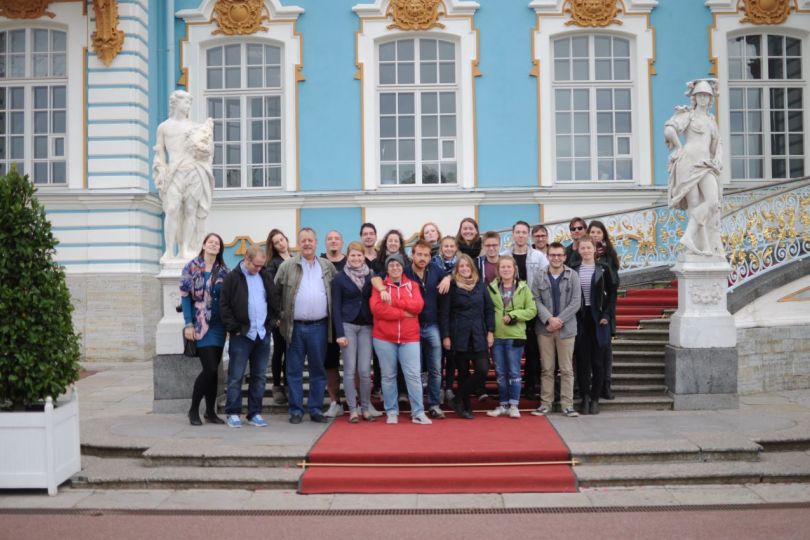 The International Summer School organized by the History Department of HSE St. Petersburg in partnership with German Academic Exchange Service (DAAD) has finished. On the 29th of September 22 students from17 German universities, who had come to Saint Petersburg to study Russian history, culture and language, received their certificates of participation in the programme. The next day they set off for home taking with them their unique experience of studying in the most beautiful Russian city, new ideas and understanding of this country and its people.
2 October  2015
From September 15 to 18, 2015, a delegation from HSE took part in The Annual EAIE Conference for the second time. This year international experts in higher education gathered in Glasgow.
30 September  2015
The International Laboratory for Comparative Social Research (LCSR) was established in 2010 in the first wave of a competition for government mega-grants to attract major academics from abroad to Russian universities. The famous American sociologist and political scientist Ronald Inglehart, Founding President of the World Values Survey and professor at the University of Michigan, became the laboratory's first Academic Supervisor.  
30 September  2015
Artyom Sedov, a student of HSE in St. Petersburg is currently pursuing his Master's Programme in Marketing Technologies. Aside from studying, he is also participating in the volunteer programme called "Student Buddies" — using his free time to help international students with everyday issues. Artyom gave an interview to the HSE news service about the buddy network.
28 September  2015
Professor Ronald G. Suny, head of the international research project "Comparative Historical Studies of Empire and Nationalism", celebrated his 75th birthday on September 25th! His colleagues at HSE St. Petersburg at the Department of History and Center for Historical Research wish Professor Suny every success in his work and many happy returns of the day.
28 September  2015
Lukas Geyer, a free-mover student from the University of Bayreuth in Germany, is currently studying in the Bachelor's programme in Economics at HSE St. Petersburg. Lukas recently spoke to the HSE news service about his studies and connections to Russian culture.
24 September  2015
On September, 8th the HSE St Petersburg's History Department opened a new Summer School on "The Topography of Imperial Power: the Political Space of St. Petersburg".
17 September  2015
Seongsoo Choi, PhD in sociology and Junior Fellow at the Center for Research on Inequalities and the Life Course (CIQLE), Yale University, will begin teaching in his new role as Assistant Professor of Sociology at the HSE St. Petersburg campus in September. He spoke to the HSE English News service about his research in social inequality, about the work he will be doing at HSE St Petersburg and about being a part of the international academic community.
1 September  2015