Olga Okulova, Director of the International Office at the HSE in St. Petersburg, spoke with the HSE news service about the university's student exchange programme, as well as about the HSE's partners, international projects and the future plans of the International Office.
1 August  2014
From July 7 – 13, 2014, the Laboratory of Economics of Culture at the HSE in St. Petersburg held an International Summer School 'Impacts of Cultural Events on Small and Medium-size Art-oriented Towns' (ICE – SMART). This was the first summer school organized as part of the master's programme 'Experience Economy: Hospitality and Tourism Management'.
22 July  2014
Experts from the HSE Centre of Youth Studies in St. Petersburg presented the results of research about young people in 14 European countries, including Russia. The study was part of an international project MYPLACE: Memory, Youth, Political Legacy and Civic Engagement.
18 July  2014
The HSE Faculty of History in St. Petersburg will be joined by two world-class experts. Sergey Glebov, lecturer at Amherst College and Smith College (Massachusetts, USA), and Nathan Markus, researcher at the Hebrew University in Jerusalem Department of Economics, will start teaching at the HSE in September. These appointments are part of the university's international recruitment programme.
18 July  2014
The International Summer School, 'Impacts of Cultural Events on Small and Medium-size Art-oriented Towns,' has begun.
9 July  2014
On June 11th, 2014 Tomáš Sedláček, Czech economist and author of Economics of Good and Evil  and Homo Economicus gave a lecture at a joint seminar of the International Centre for Social and Economic Research 'Leontief Centre' and the HSE in Saint Petersburg.
16 June  2014
On June 5, research fellows at the HSE Laboratory for Comparative Social Research (LCSR) took part in the 3rd International Conference 'Business Ethics and National Models of Behavior', which was held at the Saint Petersburg State University of Economics and Finance. 
5 June  2014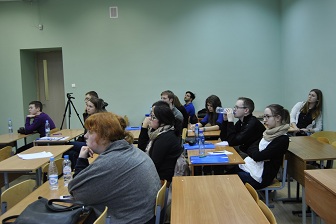 Public lecture by Prof. Raymond Taras "The politics of fear and the making of foreign policy: case studies fom Europe"
Public lecture by Prof. Eduard Ponarin "Happiness in Russia in Comparative perspective" 
Public lecture by Associate Prof. Simo Mikkonen "History as interpretation: from national to transnational history"
19 March  2014
Professor of political and social history of the University of Michigan Ronald Suny held   a public lecture at the joint session of the seminar "Boundaries of History" of the Faculty of History and Center for Historical Research, and the Laboratory for Comparative Social Research, Higher School of Economics in St. Petersburg on March 13, 2014.
17 March  2014
Workshop of the Professor of the Faculty of Sociology, Higher School of Economics - Saint-Petersburg, Dr. Eduard Ponarin

February, 11, 2014 at 15.00 Saint-Petersburg, Soyuza Pechatnikov, 16
The lecture will become a part of International Week of HSE – St.Petersburg and Winter School for Prospective Students.
4 February  2014