The National Research University – Higher School of Economics (HSE) and King's College London, United Kingdom, are pleased to announce a new Erasmus+ academic exchange and mobility programme for students, researchers and staff for the 2016/17 academic year.
14 April  2016
On February 26th, 2016, an Investment Session business simulation game was carried out in English as part of the Performance Management course. 
29 February  2016
Interested in learning more about international programmes at HSE? Open House events are being held across HSE campuses in Moscow, St. Petersburg and Nizhny Novgorod. Prospective students and their parents are invited to attend and learn about HSE's English-taught education programmes.
26 January  2016
Since 2013, the German Academic Exchange Service (DAAD) has cooperated with HSE. This year, a record number of scholarship places will be available for German students to study in HSE short-term programmes through the Go East initiative.
12 January  2016
The Department of History is pleased to announce an intensive course of Professor Ronald G. Suny, (University of Michigan and the Head of the International Research Project "Comparative Historical Studies of Empire and Nationalism" of the HSE University in Saint-Petersburg) "Russia's Empires. Thinking About Empire" for undergraduate and graduate students.
16 November  2015
The QS University Rankings: EECA 2015 was published on October 21, assessing universities from 30 countries in Emerging Europe and Central Asia for 150 coveted positions in the ranking. Over the past year, the Higher School of Economics has gone from 37th place to 31st, improving across all metrics

HSE in Rankings
21 October  2015
Samrat Sil, a student from Presidency University in Kolkata, India is currently studying on the Master's programme in Applied and Interdisciplinary History at HSE St. Petersburg. In an interview with the HSE News Service, Samrat told us about his studies and the reasons why he would recommend every history student to take the opportunity to head to HSE St. Petersburg.
8 October  2015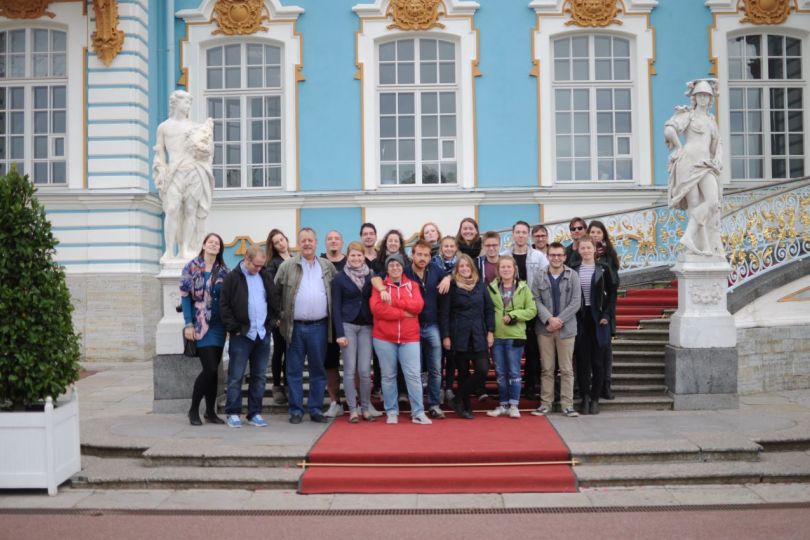 The International Summer School organized by the History Department of HSE St. Petersburg in partnership with German Academic Exchange Service (DAAD) has finished. On the 29th of September 22 students from17 German universities, who had come to Saint Petersburg to study Russian history, culture and language, received their certificates of participation in the programme. The next day they set off for home taking with them their unique experience of studying in the most beautiful Russian city, new ideas and understanding of this country and its people.
2 October  2015
From September 15 to 18, 2015, a delegation from HSE took part in The Annual EAIE Conference for the second time. This year international experts in higher education gathered in Glasgow.
30 September  2015
The Bachelor's programme in Economics  and the Master's programme in Finance at HSE in St. Petersburg have successfully gained accreditation from the Association of Chartered Certified Accountants (ACCA). Graduates of the bachelor's programme will now be exempt from two and Graduates of the master's programme, from four ACCA exams.
13 August  2015