On May 18, 2023, HSE University and the University of Technology Malaysia signed an agreement on scientific and educational cooperation at the XIV International Economic Forum 'Russia—Islamic World: KazanForum'. The agreement was signed by HSE Rector Nikita Anisimov and UTM Vice Chancellor Ahmad Fauzi bin Ismail.
19 May
HSE University-St Petersburg actively continues to develop ties with Indian universities, expanding the pool of its partners for mobility and academic exchange programmes.
16 May
On April 20, the conference 'CIBA: Creative Industries. Business. Art' took place. It was organised by students of the Master's programme 'Arts and Culture Management' in cooperation with the New Stage of the Alexandrinsky Theatre. The event was attended by 225 people, and the online broadcast on the VK social network had more than 230,000 views.
24 April
In April, HSE University-St Petersburg held its fifth International Model United Nations conference. For the first time since 2019, it was held in person. More than 140 participants were in attendance, including experts, university students and schoolchildren.
21 April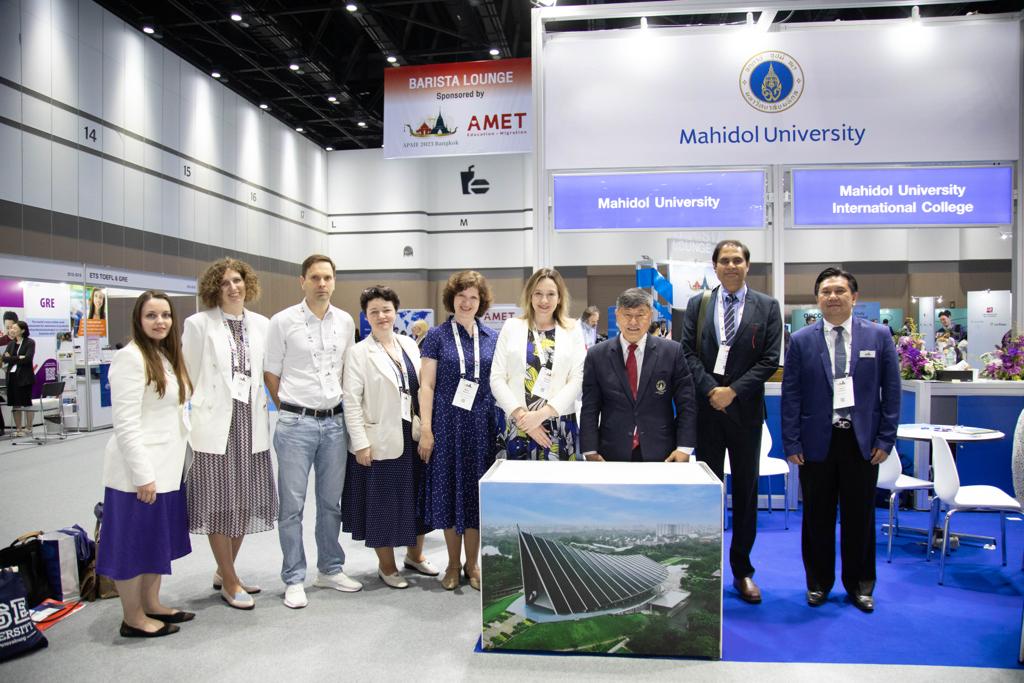 In mid-March 2023, a delegation of HSE University attended APAIE, a major annual educational conference held in Bangkok. At the conference, the HSE representatives organised a session, conducted negotiations with several universities, and met with high-ranking officials from government agencies and international organisations. Furthermore, during the conference, HSE signed a cooperation and student exchange agreement with Mahidol University, one of Thailand's top national research universities. The cooperation agreement applies to all HSE University campuses.
5 April
On March 17-18, HSE University-St Petersburg hosted the third scientific conference of students and PhD students 'Current Research Problems in Asian and African Countries'. The conference welcomed 96 research fellows and students from more than 20 universities in Russia and other countries. Find out how the conference went and what impressions of it the participants have in the article.
21 March
For two months, first-years will work closely with the programme's partners. Among them are VK, 'Gazprom', 'Sberbank', Tele2, 'Business Solutions and Technologies', 'Technologies of trust', Kept, 'Samolet', Setl City, 'Geropharm', 'Northern Capital Gateway', Alexandrinsky Theatre, Fabergé Museum, 'Bookvoed' and many others. This is the first fieldwork for students. The projects presentation will take place at the end of May.
15 March
On February 2, the building on Promyshlennaya Ulitsa hosted the opening of the exhibition 'From HÓDMEZŐVÁSÁRHELY to MOSONMAGYARÓVÁR: A Typographic Journey around Hungary'. The exhibition showcases lettering compositions devoted to ten Hungarian cities and created by students of the HSE University-St Petersburg Art and Design School. The opening ceremony was attended by the director of the Hungarian Cultural Centre and the science and technology attaché of the Embassy of Hungary in the Russian Federation.
8 February
During the weekend, on February 4-5, HSE University-St Petersburg held the Winter School for which 3194 people had registered. Prospective Master's students had a chance to learn more about studies in the programmes, listened to interesting lectures from professors and business experts, and even ask Eugene Vodolazkin, a famous writer, their questions. Find out how these two days went in the article.
7 February
Central Asian Survey, published by Taylor & Francis, is the leading international peer-reviewed, multi-disciplinary journal concerned with the history, politics, cultures, religions and economies of Central Asia and the Caucasus. Oleg Korneev, Associate Professor at the Department of Political Science and International Affairs, HSE University-St Petersburg, co-edited the special issue 'EU–Central Asian Interactions: Perceptions, Interests and Practices' together with his colleagues Rick Fawn (University of St Andrews) and Karolina Kluczewska (University of Ghent).
3 February