On January 25 the opening ceremony of the German section of the Richard Stites memorial library was held at HSE St. Petersburg. With the Deutsche Forshungsgemeinschaft (DFG) support and help from Department of History Associate Professor Dietmar Wulff more than 150 new books were added to the library's collection. In addition to classic editions of modern German historiography and fundamental works on all areas of history, the German collection is in line with the History Department's main research directions, such as the history of empire and nationalism, and technological and environmental history.
1 February  2017
In 2016, HSE – St. Petersburg's master's programme in Finance was included among a prestigious consortium of European universities on the International Masters in Economy, State, and Society (IMESS) project, thus opening new avenues for cooperation between HSE and well-known universities across Europe. The programme is accredited by the Association of Certified Professional Accountants (ACCA) for Financial Management, and within this specialty has established a double-degree track with University College London (UCL). Master's programme's full compliance with the international standards of ACCA, PRMIA (Professional Risk Manager), and GARP (Financial Risk Manager) provides its graduates with excellent career prospects at international companies. Professor Elena Rogova, Dean of HSE St.Petersburg School of Economics and Management and Academic Supervisor of the programme, has talked to HSE News Service about its distinguishing features and the benefits it offers.
30 January  2017
Living in a globalized world, we usually associate fast food with such brands as McDonalds, KFC, and others. However, Russians have their own fast food and cheap places to eat traditional local food. Geoffrey Jouanno, an exchange student at HSE St Petersburg has put together a non-exhaustive list of some of the places that can be found in St Petersburg.
30 January  2017
Moving to another country is always a challenge. But when it comes to moving to Russia, this challenge is particularly interesting. Teodora Delcheva, an exchange student from University College London explores eight myths about Russia and how they compare to reality.
20 January  2017
HSE launches its new graduate programme, Comparative Politics of Eurasia. To understand just why Russian and international students and academics are taking notice, we spoke with Academic Supervisor, Dr. Dmitry Goncharov, who shows how the demand for specialists is pushing growth in this field.
16 January  2017
On December 12-13 a research round table 'Citizen Participation in Municipal Management and Civil Society' was held in Malmö, Sweden. Lecturers from the HSE's Department of Political Science presented their reports and discussed future cooperation with their colleagues at the event.
12 January  2017
Professor Sergey Kadochnikov, Director of HSE St. Petersburg, summatizes the outcomes of 2016 for the university, its staff and students, and announces a strategy for the upcoming years.
28 December  2016
At the end of December 2016, Yerevan State University, Armenia, hosted the Higher School of Economics in St. Petersburg. 
26 December  2016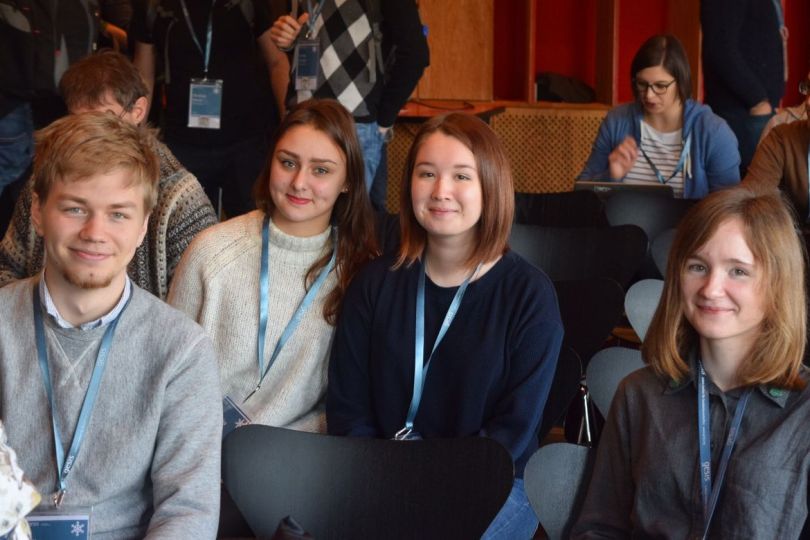 On November 30 - December 1, 2016,  twelve bachelor's students from educational programmes in Sociology and Social Informatics, Asian and African Studies, Logistics and Supply Chain Management and Economics and HSE lecturers Daniil Aleksandrov, Alena Suvorova, and Ilya Musabirov took part in the Winter Symposium in Computational Social Science held in Cologne.
15 December  2016
On December 2, 2016 a traditional Culture Day was held at HSE St. Petersburg. Students from 21 countries took part in this colorful and enjoyable celebration. International students organized competitions and performances and cooked traditional food in order to showcase their home countries' unique cultures. The organizers say over 500 people attended the event.
6 December  2016