The Master's programme "Experience Economy: Hospitality and Tourism Management" is considered to be practice-based. It gives students the opportunity to understand and experience the reality of the hospitality and tourism industries.
20 February  2018
On February 9, HSE University – St. Petersburg opened its doors to students of the Higher School of Equality, an organization originally established on the Moscow campus. Ekaterina Guzieva, member of the Free Edition, who attended opening ceremony, explains what Higher School of Equality will do in St. Petersburg and why it should be attended by everyone who wants to engage in the scientific issues of gender equality and equity.
16 February  2018
Second-year student on the programme 'Applied and Interdisciplinary History. Usable Pasts' Sofia Chernysheva shares her experience of spending an exchange semester at the Masaryk University (Brno, Czech Republic).
30 January  2018
The results of the 2017 Best Student Scientific Research Competition (NIRS) have been announced. We take this opportunity to name and honour the winners, the runners-up, and their academic supervisors.
15 January  2018
HSE Saint Petersburg appreciates its students' talents and is supportive of all the initiatives. The students, in their turn, are ready to share their inspiration with their alma mater. Daria Yudina gifted HSE Saint Petersburg Kantemirovskaya building with her painting.
15 November  2017
Students of the BA programme in History at the Higher School of Economics in St. Petersburg together with the professors of the Department of History went on a field trip to Germany. Students together with Alexander Semyonov, Anton Kotenko and Dietmar Wulff visited Bonn University, Martin-Luther-University Halle-Wittenberg, and University of Leipzig. The field trip was supported by the DAAD (German Academic Exchange Service). The theme of the trip was 'The Empire in a Global History'.
17 July  2017
This spring, a group of academics and students of the School of Economics and Management at HSE St. Petersburg, headed by Professor Vladimir Matveenko, received a grant from the Russian Foundation for Basic Research (RFBR). The outcome of their effort: scientific reports prepared by Economics students in the fourth year Maxim Bakhtin and in the third year Yulia Skoblova were selected to participate in the Second International Workshop "Networks, Complexity, and Economic Development" conducted by the Hungarian Academy of Sciences. In a month, Maxim and Yulia will visit Budapest to present their work.
5 May  2017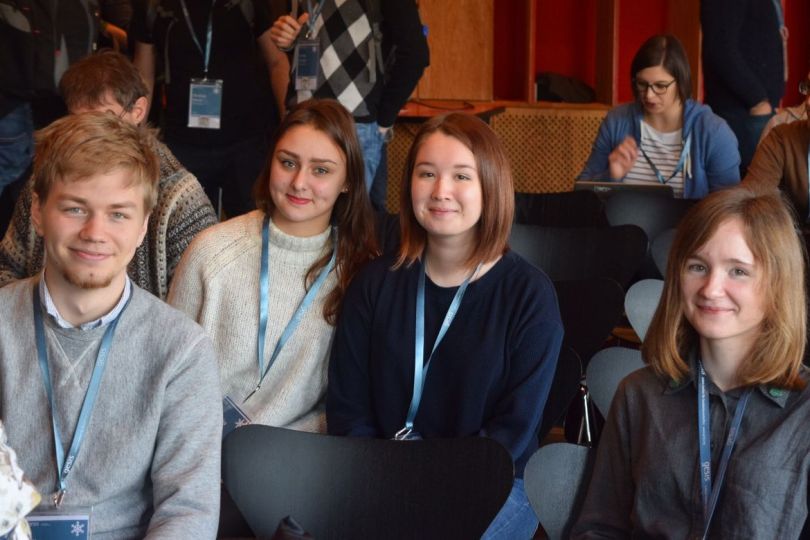 On November 30 - December 1, 2016,  twelve bachelor's students from educational programmes in Sociology and Social Informatics, Asian and African Studies, Logistics and Supply Chain Management and Economics and HSE lecturers Daniil Aleksandrov, Alena Suvorova, and Ilya Musabirov took part in the Winter Symposium in Computational Social Science held in Cologne.
15 December  2016
David from Ghana and Samrat from India first met at HSE in St. Petersburg, where both are doing their Master studies in Applied and Interdisciplinary History. HSE student Julia Nikolaenko interviewed David and Samrat about their academic background and research, reasons for choosing HSE for master studies and of course about their life in Russia. 
26 July  2016
From June 30 to July 6 the Web Science Summer School 2016 was held at the University of Koblenz (Germany). The event was dedicated to the Internet and social media studies. Alina Bakhitova, who is studying Sociology and Social Informatics, took part and shares her impressions of the event. 
15 July  2016