Student Handbook for First-Year Students: What, Why, and How
With the new academic year starting, first-year students of HSE University-St Petersburg have lots of questions about different aspects of student life. They can find answers to all these questions in the Student Handbook.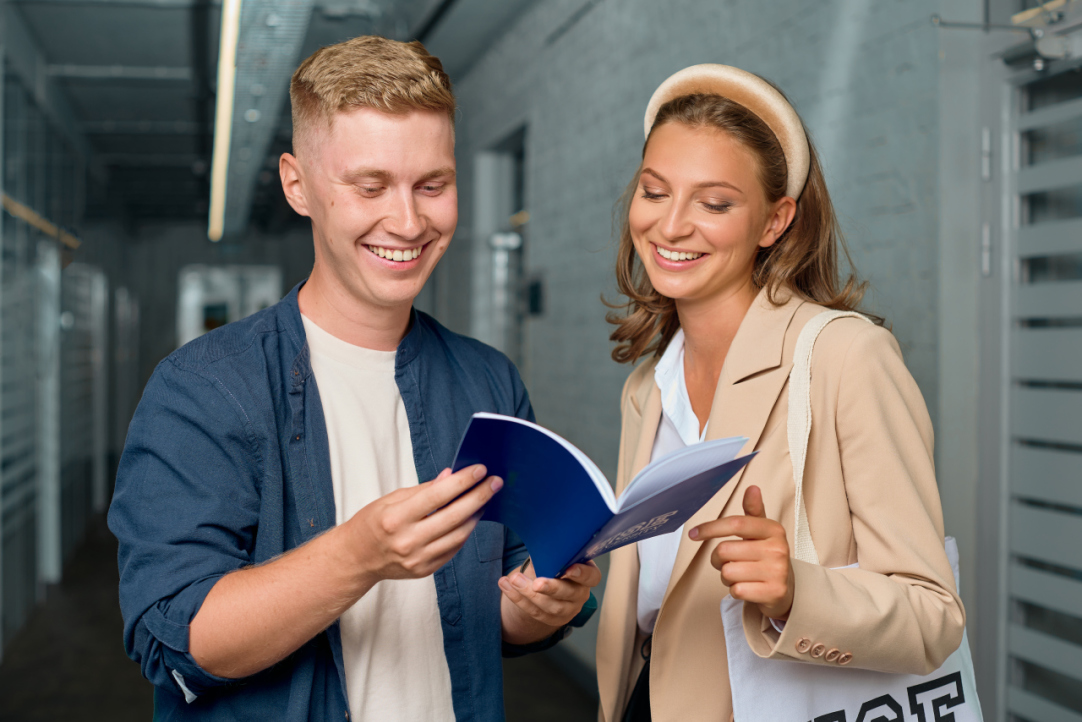 The Student Handbook is a guide to the university's educational process, extracurricular life, and the opportunities the campus provides. It has 11 sections covering all aspects of student life to help new arrivals find their feet. Where can I confirm my schedule? What clubs can I join? How can I apply for an academic mobility programme? The answers to all these questions are in the handbook.
The handbook's mascot is Whyer ('Pochemuchka'). He is very kind, keen on football, and studying to be an economist. Whyer was created by Anastasia Udovenko, a third-year student of the Bachelor's programme in Design.
I have questions about the educational process—who can I ask?
Study offices are responsible for organising the educational process. Each educational programme has its own study office. You can ask them any question related to studies, such as how to transfer to a state-funded place, get a scholarship, or pay for a semester. The study office also issues certificates and helps to restore access to your university email.
But that's not all. You can read more about the study offices in the Studies section of the handbook. There, first-year students can also find full information about the educational process, including who their group leaders ('starosta') and curators are, what information systems students use, and what time classes start.
Can I get involved in science and research during my studies?
HSE University-St Petersburg has 20 scientific units which students can join even during their first year. In order to do this, a student should find and apply to a laboratory or research centre that corresponds to their interests. The research topics are very diverse: for example, students can examine how people interact with information, how complex political systems work, or how to improve artificial intelligence algorithms. Read more here.
Can I go on an exchange programme abroad?
The short answer is yes. All students have a chance to spend one semester or a whole academic year abroad at one of our partner universities. To qualify, students must meet several criteria: have good grades and study in the second, third or fourth years. Read more here.
I have already started thinking about my future job—is it too early?
No, it isn't! The campus has a Career Centre which engages in career education for students from their first year. The centre holds events where students can learn more about various professions and market trends. It also helps students develop essential soft skills and aids in the employment of senior students. You can learn more about how they do it here.
I am an international student. Where can I get help if I have any problems?
All the campus staff interact both with Russian and international students. For example, you can ask the study office of your educational programme about your studies. However, if the question is not about the educational process, accommodation, migration registration or your visa, you should contact the Centre for International Student Support. They will help to solve your issue or offer advice about what to do next. Read more here.
What can I do on campus apart from studying?
We tried counting all the activities HSE University offers to its students, but we lost count. Fortunately, there's a section about it in the Student Handbook: it is called Student Life. Students can try out the drama club or the sailing club, write articles for the magazines, take part in archaeological expeditions, and join the debate club or the Centre for Innovative Entrepreneurship. But that is not all—there are so many clubs that everyone will find something to their liking!
Can I buy lunch on campus?
Each HSE building has a dining hall offering set lunches and various quick meals. The university buildings also have coffee shops where you can treat yourself to fresh pastries and drink good coffee. See the Student Handbook to learn more. The same section also has information about psychological support, dormitories, and healthcare on campus.
How often are PE classes held on campus?
There are no conventional PE classes at HSE University—each student chooses a sport they enjoy and sets their own timetable. For example, students can attend various clubs, including indoor football, basketball, volleyball, track and field, gymnastics and others. PE also includes hikes, during which students and lecturers can explore the Leningrad region. You can read more about PE classes and medical check-ups here.
Where can I learn more about scholarships and discounts?
The Student Handbook has a section dedicated to Scholarships & Tuition Fee Waivers. Detailed information about scholarships can also be found in our guide on payments (available only in Russian). The Unit for Extracurricular Activities has compiled all the necessary information on scholarships and launched a Telegram bot to serve as a personal assistant and a guide to the complex world of scholarships. There, you can find information about the scholarships you can apply for, view the contest calendar, and find answers to frequently asked questions.
It is important to remember that there are numerous opportunities to get a scholarship, and that for Russian students, the discounts are valid for one year. To keep both of them, you have to study well.