Why Do Chinese Students Choose to Study in the Programme 'Arts and Culture Management'?
China and Russia have numerous opportunities for future mutual development while respecting each other's traditions and cultural backgrounds. These possibilities are enhanced by the Master's programme 'Arts and Culture Management', which has already welcomed students from China. They shared their impressions of their studies and how they see 'a heaven in a wild flower' (William Blake, 1803) in St Petersburg's everyday life.
One of the strengths of the Master's programme 'Arts and Culture Management' at HSE University-St Petersburg is cultural research. To provide students with a better cultural atmosphere and learning resources, the programme cooperates with various art institutions and opens its doors for international collaboration. It welcomes international students and offers them a unique opportunity to learn about Russian culture and get an intercultural experience by working with their counterparts.
Sun Yihan, 1st-year student of the Master's programme 'Arts and Culture Management'
I chose HSE University due to a recommendation from a professional counterpart, and I also studied this major in China. After learning about the accommodation and school environment, I was very satisfied, so I made the decision to study here.
I was very excited when I first came to the General Staff Building of the State Hermitage Museum, where our Arts History and Arts Management classes take place, and kept taking pictures of the high walls and magnificent building along the way. The falling snow added a bit of solemnity to the building, and I knew that it contained expensive paintings, sculptures, and other art collections. I knew how gentle and romantic this unsmiling giant can be. We learn about the two-century history of this building during excursions as part of our classes. Perhaps this is the meaning of art; the value of beauty transcends time and space. If you don't come to the museum to listen and learn, this kind of feeling may be difficult to truly understand art from texts.
Liao Ziran, a student from Northeast China, had read a lot of Russian literature and books before coming to St Petersburg. The ancient, elegant image of the city that was shaped by Russian drama, music, and street art was very appealing to her.
Liao Ziran, 1st-year student of the Master's programme 'Arts and Culture Management'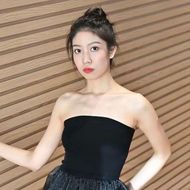 Three years ago, I visited St Petersburg as a tourist. Since then, I have been deeply interested in this historical centre. When I was still studying at my previous university, I heard from some of my Russian friends that HSE is a special university in Russia. It keeps a comprehensive, open, and reformative outlook. The atmosphere is super nice and extremely suitable for international students to study, so I considered their recommendations and decided to apply to HSE University.
Because of some geographical and historical reasons, Russian cities are very similar to my hometown in many aspects such as temperature and architectural style. I am particularly interested in this because my bachelor's degree concerns the Russian language and literature. Thus, having learned about Russia through philology there, I decided to experience it. I believed that St Petersburg, as a significant historical centre, perfectly embodies the culture of this country.
The current programme is really exciting, as it is a totally new experience. And there are a lot of opportunities to get involved in different types of projects related to the arts and culture industry, which can help me understand how to handle the theory learned during the classes in practice better and keep myself educated on the state of the industry right now. However, participation in seminars or projects is challenging to me because I am not prone to express my ideas as freely as I am supposed to. Thanks to being around a lot of nice classmates and patient professors, I am starting to learn to open up. I hope after these two years of studies, I will be able to change my mindset—that will be the imprint HSE University leaves on me.
By establishing relationships with Russian groupmates and communicating with each other, the international students have built a multicultural community in their dormitories. Liao Ziran has made a lot of friends from different parts of the world, including South Korea, Finland, and China. Living and studying abroad allowed her to meet different people, expand her network, and broaden her outlook. 'Cultural exchange is a process of mutual influence. My international and Russian friends and I compromise and accept each other,' she says.
As long as you are willing to actively communicate with different people and cultures with an open mind, you can find enthusiastic friends almost everywhere in your study abroad life. Many people are willing to reach out to help you solve your daily troubles. The life of a student abroad is not always easy, but the happy moments can more than make up for it. HSE University is a kind-hearted community of creative people. 'Sincerity and friendship build our campfire-like, free, and enthusiastic learning atmosphere,' asserts Sun Yihan.

Text by Sun Yihan and Daria Lukonina, 1st-year students of the Master's programme 'Arts and Culture Management'