'Now I Am Ready to Endlessly Sing the Praises of the Tasks of HSE International Olympiad'
The Bachelor's programme 'Philology' welcomes both Russian and international students. We talked to Mikhail Beshimov, who entered HSE University-St Petersburg via the HSE International Olympiad and came to study from Bishkek, Kyrgyzstan. In the interview, he shared his experience of participating in the Olympiad, the difficulties of moving to Russia and his first months study. Mikhail also shared some advice for international applicants who want to enrol in the Philology programme at HSE University-St Petersburg.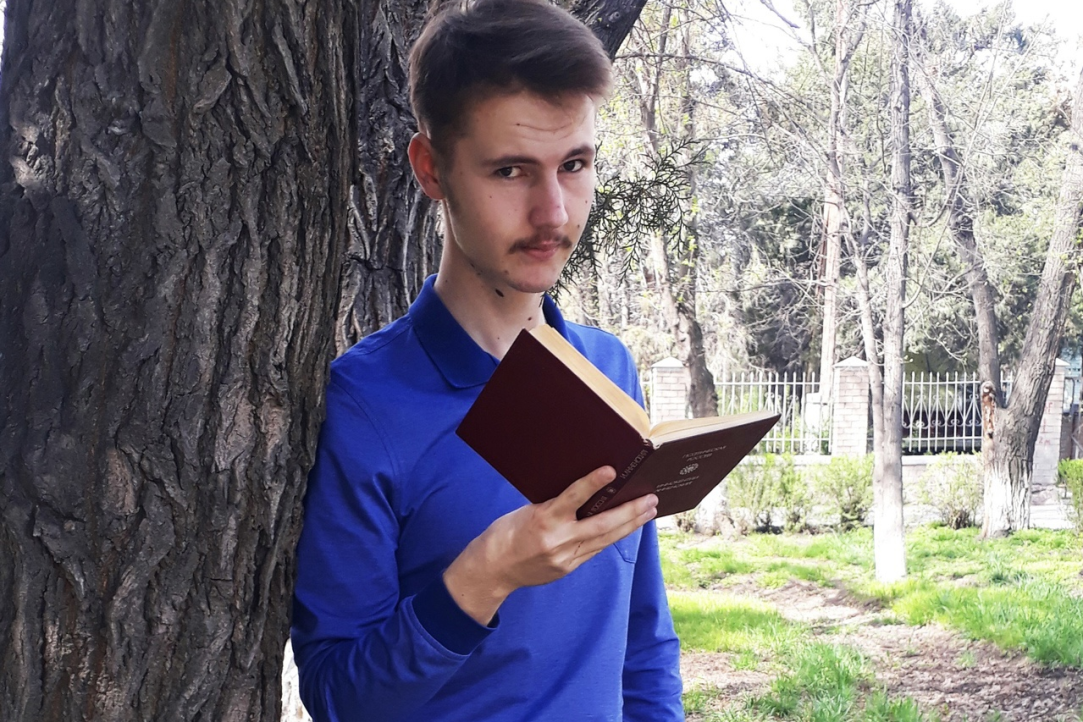 — How did you learn about HSE University?
— It is difficult to remember how exactly I learnt about it. In the 10th–11th grades, I took part in every Olympiad I could. It made no difference to me if it was one of the many Olympiads of SPBU, HSE University or TSU—I simply enjoyed the process without looking to the future. So it is quite possible that I properly learnt about HSE University after I had already won the HSE International Olympiad. Perhaps I had heard the name of the university before, but it was associated with economics and did not provoke any interest from me. But when you see yourself at the top of the winners list of the Olympiad conducted by a university that seems to provide the winners with state-funded places (although I didn't know for sure), like it or not, you learn about it in detail.
So, I had not planned to apply to HSE University—it just happened. But as it was at the beginning of the 11th grade, now I am ready to endlessly sing the praises of the tasks of HSE International Olympiad, which I fell in love with at first sight. Usually, I associate an Olympiad with tests and checking specific knowledge such as the date a piece of work was written or exclusive details like the original title of War and Peace. But I saw that the HSE International Olympiad checked one's ability to analyse a text—something they do not teach at schools in Kyrgyzstan and perhaps other countries too. High school students were tasked either with writing an essay on one of the given topics, conducting a comparative analysis of two poems, or providing a philological commentary of one poem. All these tasks, as we say in the school's formal language, are creative and wonderful in their own way. I had assumed back then that most high-school students would be more likely to write an essay because they have some experience in it one way or another. That is why there would be more chances in the other tasks, so I chose comparative analysis of the poems 'In noon's heat, in a dale of Dagestan' by Prigov and 'Dream' ('In the heat of midday in the vale of Dagestan') by Lermontov. It seems I was successful.
— What was your journey from Olympiad victory to the list of admitted students?
— At the beginning, when I saw that I was the first in the list of winners, I was extremely happy—not just because of the possible consequences, but because my work had been so highly appreciated. Then, I came back to reality and started looking for information about what the winners would receive. I had some doubts and my hands were trembling with excitement. If I am not mistaken, the wording was 'the possibility of getting a state-funded place'. After I had told all my relatives about it and enjoyed the results sufficiently, I decided that I would feel joyful about it when 'a possible a state-funded place' became 'a certain state-funded place'.
So, I was a little stressed until I received a letter from HSE University with a list of available programmes (Moscow, St Petersburg, Nizhny Novgorod). After short consideration (no longer than a day), I answered that I would like to study in St Petersburg and breathed a sigh of relief. It was the middle of the academic year, and everyone was nervously preparing for exams, admissions, and worrying about grades—but I did not care about that anymore. In other respects, I continued living my usual life; I read a lot (but paid more attention to texts about St Petersburg), brushed up my knowledge of Russian History (this subject is not taught in Kyrgyzstan) and calmly waited for graduation, summer and admissions. There were no surprises.
— Why didn't you start studying on campus in September, but later?
— There wasn't a moment when I was worried about moving to St Petersburg. However, COVID-19 got in the way. I did not manage to come to St Petersburg in August, September, or even the first half of October. The borders were closed. Tickets were incredibly expensive: my classmate, who also got a state-funded place at the St Petersburg campus, came to the city a month earlier, but paid 50,000 RUB for a single ticket . Some international students (for example, from Uzbekistan) got a chance to come after a year of online studies.
HSE University managed to provide us with decent online education in September and October, even though all Russian universities had in-person classes, including HSE University. Obviously, the two months when I had to attend classes from my room in Bishkek while my group-mates went to class at the Griboyedova Canal Embankment were rather difficult psychologically. The hybrid mode was an untested emergency measure, and we couldn't avoid some technical problems, but the lecturers willingly helped us and tried to create comfortable conditions for us.
I was encouraged by the idea that one day, it would come to an end and I would be able to attend in person. And it did end: on October 23, I managed to fly to St Petersburg. However, COVID-19 shuffled the cards here as well—everyone was transferred to online classes, so I couldn't visit the university buildings. At least I was in St Petersburg (for the first time) and could explore the city sights every day. But the experience of the first two months was truly invaluable. I watched with a smile how the 'newcomers' who had just been transferred to the online format suffered from it, despite the fact that it was much easier to study online when everyone did it. It is many times easier than what we had to go through.
— Is there a community of international students? Do you stick together?
Due to the isolation and 'companionship in distress' during those first months, the international students of the 'Philology' programme became really close friends. We still have a heart-warming group full of various memories, which will be very pleasant in a couple of years. I can state without fanfare that we endured all the hardships of the hybrid mode together, sharing many problems with the eight of us. Even though all of us have been in St Petersburg for a long time, we are still drawn to each other at all the group events. In addition, three international students, one from Moldova and two from Uzbekistan, live in the same dormitory.
— Can you tell us about your dormitory?
— I ended up a little isolated from other international students in terms of the dormitory, perhaps because I managed to come earlier than the others. However, I cannot stop saying how lucky I am.
First of all, everything is new here. The building has been renovated recently, so all the stereotypes about decaying dormitories were smashed to pieces by the civility of my dormitory in particular.
Second of all, it takes about five minutes to walk from the dormitory to the metro station. You can get to the city centre in less than half an hour and to any metro station in about an hour. For me, someone who spent about an hour every morning to get to school by bus or trolleybus from the 4th to 11th grades, it was a huge advantage.
Finally, the price of 1170 RUB per month for such conditions—I haven't mentioned yet that I live in a triple room with a shower and a toilet—is really great! Even the scholarship of 1821 RUB—which is, to be honest, lower than at other universities—is enough to pay for the dormitory, and you will still be able to buy a metro pass for a month.
— Do you have any advice for international applicants?
— To international applicants who liked the enrolment with the help of HSE International Olympiad, I would say the following. If you like poetry, if you spend a lot of time reading poetry books by various authors in the 10th–11th grades, analyse texts that seem unclear or come to your liking on your own initiative, even without any methodology. If you have some experience of writing essays without following a given form, you certainly have a high chance of becoming a winner or prize-winner in the HSE International Olympiad, moreover, 'without preparation' as happened to me. The most important thing is not to focus on the result, but to enjoy the process.
Take part in the HSE International Olympiad
Registration for the Olympiad is open until December 18.