'I Have to Get Used to the Fact that I Have a New Life'
Anastasia Novikova, graduate of the Bachelor's programme 'History', current student of the Master's programme 'Global and Regional History', talks about moving to France. What is it like to live and study in another country? What is 'Frenglish'? And why does buying a kiwi seem like a luxury? Read more about these questions and more in the article.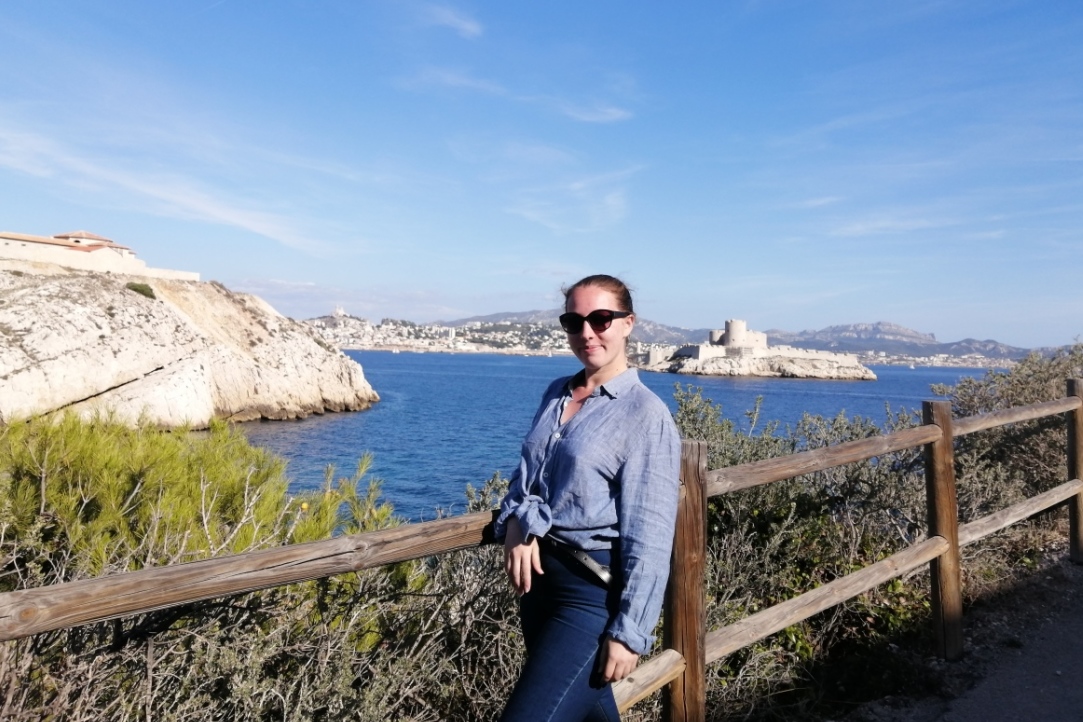 The Choice of Country
This is my first trip under the academic mobility programme. I went to France on an exchange when I was a school student, and visited the place next to where I am now—Aix-en-Provence. It is a small town in the south of the country, 30 minutes away from Marseille on the highway.
I had wanted to go to France for a long time. I had been planning it since the second year of my Bachelor's degree when I learnt about the mobility programme at HSE University. I started learning more and realised that I was not ready to live and study in another country by myself. When I was a third-year student, the pandemic started. At that time, I stopped thinking about mobility at all. In my fourth year, I was accepted to a Master's programme in France, but I did not go as it was rather expensive. I entered the Master's programme 'Global and Regional History' at HSE University and relied on the mobility programme, as I knew that it would be available. In addition, I had a chance to study and work to save up money for the trip.
In the second year of my Bachelor's programme, I started working on my research on Russian-French relations in the 17th century. Now, it is my thesis. I needed sources. Much of it is digitised—I can use it from anywhere in the world, but it is not enough. I realised that I have to get acquainted with the French scientific school to find out how they write and think here. I was looking for a place where I could delve deep into my field of research.
The University
At the moment, I am studying at Sciences Po—Institut des études politiques, which is a network of higher educational institutions in France. Here they train future politicians, lawyers, diplomats. The largest campus is situated in Paris, but there are branches in other cities.
Like all the other international students, I was offered three options: to study for a semester or a year without earning a diploma, or a year with a diploma. In the last case, I had to complete the curriculum, which they approved, but it was focused on political science. To defend the local thesis, study at HSE University at the same time, write a Master's thesis—all these things together seemed rather hard. I opted for a year programme without a diploma. Now I freely choose courses which I want to attend. There is a four-page list of the courses available to international students. I picked a curriculum that would let me attend mostly courses in history. They are very far removed from my topic, but give an idea of how people think about history here. I gained access to many resources, so I am gradually studying which catalogues there are in the archives, where I can go to develop my research further.
Thesis Topic
My thesis topic is 'Description languages of Eastern Europe in the first French periodical of the 17th century 'La Gazette'. 'La Gazette' was founded in 1631. People from different countries sent information there which was published weekly, even daily sometimes.
For me, it is interesting to see how the French media space depicted the countries which we call Eastern Europe now. One of the primary questions is: Was there an idea of what Eastern Europe was, was it popular and exploitable in periodicals? How, for instance, was Muscovy presented? What description languages were used? What did people from Sweden say about it and what did people from Poland say? These are completely different discourses. I plan to organise major trips to Marseille and Lyon because I know that there are some collections which might be helpful to me. The main task is to adjust the budget for these trips.
Education Process
It took me several days to make a schedule. The courses, which I chose when I was still in Russia, take place at the same time in different buildings. Unfortunately, I left my Time-Turner at home. My set of courses is called 'Mainline courses'. They do not have any mid-term assessments. They are open lectures. At the end of the course, the lecturer decides if you will have to take a written or oral exam.
Here, they also have—if I translate it closely to the original—'Methodological seminars'. With these seminars, attendance is obligatory and there are a lot of midterm assessments. If you miss two double classes, you won't be allowed to take the exam. The seminars I took an interest in overlapped with each other and one of the lectures. So I opted only for 'Mainline courses'. As an international student, I have to get a certain number of credits for the programme in Russia.
I attend a course called 'Geopolitics of the Mediterranean'. The first lecture was devoted to Fernand Braudel. The course covers history, politics, geopolitics, and economics. How are relations in the region built? What happened in the past? Here we receive a large historical base. During the course 'France in the global context', we learn about the history of the country, how it interacts with the world. The course 'History of International Relations' is almost completely the same as what I was taught at HSE University. But it is interesting to see how people from different countries place the accents.
'History of Modern Russia' is my favourite course. It is taught by a very charismatic lecturer. He tries to deliver the material objectively and proves what he says with numbers. The professor gave us a reading list for the lectures and a list of Russian classics, highlighting two of his favourite books: 'Anna Karenina' and 'The Master and Margarita'. I brought a T-shirt with a picture of Mikhail Bulgakov with me. I think I know what I will wear for the exam. There are other disciplines devoted to political science and French culture. They are very interesting as well.
Language Barrier
The classes are attended by different students: both French and international. Sometimes there is a language barrier. I worked a lot last year and had less time for my studies. My spoken English got worse, and I had not practiced French since school. From time to time, I attended paid courses, speaking clubs at HSE University, but I did not do it regularly, so, of course, I forgot spoken English a little.
It is hard to switch immediately. Especially, when I go to a double class in French, focus on it, there is no extra noise. But during the break, my American friend asks me in English how I liked the class and suggests going for coffee. I start answering her in French, while trying to find a way to switch to English. It is like eternal pain when you forget to change the language on the keyboard and wish that the computer would understand you and immediately translate everything. It is the same here: I lack a changeover lever.
I introduced my own language and call it 'Frenglish'. My friend from Spain and I know both languages, but forget some words. So our speech includes words in English and words in French. It is a great life hack if you do not want to interrupt your speech and thought while you try to remember the word. Such a combination helps to maintain the level of both languages, develop them in communication.
A month later, I cannot say that it has become easier to communicate. But I have remembered a lot, and some of my communicative skills have returned. A significant advantage of this country is that nobody hurries you here. The French do not like to rush. If it takes you 30 minutes to say a phrase, everyone will calmly wait till you remember the words. You can feel it during the classes too. From time to time, during the lectures, the professors organise a discussion within a student group. You start answering some questions and can't remember the words—everyone waits for you. The most important thing is that you finish your thought. It relaxes and helps you.
Extracurricular Activities
The extracurricular activities are great here as well. At the beginning of August, international students received a letter from the International Student Organisation. They help you to adjust, coming up with events for team building and getting students involving in French life. One of the most popular activities is going to a bar. I haven't been there yet, but the Organisation offers entrance tickets for two euros that get you an unlimited drinks for a certain time.
I went hiking. The city is located in the lowland and there is a hilly area around it. The International Student Organisation often organises hikes in the hills and in the forest. It is extremely beautiful and doesn't take much time. Of course, we got lost a couple of times, but it's okay. The volunteers also organised a trip to an island near Marseille. They helped us to get travel tickets, which are valid for 24 hours and allowed us to get to Marseille for two euros. A regular single ticket to this city costs six to eight euros.
They gave us a manual where we could find everything about extracurricular activities. The clubs hold their own meetings and talk about their activities. These are often picnics where everyone goes to the park and each person brings some tasty food. Participation in the clubs may cost a certain amount of money, but these are club fees. The club spends it on trips, merchandise and other things. There are lots of them: sport and cinema clubs, literary gatherings, clubs for drawing and sewing feminine hygiene products. I was impressed with the number of clubs which fight for rights of different people. There is a club which simulates the activity of the UN and examines the same problems. It is a political university, so there are plenty of such clubs.
I joined a club which helps to collect books for recycling. One of the most common ways to organise space in the streets is bookcrossing. Such places are around every corner: on the way to university, in shops, near every kindergarten and school. I got myself a couple of books too: And Then There Were None by Agatha Christie and Veronika Decides to Die by Paulo Coelho. I also brought The Haunted Chair by Gaston Leroux from Russia, so I had a nice set.
Accommodation
The issue of accommodation was quite acute, as it is related to finance. Finding a flat for 350 euros per month is a miracle here. But that will only get you a room. Private residences were also an option. These are common city buildings like Russia's five-story buildings. They are arranged into dormitories with rooms for different numbers of people. Prices start at 300 euros.
However, at the last moment, I was lucky enough to get a room in a state dormitory. It is a big campus with many buildings and various rooms. My room is ten square meters. There is a private shower, a desk, a wardrobe, a big window with a view of the mountain, a bed and a small fridge. There is a shared kitchen on the floor. The only problem is that you cannot use a kettle in your room—it might blow a fuse. I can use almost everything in my room: a microwave, a hairdryer, a vacuum cleaner—but a kettle can only be used in the shared kitchen. It is a mystery to me why it is such a danger to the local wiring.
I spend most of my time in the dormitory because I am studying or doing something for HSE University, such as working on my thesis or correcting lecture notes. I fill in the words I missed during the lecture or did not know how to spell. Here, one of my dreams came true: I have a big desk where everything fits.
The City
Usually, I get about on foot here. The town is really small and my dormitory is on a hill. There are pine trees, eagle owls and bats around. When I go to university, I walk through the town centre. It is a totally different place: cafes, parties, restaurants, a lot of people, music. Even another kind of architecture, as the buildings are from the 15th–17th centuries.
I mostly walk by myself. I am keen on walking around the historical centre: you go down the street, turn a corner and see a large cathedral of the Order of Malta which is taller than Notre-Dame. The main cathedral is right opposite my university. It is three times taller than my university building. At 12pm, my classes start with the ringing of church bells. You can hear it everywhere.
I'm still getting used to the thought that I have moved. It still seems to me that I am on holiday and in two days, I will go back home to Russia. I have to get used to the fact that I have a new life.
French Peculiarities
So far, I have spent the most time in banks. I went to open a bank account, as I had to pay the tuition fee urgently. By that time, they had already been reviewing my documents for three weeks. I got there at 12:10 pm, and the bank was closing for lunch at 12:30 pm. At 12:27 pm, the bank clerk started worrying a lot: shifting in his chair, hurrying me up to sign the contract. I left the bank at 12:36 pm. I think that the bank clerk still hasn't got over the fact that I delayed his lunch time.
As for everyday life, I am surprised that everything here is made for people's comfort. They sell washed vegetables: carrots, potatoes, beetroot. If Mercury is retrograde and carrots covered in dirt are put up for sale, they will cost more. I don't understand how it works.
Another peculiar thing is that it is rather problematic to find food which has not been made, cooked or cultivated in France. I have known this for a long time. The French fight for the environment, so importing things from abroad means polluting the air. For instance, the French do not cultivate kiwis. You can only buy them individually here. One kiwi costs at least one euro and fifty cents. I walk by them every day, eyeing them up hungrily but not being able to afford any.
Career and Future Plans
My student visa allows me to work no more than 20 hours per week. One option is to find a regular part-time job in a cafe, bar, or restaurant as a server. They easily hire people for four hours a day as there are a lot of tourists, so vacancies are always available. Another popular job is picking up children from school to take them home. It takes two hours a day, but even this kind of job is strictly regulated by an employment agreement. I want to try finding a job in my specialty: in the archives or libraries. I need experience of working in France. My plan is to find a job in January, when I will have done all my exams and I will have more time.
I am going to apply for a PhD programme here. There are two kinds of PhD programmes: scientific and scientific-pedagogical. Within the scientific programme, you are assigned to a laboratory, work and conduct your research as a part of the project for which funds were allocated. The scientific-pedagogical PhD programme means that you have a teaching workload while working on your dissertation topic. You deliver a set of courses, and it is formalised via employment agreement, so you receive a salary. I want to choose the second kind. You should learn how an employment agreement is drawn up and how to pay taxes early, while you have an opportunity to do a student job.
Advice to Students
The most important skill you should develop before such a difficult trip is not to be afraid of asking questions. In France, you start writing to everyone about any question very quickly. Having 500 messages a day is the norm. The more questions you ask at every stage, the more comfortable you will feel when you come here. One week before moving, I found out that I could not pay for the dormitory. It was possible to do so only by card through a personal account. Obviously, I did not have a French card in Russia. But any problem can be solved. If you ask questions, you can negotiate anything. When you move somewhere, you clearly understand that there are no such things as stupid questions.
It is very important to think about opportunities to develop the topic of your research. You should get ready and decide what you want to engage in. I recommend checking which scientists are nearby, who you can visit by direct train and talk about the potential development of the topic.
You should examine popular social networks in the country. For example, it is important to sign up for the world-famous analogue of VK. You will find all the relevant information about searching for accommodation, conferences and other things there.
It is interesting to see how people think in another country. They can present facts which are already familiar to you, but they talk about them differently, drawing other analogues and global connections. The picture is complemented by new puzzle pieces. You feel more complete and confident in some issues. The experience you can gain abroad is communication. You learn how to talk to people in a new way, structure your speech otherwise, and your brain works in a different manner. You talk to your friends, lecturers, and deal with the bureaucratic issues. These are all various languages of communication. After such an experience, you have more prospects: either to move on or go back and apply your skills in the familiar environment. It is all about your internal development.
It is important to understand that a trip under the mobility programme is a hard decision at the moment. You cross the border and realise that you are going to be deprived of your familiar environment for a very long time. It is really hard. Don't be afraid of your emotions—you should live with them. Be brave, because the experience you gain here is very helpful in every way.