'Intercultural Communication Is Always Practical'
Dmitriy Zhukov graduated from the Saint Petersburg State University of Engineering and Economics, continued his education at the South China University of Technology in Guangzhou (China), and in 2016 successfully defended his PhD dissertation at the Wuhan University of Technology (China). His dissertation topic was 'Crisis Early Warning Management for a Small Hotel Company'. Dmitriy is the author of more than 15 scientific articles on the topic of his dissertation.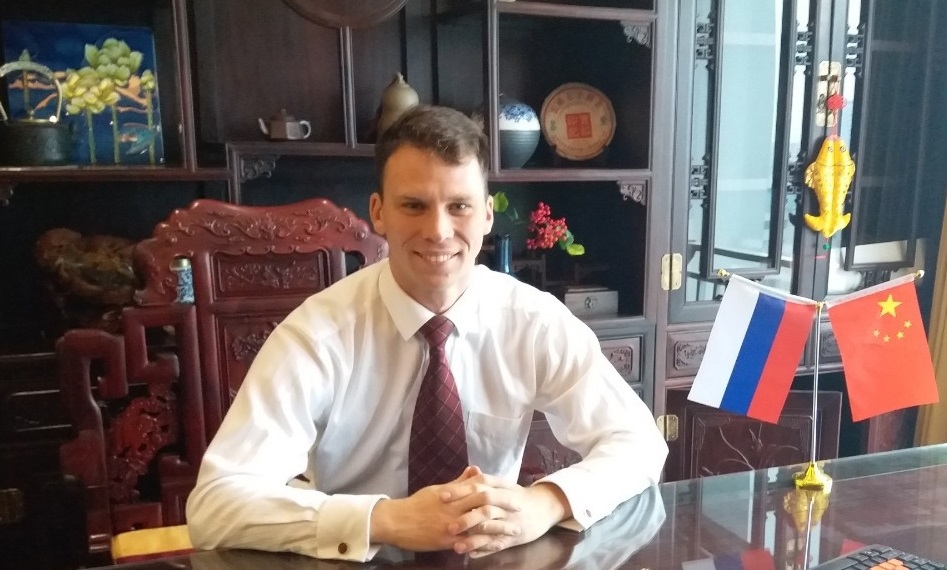 — You got your education in China and wrote your dissertation there. Why did you choose this country?
— It was 2011, and I had a small business related to the sale of goods from Finland. However, after the strengthening of the euro, I started thinking about Asia and went to Guangzhou to study the situation. It seems fair to say that I became the 'latest pioneer' to China among foreigners: I caught a time when citizens of large towns in China still saw foreign visitors as a curiosity—everyone wanted to take a picture. Then in 2012–2013, I moved to the UAE and took charge of a Russian university branch there. Simultaneously, I was working on my dissertation. However, the administration of the Wuhan University of Technology gave me a grant for a PhD programme, as I contributed a lot to cooperation between Chinese and Russian universities. After finishing my work in the UAE, I immediately went to China.
— This year, you will deliver the course 'Intercultural Communication' for students of the Master's programme 'Business and Politics in Modern Asia'. Why are culture and intercultural communication important in building business with Asian countries?
— You need two things to build business with representatives of any country: knowledge of their language and an understanding of intercultural communication. Of course, knowledge of the language unites and contributes to more trusting relationships and discussions of work issues at a deeper level, which is essential for business. Intercultural communication is especially vital for business partnerships in Asia, as originally, business in this region was based on interrelations: you cannot come to China and start doing business right away—first, you have to establish contacts.
I learned about the specifics of intercultural communications in my third year of studies. As a PhD student, I started teaching this subject to students in Russia and the UAE. The experience of working in China came in really handy when I engaged in a small business and worked for a commercial agency. I learned first-hand how important it is to understand the nuances of another culture and be able to find the keys to interacting with foreigners, as misunderstandings can have serious consequences. For example, my acquaintances ordered white clothes in China. The Chinese manufacturers apparently decided that white is too sombre or boring a colour, so they added red insets. As a result, the goods were completely ruined; my acquaintances went bankrupt and had to close the business. During my lectures, I always give examples from my own experience because I have faced it many times and want to help the students to avoid such mistakes.
— You taught this subject both at Chinese and Russian universities. Did you notice any key differences between the approaches of the two countries?
— The major difference is how to present the material to students from different countries. For instance, through my own observations, I can say that Russian students have a clear understanding of who foreigners are and how to interact with them. Moreover, they grasp information on the fly. During these classes, I focus on working with the audience, asking more questions and choosing tasks for brainstorming.
At the same time, not all Russian students do their homework—in contrast to Chinese students, who spend a lot of time on their homework and study the material intensively. Working with Russian students, I emphasise classroom activity; this method helps them to learn the material so well that they do not have to spend time revising it at home. In addition, Russian students always easily coped with practical tasks such as speeches and presentations.
By contrast, Chinese students learn the material rather poorly during lectures. It is hard to develop a dialogue with them due to their shyness—nobody asks the lecturer any questions, so the lecturer has to draw replies from the students. Their speeches were weaker due to a number of objective circumstances. Firstly, in spite of their intense work at home, Chinese students are limited in terms of internet resources and it is hard for them to find information about other countries. Moreover, for some reason, they do not read scientific articles, including those written by foreigners. Gathering information this way during studies is unusual for them. In general, they read articles when they get a job or become research staff.
During classes, I often use the method of business simulation and cases which imitate situations related to cross-cultural shock or body language. For example, when I show Russian students what distance they should keep with representatives of different cultures, there have always been a lot of volunteers to participate. In China, I had to draw lines with chalk on the floor myself because everyone was afraid to interact.
During my work, I have collected a lot of illustrative cases from China and the UAE, so I am writing a book about them with a number of recommendations and taboos for various situations. I plan to implement this approach at HSE University as well. I hope the students will like it, as it is both interesting and essential—intercultural communication is always practical.
— You will also teach the course 'International Marketing in East and South East Asia'. In your opinion, in which countries and areas will the majority of economic cooperation happen?
— From Russia's perspective, everything will depend on agreements with one country or another. To be honest, there was great potential even before the events of February. I would pay special attention to interactions with Singapore, Vietnam, Malaysia and Indonesia. It is important to develop a competent strategy so that we aren't exchanging planes for palm oil. But frankly speaking, China would not let Russia develop in the Asia-Pacific Region, as it is their area of interest. As for China, it has closer relations with the countries of South-East Asia for many reasons.
Vietnam and China have very good relations despite their territorial disputes. Trade turnover is actively increasing, so the prospects for further cooperation are huge. At the moment, Thailand pays special attention to China and the Chinese language. In particular, Thailand did away with visas for Chinese citizens, who often go on holiday to this country, buy real estate, and contribute to the increased construction there. In Cambodia, the situation is almost the same: they got rid of visas for Chinese citizens and simplified the procedures related to real estate. Partnerships in Myanmar, Laos and Indonesia will also grow, as China has a very strong political and economic influence on these states.
China is building a close trading relationship with Malaysia despite competition (including in textile manufacturing). China is not very interested in Brunei, as this country is too small. But Singapore is another matter, as China will try to compete for financial and exhibition business from it. At the same time, the countries will continue to trade actively with each other.
I used to go to the Philippines very often and I lived there for some time, so I am well aware of the locals' attitudes since their government turned away from the USA and started to cooperate with China. They believe that China has too much influence on their country. That is why I think that the new president will focus policy on cooperation with the USA, though it is too hard to predict anything.
— You also worked in the business sphere. What did you learn there that cannot be found in textbooks?
— When I was studying, there was very little information—I had to search for lots of things on the internet and read foreign literature because I could find more information there. I used to go to Thailand often, and I constantly asked the locals about the cultural specifics I read about in books. Staying in an international dormitory played a huge role, as we were constantly exchanging our observations about cultural differences. In addition, after I had started working, I took part in the Canton Fair and constantly interacted with businessmen, trying to make clear and check the things I was interested in. Often, it turned out that information from books and textbooks was very outdated, so I found things out from foreigners directly.
— What are your research interests?
— They are rather broad. My dissertation was devoted to anti-crisis management, so my research interests include management, economics, anti-crisis management, investment activity, international marketing, cultural studies and everything related to it (intercultural communication, global and negotiation processes).
— What advice would you give to those who want to learn to work with Asia in the business sphere?
— First of all, they need tolerance. Not patience, but tolerance. It seems to me that it is always important to be positive and smile, as foreigners have always asked me why Russians never smile. I noticed this contrast when I came back to Russia from Asia and saw serious faces around me. However, one must know how to smile without it being forced, but sincere. Moreover, it is also essential to be able to find an individual approach. For example, during my classes, I will explain what you should do in 60% of cases, but you should be able to understand and get a feel for the situation. Of course, hard skills are important, but you should not neglect soft skills.
— There is currently high demand for Asian Studies experts in the Russian labour market. What advice can you give students looking for careers in this field? What can master's students do to find jobs in time for graduation?
— To be honest, I faced this problem myself. Unfortunately, the most common problems for people who know Chinese are either boring jobs or low salary. My advice would be to join my projects, as I will cooperate with companies which develop Russian-Chinese relations. Moreover, I plan to negotiate long-term cooperation right away, so that these companies can hire students after the project. During the project, I will be able to help five to eight students. I would recommend that others learn patience; for example, there are currently huge problems with logistics, and it may take containers six months to arrive.
I advise you to be persistent and keep looking for a job. You should also try to get an internship abroad to become a more valuable employee. I believe that HSE University can help a lot in this regard.