'Columbus also Worked Remotely': Maxim Lapin on Distance Learning and Future of Management
Not only scholars but also experts of various domains teach at HSE University - Saint Petersburg. Maxim Lapin, the Chief Financial Officer (CFO) of Moscow Exchange, teaches courses in strategy and business analytics for the students of the 'Management and Analytics for Business' Master's programme. The Editorial Office talked to Mr. Lapin about Saint Petersburg campus particularities, distance learning, and books that are worth reading for future managers.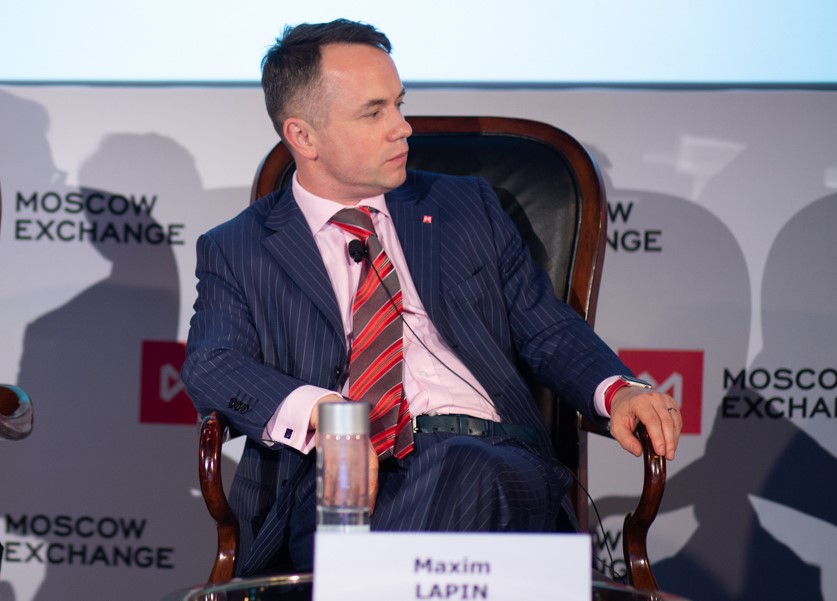 — You are the Chief Financial Officer of Moscow Exchange. Tell us what you like about your job.
— I have common CFO functions. There are duties related to budgeting and reporting. Some other functions are related to planning, analysis strategy, and purchasing. It is a multifaceted job which is not only about routine but also about project management where you can take the initiative and suggest some improvements. At work, I communicate with a lot of interesting people, including international partners. I like it.
I used to work as a strategist, investment manager, I was in charge of business development and operational effectiveness, and I even worked in consulting. My current job position is a good sum of my previous experience. The CFO participates in the planning and modelling, strategy development, and even in interaction with investors. Besides, working for a large company is interesting. It is always great when tasks have a scale, and you can see the tangible results of the efforts you made.
— How did you start working with HSE — St. Petersburg, and what do you teach students?
— In 2017 I met Professor Kadochnikov. We talked about possible career perspectives of HSE University — Saint Petersburg graduates. Then, for about a year, we had been thinking about what I could teach HSE students. Eventually, I designed the course in 'Business Research Methods', and since 2019 I have been teaching how to analyze companies. A bit later I developed a new course 'Applied Strategy'. Students have these courses in their first year. Currently, I am developing the third course, 'Applied Valuation', which is about the business cost. I hope we will launch in the Fall.
— What do you like about HSE campus in Saint Petersburg?
— HSE University - Saint Petersburg is a university which cares about its students' career. I think that the strong suit of the University is that the language of instruction is English. Graduates leave the University with a wealth of useful insights, competencies, and opportunities. I also like the building on Kantemirovskaya street, it is a loft among severe industrial buildings. It is similar to the image of HSE University — Saint Petersburg in general.
— Why did you decide to teach at the university? And what do you like about the teaching process?
— I started teaching while being a student myself. I was an assistant to a professor: I helped grade homework, analyzed the courses and examination papers. Then I held training sessions and seminars for companies. I had been doing this for about 10 years. Another thing is that I had never taught in academia. There is a concept in the English language called 'giving back to society', which means giving back to society what it gave you. It is following this concept that I teach at the university. I was lucky in terms of education in my time as I had great professors and learned a lot from them. So teaching is my opportunity to thank the society for the knowledge I obtained 15-20 years ago.
— You recently gave 'Applied Strategy' course remotely. What is the course about, and what share of your professional experience is involved in this course?
— Each of my courses might be described as applied. I prefer to give information that one can immediately put into practice, that is why the course title is 'Applied Strategy'.
It is an integration of what I have seen in academic and business programmes over the last two decades. I wanted to create a course which would combine useful insights from my student experience at Columbia University and the best business solutions from the consulting industry. From the latter, I took the knowledge of how to analyze the value chain, this is when we figure out how a business makes money. And from the former, I took the way to teach the most seemingly boring thing, such as accounting and accounting documents, to make them interesting.
When I was a student, I had a university lecturer who was one of Ernst & Young company's partners. He taught us how to read reports the way you read a detective book. I strive to transfer this skill to students and show them that even such a routine can be exciting, so they are not bored during my classes.
— How did the transition to online work out for you?
— When all these pandemic-related things had already happened, I suggested moving my classes online even before the relevant order was issued. I often use online services for my work, so this is familiar to me.
When it comes to distance learning, active interaction with the audience is lost. It is difficult to see the degree of students' involvement and have a vibrant discussion. It is the main loss, I think.
At the same time, this is a regular practice worldwide. In this case, you need to compensate for it with a concise and clear presentation of the material, so that the audience stay focused until the end of the class. It is difficult, but this is a key feature of distance learning.
There is one more disadvantage which is vital for me personally. When I used to go from Moscow to St. Petersburg to give my lectures, I enjoyed my trip on Sapsan (the high-speed train that runs between Moscow and St. Petersburg — editorial comment). I used to get a mushroom soup that would warm me on cold days. While being on the train, I was thinking about the teaching materials and how to organize my class. Then I would arrive in St. Petersburg, walk around the beautiful city, and go to the University's building. Now all this has gone, I just use Skype.
— What would you tell students if you adjusted the 'Applied Strategy' course structure to the new economic reality?
— Once my colleague said: 'If your strategy failed during the coronavirus pandemic, then it was the wrong strategy'. So, this year will witness economic turmoil. If we analyze the large companies' business models, they are unlikely to fundamentally suffer from such things. That is why my courses' structure would not change.
Let us take the types of companies that we talked about in my classes. Phone operators, banks, and Internet service providers are functioning properly now. Although this year will be difficult for industrial companies, their business models are still being maintained. I would say that coronavirus is an important moment in history. The planet has been witnessing various outbreaks, and fundamental long-term strategies should not change because of them.
— What about airlines? They are large companies, and it seems they experience tough times.
— Their business activities are suspended. Most companies can withstand it if they have no issues with debt overburden. It is an important criterion for financial sustainability, but it is a strategic feature as well. Soon these companies will simply avoid risks and debts so that the debt overburden will decrease. But it is always difficult for companies to pay loans, it is especially noticeable during the coronavirus times.
— What do you think students of the programme 'Management and Analytics for Business' should be prepared for to start a career?
— Both HSE's and the programme's students already have their education to start a good career. They are studying at a good university in an applied educational programme. Another thing for discussion is what an employer expects from young specialists.
Those make a career who are not afraid of the intensive workload and able to give it their all in the beginning. If one is not ready to face problems, cannot find solutions and take up the running, there is no way to build a successful career. However, when employees have aspiration, curiosity, and a desire to help their company - this is a great start.
Managers are always looking for someone ready to do go the extra mile, that is how business.
So my advice is never lose your enthusiasm. As soon as you stop giving your energy, a career stagnation occurs. The first few years after graduation predetermine your career future in many ways. If you get into a good company with a fair name, corporate training, and proper operational processes - this is a good point in your CV. It is easier to move forward when you have this. If you work for a large company, do your best, and are looking for opportunities to improve - it will play double good for you because sooner or later you will get perks or promotion. And any promotion is a consequence of a reputation built at the very beginning. A reputation consists of your ability to negotiate and the ability to demonstrate your reliability and effectiveness as an employee. Therefore, besides hard skills which HSE University gives, you should also remember about the importance of soft skills and personal aspiration.
— How will the managerial profession change in the foreseeable future?
— I guess the pandemic has now accelerated the transition of most services to a distance mode. Now remote work is available not only for the IT-sphere but also for office workers and employees of other industries. Of course, professions which require in-person contact will not disappear, so your hairdresser will never be replaced by a robot. However, such a transition that has taken place is a crucial part of post-industrial society.
What does going online mean for managers? It means that now they need to solve tasks and face problems when their teams are not around. Indeed, it is challenging. A distance mode brings us back to the Age of Discovery. Аrom the philosophy of time viewpoint it seems to me that we repeat some historical events after centuries. Columbus worked remotely; Isabella I did not have to control him while he was discovering new lands. This was a delegation of authority taken to its extreme. She gave him resources and authority and said: 'Go and bring me the results.'
In the new environment, those will become good leaders who learn to set tasks for their teams remotely and select those employees who can work independently.
In the next ten years, employees at different levels will have more self-awareness and responsibility for the tasks entrusted to them. We will have to organize ourselves, but this will lead us to a new era. I guess many companies in the world will not return to the office. For example, Twitter has already done it, and the trend will not be limited to this.
— Recommend books that will help students understand the business and labour market organization.
— If you want to understand what must be removed from capitalism to make it dysfunctional, read Atlas Shrugged by Ayn Rand. This is a business book with an economic undertone, but it is also a political pamphlet and a love story, that is why the book resonated with many people. The only downside is that it has more than 1300 pages.
Besides, I recommend Who by Geoff Smart and Randy Street. It explains how to recruit people. The authors analyze what type of applicants can be relied on and how to understand whether a person might get a promotion. The book helps students understand how employers perceive them and what logic companies adhere to while making hiring decisions.
Students' education is typically built around hard skills, but soft skills are also required for career development. Here helps Emotional Intelligence: Why It Can Matter More Than IQ by Daniel Goleman, who is the author of this concept. He brilliantly explains 5 components of emotional intelligence and introduces an EI development guide.
Finally, it is good to know about the organization of reputable companies. Two books will help you learn more about this. The first is Principles by Ray Dalio. The author explains how one should manage human resources in a company. It deserves to be the main Wall Street handbook. From the second book, High Output Management by Andrew Grove, you can learn how to build business processes in a company. Andrew Grove is a co-founder of Intel, and large companies of modern Silicon Valley are being built based on his book. I believe all these books would be of value for future managers.
Max Lapin