Yaroslav Barykin on His Studies to Become a Political Scientist with Honours Diploma, Preparations to State Exams and Favourite Courses
Yaroslav Barykin, a graduate of the Bachelor's programme 'Political Science and World Politics', finished his studies with an honours diploma and became a laureate of the Olympiad 'The Higher League'. The graduate is planning to continue his academic path in the Master's programme 'Data Analytics for Politics and Society' where he is accepted without the exams thanks to the Olympiad. Yaroslav chose this programme as he was interested in the way big data was used in politological researches. Read about the impressions of the graduate's studies and plans for the future in the interview.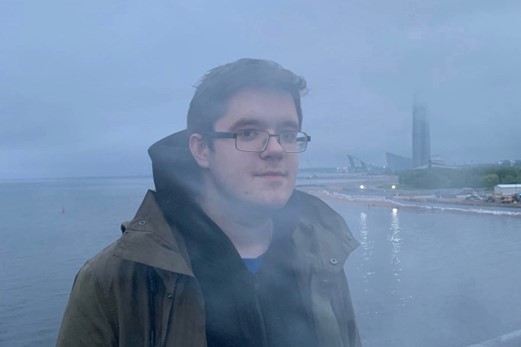 — Yaroslav, why did you decide to apply for the Bachelor's programme 'Political Science and World Politics' at HSE University-St Petersburg?
— Before the final school exams, I had not heard about HSE University. However, I passed four optional exams and specialised mathematics to make my choice wider. In the end, it played its role in my admissions where they required English, History and Social Science. After the exams, I looked at all the universities in St Petersburg as I planned to enrol only in this city. My school teacher said that HSE University was a prestigious university and should try to get there. Of course, I was impressed the most by the application process in the Admissions Office at Kantemirovskaya Street, its atmosphere of modernity and openness.
I was choosing between political science and sociology. Both programmes promised training in quantitative methods of data analytics which I was interested in. However, in the end, I opted for political science. Firstly, I really liked the programme's presentation. Secondly, I was more attracted to studying political institutions. Moreover, I am interested in China and the programme in Political Science offered the corresponding regional track. Finally, I was influenced by my interest in politics in general, an interest at the level of 'political coordinates' and bloggers. I think it disappeared in the first year but I had a rather distorted idea of what politics was.
— Could you tell us about your favourite subjects over four years?
— The first things that come to my mind are 'Introduction to Contemporary Geopolitics' and 'Geography, Institutions and Development'. Since school, I had been fascinated by this area but at the university, I liked studying interconnections between politics and space through the prism of various approaches much more. I also would like to single out the approach of Anatolie Cecalenco to seminars: although sometimes quite demanding but encouraging the discussions. I can give a similar compliment to Denis Stremoukhov and his course 'Policy Analysis'. I would also like to mention several courses in quantitative methods: 'Quantitative Methods in Political Research', 'Text as Data', and a minor 'Data Science'. They enchanted me with the technical content. I can keep naming my favourite subjects for a long time so for now, I'd stop here.
— Recently, you have received a ten for the state exam. How did you prepare for it? Do you have any pieces of advice for those who will take it next year?
— Students organised a group for exam preparation back at the beginning of April. There, we discussed the topics. I think I wouldn't achieve such a result without it. Working in a group gives you a huge advantage in the preparation. It is easier to structure the knowledge working together. But it seems to me that even with the help of such notes, it is impossible to assimilate all the information received in four years within two weeks. If you learnt some key facts and understood the theories and the studies in general went fine, the revision would help to remember such information and you would feel more confident. Don't try to cram all the details. A state exam in political science in its current form is focused on checking not the factual knowledge but understanding of politological theories. If one has such an understanding, the concepts will be easy to formulate for the open questions part, and it will be easier to answer closed questions. If you want a good grade, you should start preparing in April and spend at least two hours a week on that.
— You have participated in Olympiads several times. Could you tell us which ones?
— Just two, and it happened this year. In the first place, it is 'The Higher League' in political science. Here, I took the second prize in comparative and applied political science. Another one is a competition of students' research papers on political science named after Max Weber which is organised by the Russian Presidential Academy of National Economy and Public Administration. Pavel Ivanov and I took first place in the category 'Political Sociology'. In general, Olympiads and research competitions are a pleasant experience. Now, I am planning to apply for the conference 'October Readings' and keep track of such events further.
— Yaroslav, recently, you have received the honours diploma. What do you feel and what does one have to do for it?
— I feel some kind of relief and enjoyment. I did not study in vain for four years, and the efforts I invested were worth it. I cannot say that such a result requires something special and paying a disproportionate amount of time to cram. In our cohort, there were a lot of people who successfully combined work and studies. The most important thing is that a student should enjoy the studies: reading research papers, discussing them in the seminars and conducting their own research for four years. Such a deliberate approach won't require so much time and effort to maintain such high results.
Of course, you cannot relax at some exam elements which are valuable and can negatively influence your grade if you plan to receive an honours diploma. However, the main pitfall by the end of the studies is a thesis and a state exam. But I think people shouldn't treat an honours diploma as an absolute achievement. Moreover, it doesn't give any overwhelming advantages for further admissions. But it is a quite valuable thing as a personal victory.
— What are you planning to do further? Which master's programmes will you apply for?
— I will continue developing my academic career: perhaps, I will use the Olympiad results and enrol in the Master's programme 'Data Analytics for Politics and Society' at HSE University-St Petersburg. I also consider some other master's programmes but I will make a decision based on personal circumstances. I'm going to continue the planned trajectory and master the data analysis. I am still inspired by politological and sociological research conducted with the help of big data. If I cannot get into the academic path, I will still have a quite applied skill which I will be able to use somewhere else.
It goes without saying that I plan to combine studies with internships and academic events. Besides, I want to improve my Chinese proficiency and apply for academic mobility (not necessarily in China) to make up for the lost opportunity in the third year.
Interviewed by Veronika Berdnikova, student of the Bachelor's programme 'Political Science and World Politics'
Anatolie Cecalenco