'People Abroad Are More Interested in Education—They Understand Why They Need It'
HSE University participates in numerous international exchange programmes. We spoke to Alla Nadezhina, a participant of one of these programmes, about her time at the University of Tartu.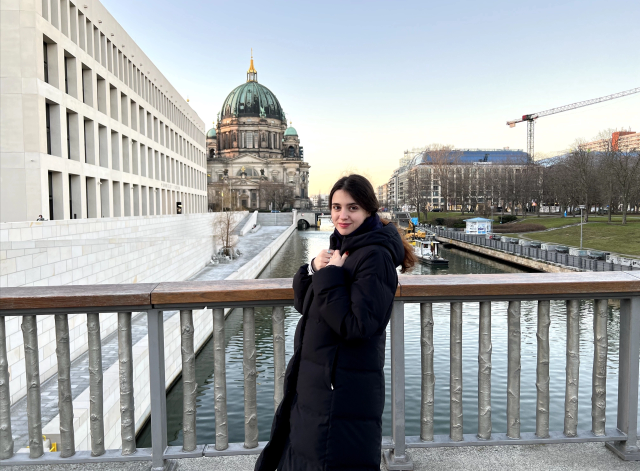 — Why and how did you decide to take part in the mobility programme?
— I had been preparing for the exchange since the beginning of my second year and wanted to go in my third year. Originally, I thought about going in my second year: I prepared my achievements, took part in projects, and simply decided for myself that I wanted to continue my education in Europe. The mobility programme was a way to supplement my resume to enrol in a master's programme later. However, COVID-19 got in the way.
— How did you choose where to go? What were your priorities and desires?
— I was interested in Europe from the beginning. I wanted to go to Germany or somewhere in Italy. But later, I changed my mind: firstly, it was too expensive there; secondly, I understood that due to COVID-19, I could have some problems. So I applied to closer countries—Estonia and the Czech Republic. I chose universities which meant something to me. As a result, I went to the University of Tartu because half of our academic staff studied there one way or another.
— Did you face any difficulties while preparing for the exchange?
— It was easy to get the documents for the mobility programme. The university provides you with a list of everything you have to do. The most important thing is to give yourself some time, write to lecturers to agree on deadlines, and apply in advance to be in time for the programmes with a scholarship.
— Were you worried before the trip?
— I had plenty of fears before the trip! I thought that I would not be able to live in Estonia due to the different currency, different people, and different language. But that did not happen. Completely different fears I had not thought about came true: I was alone during the first month and I had some problems with vaccination because they did not accept Sputnik well. I had to get Moderna and wait a whole month for it to come into effect. I had some existential thoughts about whether anyone needed me there at all. That may be the scariest thing that happened to me during the mobility programme.
— What differences did you notice between studying at HSE University and in Estonia?
— People abroad are more interested in education—they understand why they need it. There are a lot of students who are older than me. I don't know if they took a gap year or not, but they are less stressed and more motivated. Russians often do not completely understand why they have to study. But there, it is pretty clear. They see the studies as a hobby, an interest, because education is very cheap or sometimes even free.
— What was the most interesting thing about the exchange process?
— There were all kinds of enjoyable, spectacular events. I made a lot of new friends who I still keep in touch with. I even stayed at some of their houses after the mobility programme.
During the exchange, I met two German students and a French one. We celebrated birthdays there, went to Lapland and across Estonia... We have an amazing friendship. I'm glad I met them.
— How did the exchange influence you?
— The exchange has changed me. Firstly, I realised that I can really influence my fate. Secondly, I learnt to live alone. Before that, I had lived alone in Russia, but now I know that I can live abroad as well. Integration is not that hard. Thirdly, I chose my life path after graduation: I have a very clear plan for three years. It gives you a lot of confidence. I could gain it only with the help of the mobility programme. In general, I came to believe in my abilities: I made sure that I can really do something, I have amazing achievements. Fourthly, I figured out how they live there, how different people are and how many opportunities this world offers.
— What are the pros and cons of the mobility programme?
— If we talk about the cons, the mobility programme is expensive if you do not get a scholarship. Second, it is very stressful. Third, it might also be a little stressful in terms of preparing, choosing and passing the exams.
The pros are practically everything else. You see a different country, different people. If you have enough confidence, you will meet wonderful people, feel like an adult and understand what you want: to live and study abroad or in Russia. You will learn how the education systems in the CIS and Europe are different.
In general, I believe that it was a very important stage in my life. I am very grateful to HSE University for the opportunity!