HSE SPB Day 2022: How It Went
This year, HSE University-St Petersburg's traditional HSE SPB Day event returned in an offline format. It was held on September 11 in the Sevkabel Port creative space. Students, lecturers, the administration and partners of the campus met by the Gulf of Finland to celebrate the brightest holiday of the autumn, which symbolised the beginning of the academic year and an initiation ceremony for first-year students.
For the first time, HSE SPB Day 2022 was held as a city event in the Sevkabel Port public cultural and business space. The event started at 4 pm with the opening of the pavilions, where guests could try their hand at various activities. First-years received bracelets with campus branding and a map of the space to help them explore the event. Student volunteers helped to manage the event and guided the guests around Sevkabel Port.
The '35 mm' film discussion club prepared a quiz on everyone's favourite films and cartoons. The HSE Music club gave guests a chance to play musical instruments. At the HSE Board Games Club, guests had a variety of games to choose from: reaction based, thoughtful or funny. The participants could play chess and basketball, paint postcards, and colour a joint picture with the Hudozhka HSE creative studio.
Stefaniya Loginova, 3rd-year student of the Bachelor's programme 'Asian and African Studies', Head of the HSE Music club
HSE Music offered several types of activities. First of all, guests could take a test called 'What musician are you?' They liked it a lot! We also gave them a chance to play the ukulele, hand-rattles, drumsticks and even glasses. Some students are going to come to our club for auditions and a welcome meeting.
To be honest, I got a little tired because a lot of people took part in our activities. But I am extremely happy that we had a chance to participate in HSE SPB Day. The atmosphere was magical—you immediately remember why you joined this university and are once again convinced that it was absolutely the right place and choice.
I wish everyone a lot of patience for this academic year, because studying at HSE University is hard. Enjoy the process and don't lose yourself, because despite all the difficulties, our university is amazing!
Bella Kozlova, 4th-year student of the Bachelor's programme 'Philology', Joint Head of the '35 mm' film club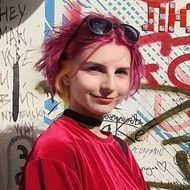 The participants were very active and sometimes shouted the answers simultaneously—it was clear that they were into it. I liked that there were a lot of people who were interested in what was happening. I told the international students who came up to me about our club in English. It is awesome that HSE University tries to involve students in different activities.
I wish everyone good grades and calmness this year!
For taking part in the activities, guests were given stickers which they could exchange for HSE University-St Petersburg merch. There were four categories of prizes: 'mini' (five stickers), 'medium' (ten), 'maxi' (twenty) and 'grand' (twenty-three stickers for completing activities at all the student organisations at the campus). Those with 23 stickers could get, for example, a shopping bag or a sweatshirt with the campus logo. With so many student organisations taking part in the event, everyone found something to their liking. After completing activities, the students joined clubs that interested them.
The Centre for Innovative Entrepreneurship prepared a quick but extremely fun game for anyone looking to put their entrepreneurial skills to the test. They had to quickly come up with a new business idea based on a set of presuppositions, conditions and requirements which they had to take into account. As a result, the 'entrepreneurs' and full teams created about 50 start-ups, among which were such projects as a voice-activated digital assistant to help prepare resumes and pass interviews; VR-assisted driving lessons; and even a genetically modified dog which reminds its owners about necessary repairs.
The Career Centre told visitors about all the career services available to students, while the International Office spoke about academic mobility. The HSE Art and Design School gave the participants a chance to make their own souvenir T-shirts with creative designs.
The HSE Crow—the campus mascot—also participated in the event, taking lots of pictures with guests, having fun, and dancing with students. Inside the costume was Vladislava Ogorodnikova, 2nd-year student of the Bachelor's programme 'International Business and Management Studies', who volunteered for the role. 'Being our mascot was both an honour and a dream for me. When I was a prospective student, I already wanted to meet the Crow, but I did not have a chance to do it even as a first-year. That is why I was happy to hear people scream, "Ah! I've dreamt of hugging/taking a picture with the Crow for three years!", because that is what I felt. So I understand them', she said.
The event also featured a series of speeches by campus researchers and lecturers as part of the 'Public Talk' programme. Yana Krupets, Deputy Director of the Centre for Youth Studies (CYS), presented the results of the centre's research on the labour market for young people in her speech 'Young People Finding their "Dream Job": Between Employment and Entrepreneurship'. Alena Suvorova spoke about research at the intersection of machine learning and human-computer interaction. Lena Penina explained the nature of design, what it can become for each person, and who engages in it.
Alena Suvorova, Associate Professor of the Department of Informatics at HSE University-St Petersburg, Academic Supervisor of the Master's programme 'UX Analytics and Information System Design'
Hold a Public Тalk at a big campus event—why not? From the audience's point of view, it is not a lecture, but a rather short speech for those who are ready not only for interactive formats. From the speaker's point of view, it is another channel to share what we do and, perhaps, attract those who have not thought about these topics yet. Of course, the audience varies a lot, and the audibility is bad. There is no opportunity to make the experience more interactive, but nobody left: they listened to the speeches and asked questions. I hope it made them think about something.
I like the idea of demystifying artificial intelligence and machine learning. There are a lot of diverse tasks, and you do not have to give your life to studying maths to do something interesting in this sphere. If you want, you will always find a task for yourself. In general, I try to talk about it in various formats, including short educational ones like this.
Mariya Krupko, 1st-year student of the Bachelor's programme 'Law'
I chose Public Talk because I like this way of spending my leisure time. I expected there to be some hand-picked, exciting material and a unique presentation which would be interesting to people who did not know anything about the topic of the lecture, and I do not regret it. I spent about an hour at the lectures and listened to two speakers. As a curious lawyer, I thought that it would be useful. I decided not to collect the stickers, but I listened to wonderful music and joined the dancing. Everything that is happening here gives you energy!
The celebration concluded with congratulatory speeches and an initiation ceremony for first-year students. Anna Tyshetskaya, Director of HSE University-St Petersburg, Manoj Sharma, Deputy Director, the heads of faculties and VTB (one of the university's partners), congratulated the new students and wished them luck with this new stage of their life.
Vladislav Fedorenko, 1st-year student of the programme 'International Bachelor's in Business and Economics', read an oath in Russian on behalf of all first-years, while Mika Sebastian Kerman, 1st-year student of the Master's programme 'International Business', did the same in English. On behalf of lecturers, an oath in Russian and English was read by Irina Shchemeleva, Deputy Director of the campus and Dean of the School of Arts and Humanities. The students sealed the oath by singing the student anthem 'Gaudeamus' together.
The final note of the holiday was a performance by DJ Feel. HSE University-St Petersburg danced to his incendiary techno tracks on the embankment of Sevkabel Port until it got dark. The stars of the event—the first-years—unanimously agreed that the holiday was a success!
Ekaterina Melnikova, 1st-year student of the Bachelor's programme 'Philology'
I liked the activities at the stations a lot. The stickers and nice gifts were a good motivation. I have only one sticker to go until I have ten, but I am not going to stop here!
Everything is well-organised, and this is a brilliant choice of venue—you can always stop and admire a gorgeous view if you need some time to relax. It is captivating. I really like how HSE University organises its events—everything is done with great taste, in a single style, deliberately.
Mikhail Strezhnev, 1st-year student of the Bachelor's programme 'Applied Data Analysis and Artificial Intelligence'
I met a lot of acquaintances; we played board games together. We also danced near the stage a little—the music was amazing. It is great that we were lucky with the weather today.
I am starting the new academic year with hope for the future. I plan to get an internship next year—it is awesome that HSE University is helping with it. I also hope to keep my scholarship, so I will work hard. I hope that all the students study well, while managing to spare some time for self-improvement and self-realisation.
Bachelor's Programme in Applied Data Analysis and Artificial Intelligence, Bachelor's Programme in Asian and African Studies, Bachelor's Programme in International Business and Management Studies, Bachelor's Programme in Law, Bachelor's Programme in Philology, Career Centre (St. Petersburg), Centre for Youth Studies,

Centre of Innovative Entrepreneurship

, HSE Campus in St. Petersburg, International Bachelor's in Business and Economics, Master in International Business in the Asia-Pacific Region, Master's Programme 'UX analytics and Information System Design'
Пенина Елена Михайловна
Irina Shchemeleva