Against the Odds: Short-Term Programme Internationalises Russian Studies
In early March, the International Research School, a short-term online programme that was held for the first time in 2021, came to a close. Students from different countries met on MS Teams to study in the 'Russian Politics and International Affairs' track.
Over the course of three weeks, from February 15 to March 5, participants studied the complex relationship between the political and economic transitions in Russia and other post-communist countries in addition to discussing issues of Russian foreign policy and diplomacy.
Students with various backgrounds from different corners of the world — France, South Korea, Turkey, the Netherlands, and Venezuela — joined the International Research School to boost their expertise in a wide variety of topics including Russian-Chinese relations, Russian-EU relations, Eurasian cooperation, nuclear cooperation, the West in Russian political discourse, and the Russian speaking diaspora abroad.
The new track that focuses on Russian politics and its role in international relations aims to provide new insights into the field that often seems a riddle for many international students who conduct research on Russia-related topics.
'One of the trickiest aspects of studying Russia for international students is the understanding of where the "European-looking surface" of Russian social life becomes the "Eurasian substance, identity, and ontological security",' explains Sergei Akopov, the Academic Supervisor of the track.
The Research School covered three thematic sections taught by lecturers from the Department of Political Science and International Affairs: Dr. Sergei Akopov introduced the concept of Russian identity in world politics, Dr. Andrey Scherbak covered issues of the political economy of postcommunism transformation of Russia, and Dr. Vera Ageeva discussed questions of Russian foreign policy and security.
Sergei Akopov
Professor, Department of Political Science and International Affairs
'My teaching philosophy lies on two main principles — dialogism and commitment to student's needs.
Dialogism, like in Mikhail Bakhtin's work, suggests a dialogical communication rather than an authoritarian discourse of a professor over a student. The professor and the student are co-authors of the mutually constructed knowledge which is based on critical thinking and deconstruction of (political) propaganda.
Teachers should try to as much as possible to address the essential and existential needs of each student. Our teaching is tailored for the particular demands and uniqueness of every student's life situation so that every student after every class should take something home that will make one's life better or more promising.'
The HSE International Research School teaches students how to conduct full-fledged university-level research and develop their critical thinking skills. At the end of the course, each participant put their acquired knowledge into practice and wrote a comprehensive research proposal following their interests under the guidance of HSE academic staff.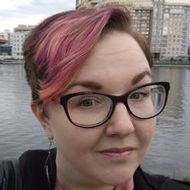 Marina Sannikova
Director of the Centre for International Education
'Experience conducting a research project of one's own design seems to be extremely useful for those who are preparing their theses or intending to apply for master's or PhD programmes.'
As a national research university, HSE contributes to scientific research. Against the odds of restricted international mobility under the pandemic, which has affected international education in many ways, HSE – St Petersburg is maintaining and enhancing its research activity at the international level.
The strategic mission of a national research university is to produce knowledge, boost high-tech development by combining fundamental and applied research, and contribute to transferring technologies to the economic sector. At HSE University – St Petersburg, numerous international and international-level laboratories and projects honourably commit themselves to this objective.
Apart from this, a high research performance has contributed to HSE's high positions in international university rankings. As a member of the 5-100 Russian Academic Excellence Project, the University has continued to climb the rankings and expand its international profile since its establishment.
Vera Ageeva
Sergei Akopov