"Our main principle – building individual trajectory" by Andrei Scherbak, about the research track in the "Comparative Politics of Eurasia" master's programme
Many of them who join the master's programme want to develop their research skills. This master's programme is the important stage for them to pursue postgraduate and doctoral studies. Qualitative methodological training and an opportunity to participate in international scientific projects become the priority. The academic track "Theory and Methodology of Modern Political Science" is opened especially for those students in the comparative politics of Eurasia MA programme. We talk with the  head of department of Political Science and International Relations, Andrei Scherbak, about the particularities of this new track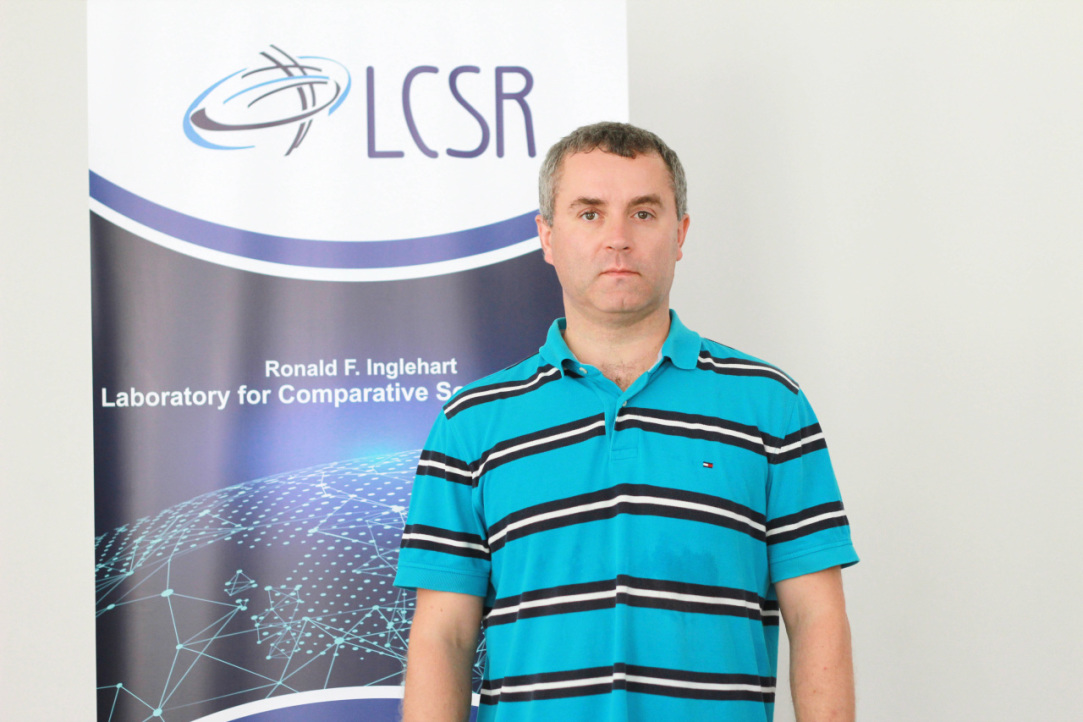 Could you tell about the research track "Theory and Methodology of Modern Political Science" which is in the part of "Comparative Politics of Eurasia" master's programme?
There is a wide perspective that the Higher School of Economics gradually introduced a system which is named "2+3" - two years for a master's programme and three years for a doctorate programme. It means that we can begin our work early with the students who understand what kind of academic career they want to pursue. The students must have the possibility in advance to move forward to pursue a master's degree, doctorate degree and preparation for a research career. Our programme will be one of the first institutes, at least in Saint Petersburg, that introduces that system. It will be normal for a large part of another master's programmes to introduce this system in next one-two years. You need to know that this track will not be a super big track for sure. I mean that we will work with those students individually. Considering that professional training in methodology is the most important thing, we will recommend that the students choose the most suitable courses from adjacent master's programme for them.
Moreover, this tendency has been observed in the whole Higher School of Economics, academic mobility will play a special role in this programme. There will be an opportunity to increase your methodological skills at cooperative universities in European Union countries in this programme. The coronavirus situation leaves some mobility issues in open space, but we still hope that everything will be back to normal. Finally, the students will get the opportunity to do field internships in some former Soviet Union countries to collect information or data, so that they will have the opportunity to get information from first hand and not just based on second sources (books, articles, journals, etc).
If the students want to choose this track,  if there will be so many applicants, do they all get a chance to get a place in the track?
Yes, experience of previous student enrollment showed that there were a few students who want to join this track. Because we have so many international students who take the Eurasian master's degree in Russia as an important element for their political and administrative careers. We also have students who learn about Russia in their bachelor's degree, especially, students who learn Russian language, literature, and culture. Those things are such an experience for them. They come here not to take their postgraduate studies in Russia. Experience of last year showed that the Russian-speaking students would like to join this track. It was because they already decided in advance that a career at university is interesting and they are motivated to stay at university, take master's and doctoral degrees, give lectures, and conduct research.
 What is expected from the students who take this track? What kind of knowledge and skills do the students need to graduate successfully from this track?
First, we are expecting that the students are motivated and are ready to take methodological training. We consider that good knowledge and skills in research methods are a must to study successfully in a doctoral programme. Meaningful knowledge about certain themes and expertise in a certain field will help, along with supervisors. The good foundation of methodological training is something which does not limit graduate students of political science at all. We also do not set any exclusive requirements.
 
Focus on methodology might be extremely hard for students, especially if that is quantitative method, for instance, if someone is not able to use R or Phyton programme. How will you teach those students?
If a student just wants to use qualitative methods and know more about qualitative methodology, then there would be no one who forces them to learn a certain level of R programme. Otherwise, if he or she wants to learn quantitative methodology, we will find that opportunity. Our main principle is to build an individual trajectory which is suitable to the students and based on the director programme's discretion.
Internship opportunities in research centers which are affiliated with the Higher School of Economics are one of the particularities of this track, and the chance to participate in methodological and theoretical summer schools. Could you explain in more detail about that summer school – what are they trying to introduce, what kind of requirements are needed to join that summer course?
 We conduct summer school of research methodology in the Higher School of Economics in Saint Petersburg for three years in a row, except in the corona virus pandemic. We were happy to see our students here. Next year, when we renew our school tradition, our students will get a chance to participate there. We do not want to force anyone – we are talking about giving a chance to students to participate and enhance their skills there.
There is still one particularity of this programme - an internship in one of our research centres. The students who are already in the Higher School of Economics can get a chance to get and take an internship in some laboratories, both through a programme and without a programme in Saint Petersburg. They can also get a chance to know if there are internships, voluntary positions, and any projects which are needed there.
Sometimes, our programme can send the students to certain centers, but usually the students find places that they are interested in – there are plenty of choices. We have so many research units which are appropriate with their studies, so that they are going to have more potential opportunities. There is still one suitable center for political scientists, namely the Center for Comparative Governance Studies. However, there is a research unit where political scientists often work, for instance, one of those centers is the Laboratory for Comparative Social Research, which I consider as home. It is one of the most famous centers to conduct comparative quantitative research in sociology and political science.
We started to support our students to do field research in overseas this year. What kind of support do we provide in this scheme? We allocate special funds to support short trips for the students to collect data or information in former Soviet Union countries over several weeks. There are some countries and cities that are extremely easy to organize because we have many cooperative organizations and universities that will be glad to accept our students there. We work in this direction successfully, and several of our students are glad to use that opportunity; they went to Kazakhstan and Mongolia. They managed to go to those countries to collect information and data before the border became closed because of corona virus, and of course, the students are satisfied. We plan to develop this needed system.
Now we are developing our cooperative institutional network: universities, analytical centres, international organizations, and non-governmental local organizations which are ready to accept our students. Those cooperative institutions will help the students to look for respondents, informants, and interviewers. I think that is the right way and it is a big bonus for our programme,
Because Eurasian study which takes place in Saint Petersburg is under the guidance of real experts of those countries, experts who have wide experience in field studies and of course a trip to Eurasia in order to see many things with your own eyes. There are countries which are more closed for exchange programme. However, there are also countries which are less closed. We strive to use not only our funds, but also organizational capabilities, long-term professional connections of lecturers in our programmes, and their experience in different countries.
Could you please explain from your perspective, why the students should choose this programme, especially this track. What kind of competencies the students will master after the track?
If the students are focused on scientific-research career and they already have certain motivation in this field, while they want to get good training of Eurasian research at the same time, then this is a good option. Yes, they can get many meaningful knowledge and strong methodological training. They will know that a chance to participate in competition is waiting for them in the doctoral programme. However, they will have a more powerful resume initially that makes it possible for them to participate in that competition with full confidence.
I believe this is a remarkable trajectory for those academic motivated master students. I am not ready to say that this is the best programme in the world, but it is close to it (he smiles). In reality, this is the most comprehensive, predictable and in many ways the most applied class which prepares the students to build progressively of their academic careers.
Do you have some kind of wishes for master students who are looking for the ideal master's programme?
First, look at who are the teachers. Second, Higher school of Economics web-site is one of the best site among Russian universities in amount of information which every external reader can obtain. The information is about educational programmes, courses, certain lecturer's work experiences, publications, and their actual geographic methodological expertise.
All information is accessible on lecturer's web page. Please just do not be lazy to check it. For instance, look at section course of general methodology in programme: methodology programme and political research methodology by Elizaveta Potapova, scientific research seminar «Design and Research Methodology» by Andrash Gal, two of scientific research seminars to choose from quantitative method by Emile Kamalov or qualitative methods by Yana Krupets
Look at who are the teachers, what they teach, and opportunities which the programme has beyond the curriculum such as mobility, internship, trip, project activity, and scientific activity. Those are things that make teaching more pleasant, especially in our master programme. In moment when education really broadens its border both literally and figuratively, pay attention to students review, what they say (about the programme), what they like and what they do not.

This interview is written by student from programme «Political Science and World Politics» Viktoria Apalkova and student from programme «Comparative Politics of Eurasia» Boris Sharov.