Cultures Day at HSE-St Petersburg
After a long break, HSE-St Petersburg has hosted Cultures Day—an event that unites cultures from all over the world under the same roof. Visitors could forget about deadlines for a day and instead focus on films, friendly conversations, dancing and tasty treats.
After two years of waiting, hoping, and preparing, the long-awaited Cultures Day was held on May 29 in the building on the Griboyedov Canal. Through the joint efforts of the Student Council and the Association of International Students of HSE-Saint Petersburg, a large-scale celebration took place, bringing together students and guests from 13 countries and regions. Alisher Mamazhonovich Babayev, the General Consul of the Republic of Uzbekistan in Saint-Petersburg, attended the event as an honoured guest.
Through puzzles, riddles and other fun activities, representatives from various countries shared their native cultures, interesting traditions, and customs. The students treated guests to plenty of traditional dishes, including pilaf, tea with milk, pastries, hummus and much more.
Short films and cartoons produced by the participating countries were shown in the study room on a big screen. At the end of the evening, guests tested their knowledge of various cultures with a quiz and the winners received prizes.
Ruslan Miftakhutdinоv, Head of HSE-St Petersburg Student Council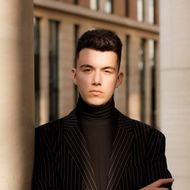 With major events like Cultures Day, there are a lot of things you have to keep in mind: coordinating with the administration, sending applications for the necessary equipment on time, contacting the participants and partners, and preparing the decorations. It is very important to have a team that can share responsibilities competently and operate in the optimal way. Fortunately, we did it. Of course, the feeling from the event was excellent! Somewhere deep down, I was worried that something might go wrong or the event wouldn't leave a good impression. I'm happy that all my fears were unfounded.
Vlada McCormick, Head of the Association of International Students at HSE-St Petersburg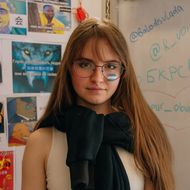 When I was giving the opening speech with my co-host, a group of people was already gathering on the stairs. That was when I knew the event would go well. Given that Cultures Day was not only on a Sunday, but was also being held for the first time in two years, it was especially nice to see such interest.
Putting aside any ideas like 'we could have done better', it was definitely a success. Considering the fact that not all students had a chance to attend such events before to represent their countries (or even as guests due to the pandemic), I was impressed with their enthusiasm and high level of preparation. And as a result, we had beautifully decorated and original activity zones.
We certainly plan to hold events with a similar concept in the future and to implement fresh ideas every time—new activities, new venues, new partners!