German Students Have Come Back from Russian Empire
The International Summer School organized by the History Department of HSE St. Petersburg in partnership with German Academic Exchange Service (DAAD) has finished. On the 29th of September 22 students from17 German universities, who had come to Saint Petersburg to study Russian history, culture and language, received their certificates of participation in the programme. The next day they set off for home taking with them their unique experience of studying in the most beautiful Russian city, new ideas and understanding of this country and its people.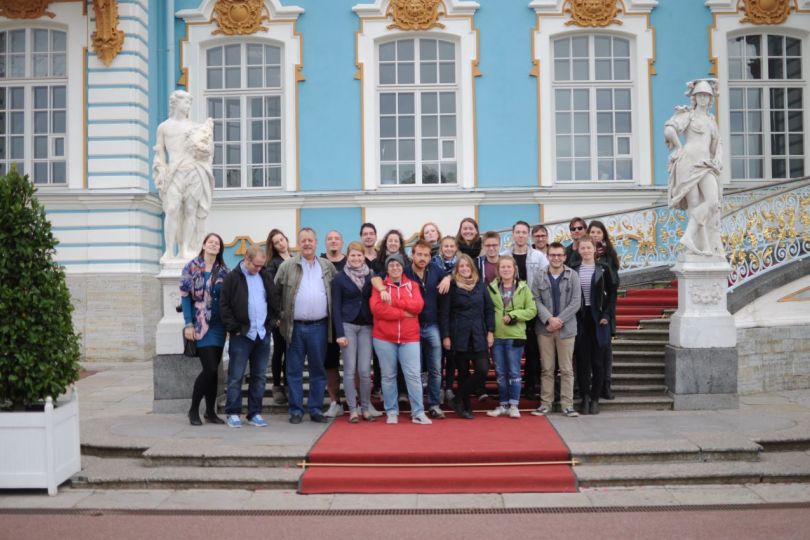 This year the Summer School "The Topography of Imperial Power: the Political Space of Saint Petersburg" was organized for the first time. It lasted for three weeks and included a number of various courses, presentations, workshops and a cultural programme. The classes were conducted in English and German.
Economic, social, political and religious developments of the Russian Empire and its capital were the central topic of the school. The participants also discussed the political life and regime of modern Russia and everyday lives of its citizens.
The classes were given both indoors and outdoors. The participants listened to a lecture about Orthodox Christianity by Saint Blessed Xenia of Saint Petersburg Chapel on Smolensky cemetery, the oldest city graveyard. The Saint Petersburg Metro stations, which strike with their elegance and decorations, were chosen as classrooms for a presentation on soviet avant-garde architecture. The programme included a tour to Velikij Novgorod (Novgorod the Great), the ancient town where Russian democracy was born ten centuries ago. The students visited the Tauride Palace, the seat of the first Russian State Duma (the national parliament), as well.
Dr. Nathan Marcus, Assistant Professor of the Department of History at HSE St. Petersburg noted that there was no surprise these students showed keen interest in Russian history.
"These are very intelligent and motivated graduates of the German education system and they know that to properly understand contemporary issues one needs a good grasp of history. I believe that at the school we managed to give them a good introduction to the political and cultural transformations Saint Petersburg and Russia underwent during the final 20-30 imperial years, without which it is impossible to understand this country today. I also think that studying Russian history will remain popular and gain importance in German academic circles, because historically our countries have never been able to ignore one another and they certainly will not be able to do so in the upcoming years." – Dr. Marcus said.
In addition to studying history, the students devoted half of their time to Russian language. They were divided into three groups according to their levels and perfected their Russian at least three academic hours a day.
Dr. Dietmar Wulff, Academic Director of the school and Associate Professor of DAAD, stated that this project owed its success to the balanced combination of history and language classes.
"I am very proud that we were able to offer our participants this comprehensive experience. This programme enriched them with knowledge of Russian history and helped them perceive this country through its language at the same time. Certainly, this project marks another achievement for HSE St. Petersburg and I hope we will be able to realize it every year." – Dr. Wulff told.
Satik Aghekyan, master student, the Free University of Berlin
"I was born and grew up in Armenia, which still has very strong bonds with Russia. So, a visit to this country had remained my dream for many years. Finally, I have made it true. Classes on history and politics were the most interesting to me, in particular, the one on Russian democracy. I had studied this subject before at the Free University of Berlin, but it was important for me to hear about it from a Russian professor. I was stunned by Saint Petersburg, too. I had expected to see traditional Slavic architecture, but found myself in a magnificent European city. I will definitely come back here."
Johanna Verhoeven, bachelor student, the University of Hamburg
"I had started reading about Russia on my own. Later I found this programme and decided to participate. Outdoor lectures impressed me most, especially the class that was conducted on Smolensky cemetery. Our professor took us to the chapel and we saw people praying, lighting candles, and queuing to kiss relics and icons. We were amazed to see this, as you do not usually witness such religious rituals in Germany. This tour widely broadened our notions of Russian mentality and customs."
Franziska Petri, bachelor student, Heidelberg University
"I study political science. Some time ago we had had a course on Russian foreign affairs. Doing that course, I had understood that I needed to learn Russian because we had used a lot of Russian words when discussing some concepts. That was the reason why I came here. I was glad that we had so many Russian classes at this school. I cannot speak it now, as I started learning this language only here, but I know that I am on the right path. No doubt, I will go on studying Russian."
Roland Moosmüller, master student, Ludwig Maximilians University Munich
"I am going to become a history teacher, so lectures on the Russian Empire were the most exciting to me. I came here to find inspiration to start my master's thesis. I needed to choose between two topics. They were the history of the GULAG and the siege of Leningrad during WWII. I have not decided yet, though, because the time that I spent doing this course firmly convinced me that I wished to write on both subjects."
Aliena Selina Stürzer, bachelor student, the Free University of Berlin
"I study political science and I am fond of Russian politics. I had also started studying Russian at university. I think I was lucky to be here because I could practice the language, learn more about the history of this country and simply wander around in this beautiful city. At the first class Dr. Wulff advised us to take long walks in Saint Petersburg as much as possible. We followed this advice persistently. I was very sorry to leave."