Never Be Afraid of the Challenges
Ha Young Chung, a transfer student from Korea, speaks of the first year of study at the Bachelor Program "Sociology and Social Informatics" in HSE St.Petersburg.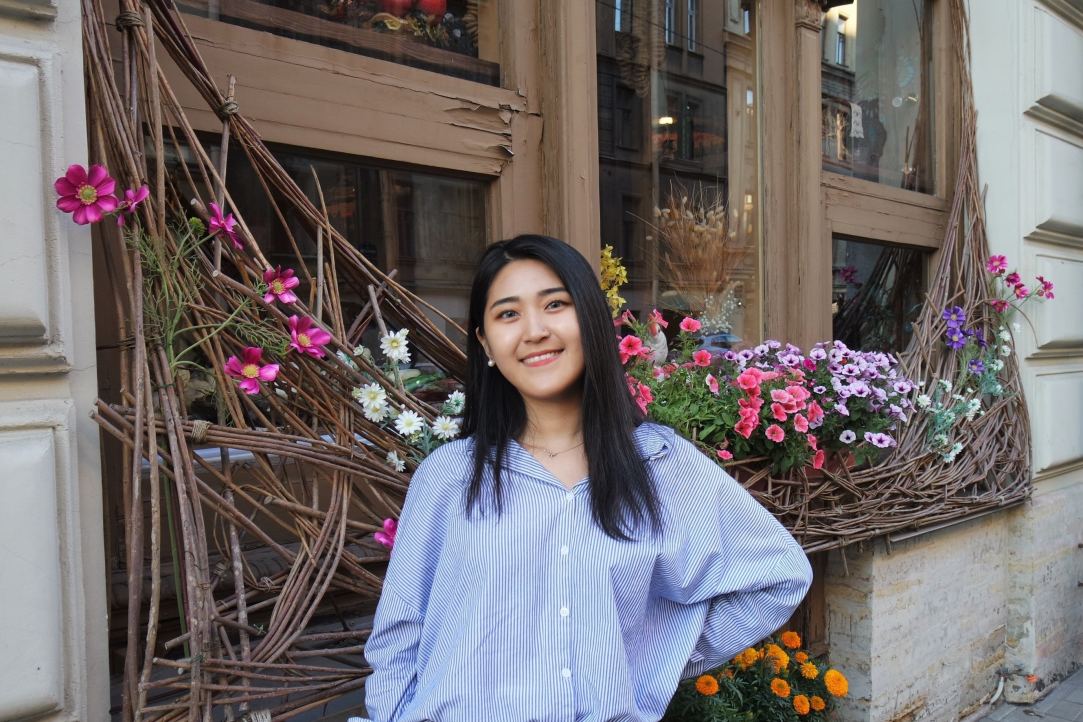 Hi, I'm Ha Young Chung, a Korean student studying in Sociology and Social Informatics program since last September.
To tell a long story about why I have transferred to HSE and to our department, I have to date back to the time when I first decided to study Russia.
I thought there would be many opportunities in my life if I can speak Russian well
It was 2016 when I entered the university in Korea and first studied Russian. When I decided on my major, I wanted to study Sociology or Korean history or learn a new language. I liked learning new languages, but most of all, I thought about Russian rather than Chinese or French. It was due to our current diplomatic situation, which seemed like Korea is developing a closer relationship with Russia.
Thus, the necessity of a specialist who speaks Russian was increasing, but yet there are not many people who can. Accordingly, I thought there would be many opportunities in my life if I can speak Russian well. Eventually I decided to major Russian, but still, I had never imagined myself being here at that moment!
In that way, I started to study Russian at Hankuk University of Foreign Studies, but personally, it was too hard and not interesting at all. Language is a thing that depends mostly on self-study, but it was not intriguing to me to study a language in a way evaluating by the tests and the grades.
I felt skeptical to do so, thinking that if I really can listen and understand or speak and write in a real situation. Therefore, I thought it would be practically more effective to study in Russia at least once than studying longer in front of the desk in Korea where no one speaks Russian. So, I came to Russia for the first time in February of 2018 as an exchange student.
During my stay in Yakutsk, I got interested in Russia
I had stayed in Yakutsk in the middle of Siberia and studied Russian at North-Eastern Federal University in Yakutsk (NEFU) for 4 months. During my stay in Yakutsk, I got interested in Russia. The city was not so far from Korea, but it was totally different. The weather, language, culture, people, and many other things were quite different.
The most interesting thing was that the mix of different cultures. I could see why Russia is sometimes called as 'Eurasia'. I could find western culture, which was similar to what I had learned from the US in my childhood; eastern culture that might have been created because of its location, and their own new Russian culture – all at the same time. It was very interesting.
However, Yakutsk was so cold and a bit boring than Seoul where I came from. But thanks to that, I could concentrate more on Russian and finally be intrigued to continue studying Russian though it was hard. I started thinking that maybe in a bigger city, a real 'city' not like Yakutsk I could find more interest. So, I started looking for ways to come back to Russia and continue my study even before I came home.
I got to know about HSE at that moment. Furthermore, I've noticed that recently they started to allow foreign students to transfer to HSE as well. Originally, I was planning to study in the Russian language center only for some time more and came back to Korea to finish my study, but suddenly a new option appeared for me.
I had never thought to attend a Russian university at all, but as I already decided to go for the way related to Russia anyway, it was a very attractive chance to get a diploma from a Russian university. Moreover, HSE was one of the prestigious universities in Russia. I also wanted to study Sociology before, so it was perfect that I could study Sociology here in English. My Russian was not enough to study a new discipline in Russian yet, so studying in English was also a good condition.
Unfortunately, I couldn't transfer to the third year even though I had finished my second year in Korea, but I think it's still satisfying since my previous major was totally different from Sociology. To sum up, I could study Sociology, improve my English as well, and learn Russian as leaving here for 3 years if I transfer to HSE. It was already out of the question.
HSE was one of the prestigious universities in Russia. I also wanted to study Sociology before, so it was perfect that I could study Sociology here in English
It was June at that time and only less than three months were left till the beginning of the fall semester. Having experienced being an exchange student, I already knew how long it took to get all the administrative works in Russia. Thus, I had to focus on them and couldn't even think about how my study or life in St. Petersburg would be.
I had prepared all the documents by sending more than hundreds of emails to my program coordinator for 2 months. This time it was harder because I had to manage it personally without any help from the university or any agency. It was hard to find the information because the transfer from Korea to a Russian university was such a rare case. Especially, there was once big trouble that I might not be able to transfer due to the difference between the two countries' transfer system.
However, I could finish safely all the procedures just two days before leaving thanks to my family, my coordinator Ekaterina Ershova (the head of the Sociology and Social Informatics Study Office), and the university. Eventually, I am now in St. Petersburg studying in HSE!
It was an unprecedented hard choice and quite improvising decision to see in terms of time, but on the other hand, I think maybe it was supposed to be like this since I first studied Russian in Korea. I wouldn't go to Yakutsk if I didn't study at Hankuk University of Foreign Studies, and I wouldn't come to St. Petersburg if I didn't go to Yakutsk.
Perhaps all moments were meant to be like that in order to result in this decision to come to study Sociology at HSE in St. Petersburg. I had answered literally more than a hundred times to the question asking, "Why did you come to Russia?" here, and it seems this is the first time to say this long in details. Thanks to this opportunity, I could look back on my first step here in a while. I had never imagined being here now just a year ago, and now I'm just looking forward to my future after finishing my study here at HSE SPb.  
Text by
Ha Young Chung