Alumni
Our programme creates outstanding career opportunity. Graduates work for international corporations, are founders of their own succesful business and create awarness about their alma mater as a one of the best Business schools in Russia.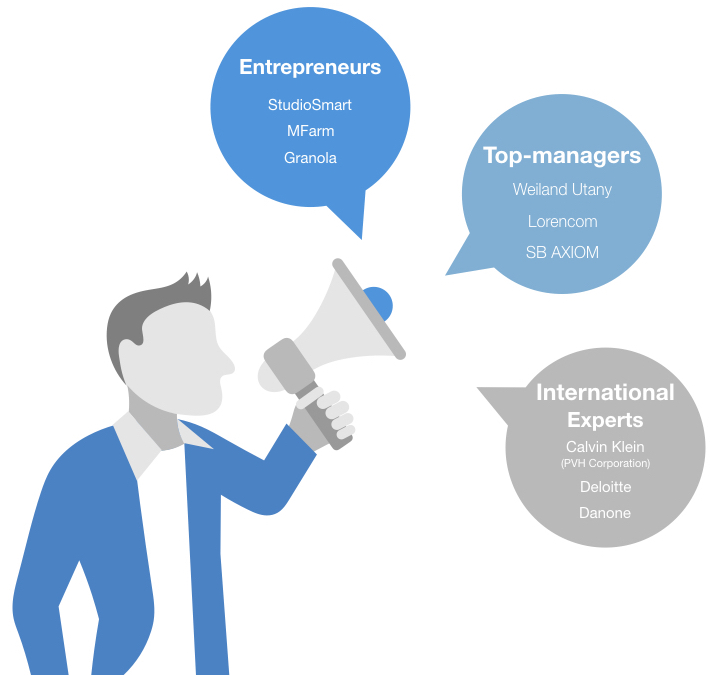 Evgenia Syvorova,

 HR division, Hyinday

"Higher School of Economics opened its doors for me almost 10 years ago. Since that time I not only have graduated from one of the most respectable educational institution of our country but also have started to follow really fascinating way full of possibilities. HSE gave me a good base and wonderful companions (teachers, classmates and our student community) for this start and I really glad to see my alma mater occupies a worthy place in educational field".

                                    


Ekaterina Dobrynina

, Trade Marketing Manager, CUTRIN Professional Russia

"As a joke, we, Bachelors of Management, called ourselves as wide profile specialists. And this is completely true! During education you attend different courses: Finance, Economics, Marketing and Communicology. All these allow you to develop in any sphere of business in future. Special thanks for Business English, plenty of case studies, team assignments, lectures by teachers practitioners and atmosphere inspiring for getting knowledge!"

Viktor Kuznetcov

, Business analyst, Heineken

"During 4 year study Bachelor of Management the most important thing I received in addition to the applied knowledge and tools, is the ability to think critically and solve problems of any complexity. In my opinion, perseverance is one of the main distinctive features of the professional, not only manager. Students of this programme can form this characteristic by applying the necessary effort. Also, I had special admiration to the staff. I can confidently say that I'm proud of getting Bachelor Degree in management. It helps me to receive a complete higher education."

Dmitry Gudumak

, Chief Business Development Officer, Start.ru

"Bachelor's program in HSE became a significant background of my career, the program gives comprehensive knowledge in marketing, finance and legal. Despite the vastness of the fields of knowledge and skills they are not superficial. HSE is considerably liberal university here do not make students to study, here on the contrary give tools for obtaining knowledge and specify what sources are most valuable. This approach implies individual work and group projects, which later allow you to quickly adapt to a dynamically developing world. Moreover, the whole structure of the educational program is built in such a way that alumni become an expert with a sustainable bundle of knowledge and skills."