Look What We Found: A Blog All About Sharing
Marina, a co-founder of the "Look what we found" blog, shares an inspiring story behind its creation.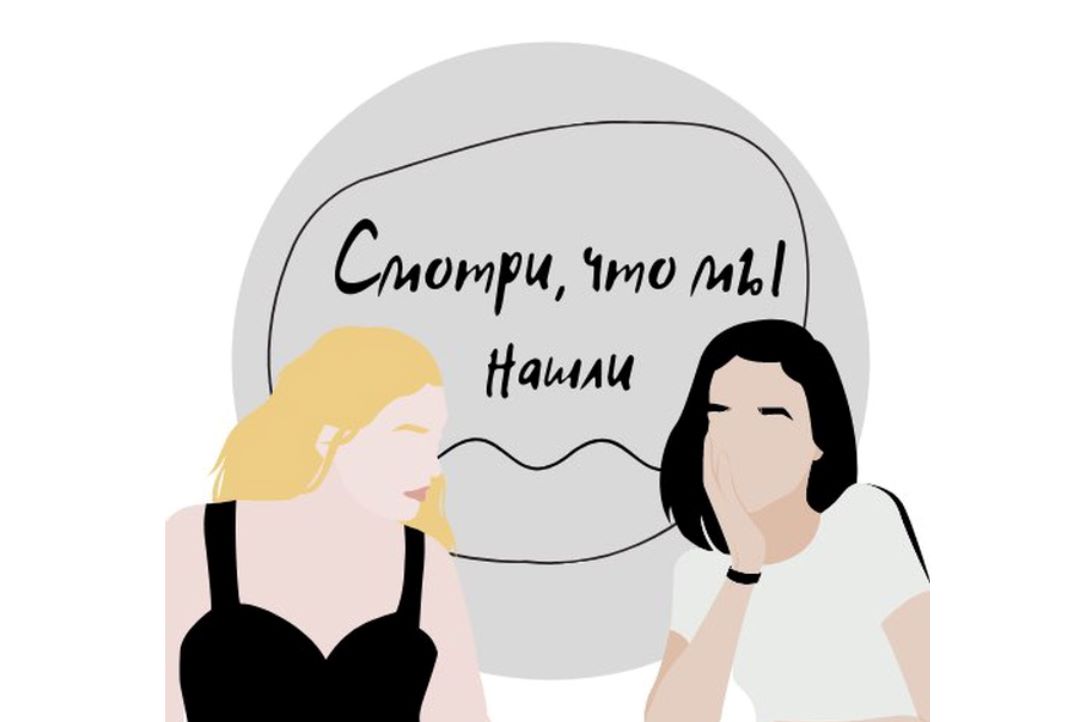 Have you ever considered starting your own blog? Or maybe you've just always wanted to share your knowledge and experiences with others? We know that it's definitely a lot harder than it might sound like.
In today's article we will share a short interview with Marina. She is an HSE student majoring in Sociology and Social Informatics and one of the co-founders of a Telegram blog called "Look what we found" that now has over a thousand subscribers. The content shared there includes information about internships and job offerings perfect for students, scholarships and grants, interviews with other students sharing their experience, real-life cases, links to online courses and webinars, useful advice and practically anything you can think of. "Look what we found" was created simply because Arina and Marina, who are the masterminds behind this blog, wanted to share all the interesting and useful links and information they found with others. Their main audience consists of students, just like they are themselves, who might feel a bit lost and don't know what they want to do in the nearest future. The main purpose of the blog is to help those stuck in such a situation where they are, on one hand, overwhelmed with all the information they are bombarded with and, on the other hand, have no idea what to do with it.
We thought that by asking Marina a couple of questions about their blog, we could gain a deeper understanding of what it's like to manage your own blog, how to kick off a project of such sort and how to make it different from thousands and thousands of blogs that are already there. Hopefully, we'll inspire some of you to give it a try if you have been thinking about it for some time.
Without further ado, let's jump straight to our interview!
How did you two get to know each other?
We actually got to know each other because we both study Sociology and Social Informatics here at HSE SPb. Back then Arina was a freshman, while I was a sophomore already and, to be honest, we haven't really talked to each other. However, our major wasn't the only thing we had in common. We were both abroad for a semester thanks to the exchange program: she went to the USA and I was in the Czech Republic. And it was when we both came back that we started talking. I was actually working at this English academy at the time and since she was searching for a job, I offered her to join our team. Maybe that's how it all started. There was also this other friend of ours, Sasha, who worked with us – she is currently a SMM manager at HSE career center. The three of us had this group chat we used for just chatting, so I guess that's what really brought us together in a way. As we were sharing everything that was happening in our lives, Arina got interested in HSE career center and asked Sasha if there was any way for her to do something for it. Since there is always something to help with, we were both glad that she offered a helping hand. In the end, we were all working as a part of HSE career center SMM team. We kept sending each other all these links, articles, news posts… However, a lot of content of such sort was not considered appropriate for HSE career center social media accounts and went to waste. It was such a pity to let it simply go unused and not share it with anyone because the content itself, as it seemed to us, could be very useful for someone of a mindset similar to ours: both me and Arina really like sharing the stuff we find with other people so that we can all benefit from it. That was when I offered her to open our own channel on Telegram. By that time, I knew she was extremely hardworking and was sure that I could trust her with such a project. Having Arina as a part of our team was what gave me confidence that it will all eventually work out.
Tell us about the "early days" of your channel.
Luckily, Arina already had a Telegram channel with around 200 subscribers – she used it to share her experience of studying as an exchange student in the USA but stopped uploading when she came back. We used that channel of hers as a basis for our project and transformed it into our new channel. To be quite honest, we didn't have a detailed content plan or a strategy to stick to in the very beginning: we simply knew what we wanted the general message behind our channel to be and what we wanted to share. We also don't have a "team" of sort – it's just the two of us. So, we had to work on the blog design and create all the icons by ourselves. Canva was mainly used for those purposes but we also occasionally used Photoshop. People actually often ask where we got all the design elements from and we don't really know what to say since we are the ones making all of it.
You mentioned that you already knew what you wanted the message behind your channel to be. Can you tell us more about that?
Well, our general idea is that we want to help other students to understand that there are a lot of opportunities out there and as long as one is determined to give it a try there is no such thing as having no hope and no prospects for the future. It doesn't always have to be job offerings – we also share links to various webinars and courses aimed at the development of different soft skills that might be useful for our subscribers. In fact, we started by writing about our personal experience. For instance, we shared what we knew about getting a scholarship for those planning on going abroad to study in Norway because that was something I had to do my research on. In general, we try our best to be quite humble and show that we are no different from those people who read our posts. As I've already mentioned, we believe that people who follow us have a similar outlook on life and that's why we think that our personal experience or content that was once useful for us will also help them. Our subscribers have their goals set and they do understand that they need to work hard to reach those but they also are perfectly aware of the fact that it will definitely be worth it.
But you do occasionally share information in regard to job offerings, don't you?
Yes, we do. But we mainly focus on internships and part-time job offerings since those are the ones most popular among students. In other words, we won't be posting about job offerings that are not suitable for those subscribed to our channel – that could easily discourage people and make them feel like they are not enough. We also don't share job offerings in the sphere of IT if they have to do solely with app development and other offerings of that sort. The job market is simply oversupplied with these specialists and we believe that in the foreseeable future we will witness a decline in demand for those. That is a conclusion we've come to since we do need to do our research when it comes to job offerings on the market. Going back to what I was saying, our firm conviction is that it is not only extremely important to challenge yourself and try out various internships and part-time jobs, but also not as hard as some of the students might think it is. We try to be different from those typical social media accounts or communities dedicated to business and motivation, though. I won't go into much detail in regard to what we don't like about those. But what I do want to say is that in a sense that we also believe that motivation is important we are similar. However, the huge difference is that we try to never forget that people who are subscribed to our channel are humans just as we are and, therefore, need to be treated as such. We are offering information and showing how many opportunities are out there while also sharing all of these different webinars and master classes that might help people to develop skills they need for such offerings. That is completely different from simply telling people what to do implying that what they are doing right now is completely wrong.
Make sure to check out "Look what we found"! Girls were taking a short break from uploading during the winter holidays, but they are finally back.
Marina and Arina are always open for suggestions and ready to answer any of the questions you might have. In case there is something you want to discuss with them or maybe offer a topic you'd want to see them write about you can contact them directly through their personal accounts on Telegram – they are indicated in the information section of the blog.
It's never too late to try out something new whether it is a personal blog that you want to start or an internship that you are thinking about applying for. Maybe one day your story will be the one featured in an HSE Illuminated article!
Good luck!
Interview by
Nadezhda Bykova