BRENTER. HSE is the Best Place for International Internships
The Centre for Youth Studies is hosting a delegation of British students for the second year in a row.
On June 26, 2016, a month-long internship for students from The University of Birmingham Centre for Russian, European and Eurasian Studies (CREES) started at HSE. This internship is developing into something of a tradition.
A group of 24 students of philology, political sciences and history came to St. Petersburg accompanied by their supervisor. Although the students are majoring in a number of different fields, they are united by their interest in studying Russian and by their real interest in Russian traditions and culture.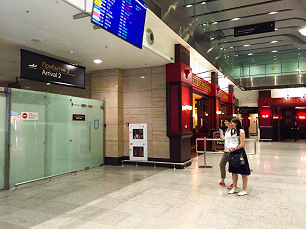 The internship has a very intense and thoroughly planned programme. There are two parts to the educational section of the programme. The first part involves an intensive course in Russian as a foreign language, prepared by philology lecturers Tatiana Astaikina, Evgenia Dobrenko, and Natalia Novak. In order to ensure their studies are as comfortable as possible, the students were offered a test to identify their current level of Russian so that they could be split up into groups according to their language ability. The second was developed by Centre for Youth Studies staff and MA Modern Social Analysis students, and is an introduction to key areas of sociology and research methodology.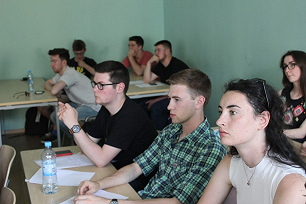 The sociology course offers students the chance to work on projects corresponding to their interests. Olga Senkova suggested looking at how creative spaces work in St. Petersburg; Konstantin Galkin showed them around downtown St. Petersburg and the city's outskirts; Nadezhda Vasilieva invited them underground and asked them to compare their experiences of moving around the city by metro; and group headed by Sergey Pashakhin offered them the opportunity to study artists who work in public spaces in countercultural environments; and Ksenia Antoshko looked at Russian bar culture.
Of course, visits to the Hermitage and Peterhof were also included in the programme.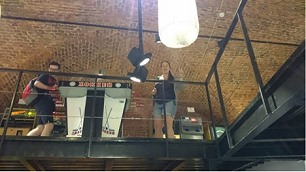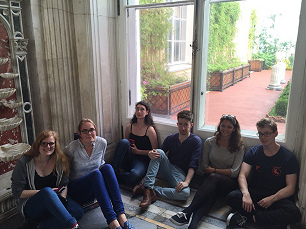 Alexander Caves, who studies three foreign languages at The University of Birmingham was glad to have this opportunity to practice his Russian in St. Petersburg:
'I chose the metro as a platform to study people's behavior, as well as sticker art. I find the metro more interesting than architecture for me, since here you can observe people in real life.'
Imogen Burgoyne also studies languages at The University of Birmingham, focusing on German, French, and Russian. She says she still finds Russian grammar difficult but is doing her best to get to grips with it. She says she sometimes watches Russian films with subtitles, and that this helps her understand the environment and gives her a chance to listen to language. Imogen told us that she enjoys trying the local food in any new countries she visits, as it helps her to learn more about those countries' culinary traditions and that how people cook and eat gives her an insight into how people live. She especially liked pelmeni and kvas in St. Petersburg. Imogen joined the group focused on St. Petersburg's architecture, and is taking a lot of detailed photos of the historical city center and its outskirts.
'I love to look at the differences in various countries' cultural traditions and make sure I write them down,' Imogen said. 'And I also take a lot of photos to record everything in detail.'
The internship is going to be exciting!