Lunar New Year in My Heart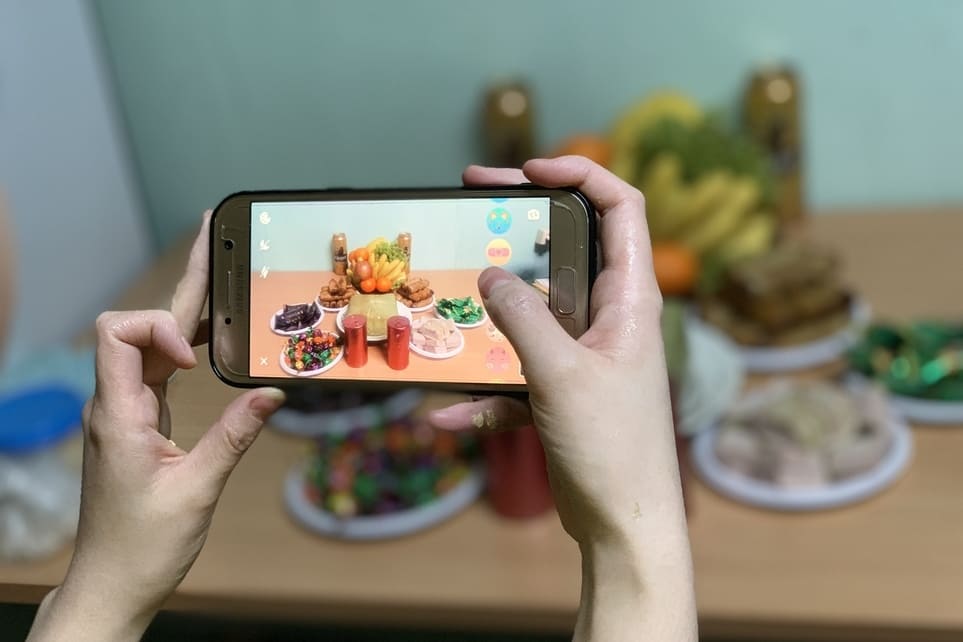 As a Vietnamese student living far away from home, I suddenly wanted to share a few of my thoughts and feelings about the Lunar New Year.
On the 25th of December according to the lunar calendar, snow falls with cold winds blowing cold hands or making cheeks pink. I am sitting in the dorm and my mood suddenly becomes more sensitive than ever. The last days of an old year are slowly passing, making me reminisce about so many things in a year. Only a few more days until a brand new year comes. The feeling of longing for something new and waiting for the upcoming very sacred moment cannot be fully expressed in words in my heart. I suddenly remember Vietnam, remember my family, and guess that Vietnamese people living in their ancestral homeland must also be busy preparing to welcome the new year.
Contrary to everyone in Vietnam, I have a different mood. For those of you who have the conditions, being able to visit your hometown is a great thing. They can be reunited with family and friends, to hug loved ones with warm hugs, bright smiles when meeting parents and tears of nostalgia. This truly is a great family reunion picture to admire!
Contrasting with that scene are my sad emotions when I can't return to reunite with my family, a nostalgia that covers my mood these days. During this time, homesickness and missing parents become even more intense. I am simply remembering the atmosphere of Tet, remembering the typical smell of Vietnamese New Year - the aroma of banh chung, the smell of banh chung being cooked by each household, spreading out all over the streets, all over the city and over the road.
I deeply miss the feeling of going to Tet shopping, walking with people to the flower markets with my mother. However, I'm in Moscow right now and I still start my work and study days like I always do every day. It is said that people who are far from their homeland miss them even more and I can understand this feeling very well now. I suddenly remembered that last year, when I still celebrated Tet with my family, this year I am alone in a foreign country. My frequency of phone calls to the family increased again. My friends who also study at HSE shared: "When I have free time, I call my mother, she is just waiting for my call." Or "Dad, I want to eat banh chung". Or they just said, "I miss my parents so much". Just this one sentence flutters the hearts of many parents.
Those who are far away from home like us mournfully celebrate Tet through photos shared by our families. Working hard for five months in the hope of sending home small amounts of money or foreign gifts for the family to welcome Tet. Our joy is really simple, we are very happy to see our parents receive our gifts as well as see the success that they have sacrificed for us to get today.
For me, sacrificing a New Year is very exciting. Having a New Year in a foreign country is a trade-off for a bright future, an open sky, a warm heart for parents as well as a foundation for future children. I think this is something that not everyone can do. I hope that I can create my own future. So, with a sad mood at the end of the year, I will still start a new working day, will still go to school like any other day and hope for a brighter future.
Moreover, me and a few other students decided to prepare for themselves a small Tet. We tried our best to make the most similar dishes to our parents. We prepared banh chung, spring rolls, bamboo shoot soup with bones, a tray of five fruits, spring rolls and some confectionery to eat. For the amateurs in cooking like us, this was indeed a difficult challenge. However, in the end we managed to cook a delicious Tet meal. What could be more wonderful than an evening after a hard day of study! We can still gather together, watch Tet programs and eat Vietnamese dishes. Maybe tomorrow we will have to go work or someone has to go to University, but the important thing is that we have each other in these last days of this year.
What about foreign students who also celebrate the new year according to another lunar calendar and are also studying at HSE? I hope that you have somebody to be around with and wish you a very happy new year, whether with your family or not. Be happy because your future will be much brighter than today.
Text by

Pham Thao