Who Are the International Ambassadors of HSE?
Scrolling through all the opportunities offered by HSE St. Petersburg, I came across the call for international ambassadors. The name itself and the description of this role make it seem really interesting, this is a role available each year for international students, as stated in the announcement of the HSE site, the International Ambassador has a great number of benefits offered from university.
The benefits
Free professional training and workshops on marketing, development of presentation skills, leadership skills etc.
Opportunity to earn extra credits for participation in the project.
Reference letters from the International Office for work or study upon request.
They seem like really interesting advantages, but what about the duties of an International Ambassador? What is its role in university structure? What are the results this role is bringing to university events and students? In this article we will interview different people who work and cover different roles in this project to get to know about it more deeply.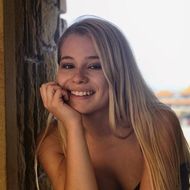 Let us start with Indiana Lokotar, a second year international student from Belgium currently studying in the bachelor course of Political Science and World Politics. She has been elected as one of the new International Ambassadors for 2021, and thanks to this interview, we will understand what led her to apply, what were her expectations, and what her duties are.
Indiana, how did you discover this opportunity?
I remember exactly the moment when I learned about it, one day in November, I saw some news about it on Facebook and I received an email; I was so excited, I wanted to apply so much! Why? Because I have a friend who has been an International Ambassador before and I thought it would be a wonderful opportunity and a pretty cool experience. I asked my friend about his experience and he assured me that it was worth it, I got some more information, finally I applied and I got selected! Pretty cool right?
What were the reasons/benefits that attracted you the most and convinced you to apply for this position?
The reasons why I applied varied: firstly, the name was really attractive, the title was really cool and it made me curious to learn more about it. When I understood better what it was all about, I thought that it was a really nice project as I am sure that HSE has a lot to give to international students like me, and I thought I would be really glad to help my university to expand and to gain more popularity amongst international students. I think I am willing and ready to share my experience with other people, and I hope this will help. Another reason is that the benefits it gives to participating students are really nice. My dream was to go on an exchange and this project gives a good bonus when you apply for mobility. I was accepted and I am sure this project helped. In addition, out of all the choices I had this certainly seemed the most interesting project.
What are the requirements for the application?
To apply, you need a recommendation letter from the supervisor of your course or from the international office, as well as your CV and a short video in which you present yourself and explain your choice. However, there are some other conditions: you need to be an International student, and to have already studied at least one year at HSE. In general there are not many requirements, so it is not too difficult to apply, and any international student can apply during their studies at HSE! I really recommend you applying if you are motivated to promote the life of an international student at HSE!
Right after I was chosen, I received an email telling me that I got chosen! I was so happy!!! Then I was invited to the first meeting with the other International Ambassadors and the organizers of this project. Unfortunately, because of the pandemic, we held the meeting over Zoom. However as far as I understood, normally there is a pretty cool welcoming ceremony in our university to celebrate the new generations of international ambassadors. During the meeting, we got to know each other better, spoke about the project, and our ideas and the duties requirements for this role. These days, I usually receive email and notifications for events which I can attend and help (we also have a WhatsApp group chat to facilitate communication)
What are your duties as an International Ambassador? Did you expect something different?
As an International Ambassador, I must attend events organized by HSE on a variety of interesting themes, for instance: female empowerment, cultural diversity, mindfulness, and so on. I even had the opportunity to collaborate with the embassy of Belgium. I wrote an article about my life in Russia and at HSE. In general, I share my experience as a Belgian in Russia and as an International student at HSE, and I have also the opportunity to share my ideas for improving the communication between our university and the rest of the international students. In addition, my role is to talk and to help international students who want to apply or have already applied to HSE, as well as to communicate with the international students already on campus. Honestly I did not expect anything different and I am pleasantly surprised by what I am doing. It has already given me many opportunities, I am really happy that I applied. I find it super interesting to do and super motivating to get to share the advantages of studying at HSE.
What do you expect from this experience?
I expect to learn more about university, get involved in some interesting initiatives, and to somehow contribute to the development of HSE. I hope that I will get to know interesting people and to share with each other our university experiences. And finally, to be honest, I hope to have the opportunity to have some visibility too. I think it is an experience that can open my horizons. However, what I expect the most from this position, is to be satisfied and happy with what I will manage to do for our university and for the other students. I think I will have many amazing opportunities and I will do my best to offer the best that I have and to gain the most of what I can have from this beautiful experience. I cannot wait to start something new!
What skills do you expect to develop thanks to this project?
From what I have been doing, I think that I am developing the ability to speak in public, even if online, and to be calm and feel at ease in these situations. In addition, I am meeting many people I do not know, and I am learning to feel more comfortable speaking about any theme with strangers, in formal and informal situations.
Is there anything that scares you? What is the biggest challenge you will need to face?
Nothing really scares me but the biggest challenge I am facing is the one we have just spoken about: learning to speak in public. In the beginning, when I needed to speak in front of people I do not know, I always felt a bit stressed. Usually it went away as I started speaking, but I would like to feel completely calm when making a presentation, even with people I do not know.
What would you like to change about this position? Is there something else you think you could do or would like to do as an International Ambassador?
I would not change anything. I really enjoy what I am doing, there are a lot of different activities and you never get stuck in the same theme, always changing; one day I can make a speech about some stories of successful women in my country, and the next day I may be speaking about the culture shock a foreigner feels when coming to Russia. We can say you never get bored. The only thing I dream about changing is the format. Unfortunately this year everything is online because of the pandemic. I would really love to cover this position another year, when it will be offline.
Now we will have a small talk with Giulio Alfarini, a fourth year international student from Italy currently studying in the bachelor's course of Political Science and World Politics. He has been an International Ambassador since last year. We will ask him about his experience, his expectations, and how they compare with the reality.
What were the reasons/benefits that attracted you the most and convinced you to apply for this position?
I applied for this position because I am an ambitious person. The idea to become an International ambassador and represent my university was a reason of pride for me. This was the main reason.
Were your expectations very different from reality?
Yes, actually my expectations were really different. It has been a series of unlucky circumstances. We had big plans, we were starting to meet up, work on our projects, we were even planning some international travel. In theory international ambassadors travel to their home countries to promote HSE. Unfortunately, some months after I was selected the pandemic started, so my case is pretty peculiar.
What was the best experience you had thanks to this project?
To me the best experience was the initial ceremony. Everything was well organized, we had a big room with many international students and members of the international office. It was emotional for me when I heard "now you are the International Ambassador of HSE".
Do you think this experience gave you the opportunity to really learn something new or develop new skills?
As I said before, unfortunately my experience was compromised by the pandemic. I am sure I would have learned much more and would have developed many skills if there was not quarantine. However, we had some really nice trainings. One that I still remember really well was about social media management, which I still find very useful. I am sure that when all of the situation with Covid ends, new international ambassadors will have a wonderful experience.
What would you suggest to people who are thinking to apply for this position or to new international ambassadors?
I would recommend everyone to apply! I am sure this project can be super fun and teach a lot. I think it can be really meaningful on a student's CV as well, which is another good opportunity. I just wish good luck to all the new international ambassadors, and the ones that will come in the future.
What would you change about this position? What would you suggest to the organizers of the project?
Everything can be improved, nothing is perfect. This project is new as I understand, it only started a few years ago. I think one thing that can be done is to publicize it a bit more. I am sure a lot of international students would be perfect for this project but many of them do not know about it. It would bring more competition for the selections and would bring quality to the project. In addition, I have an idea, which may or may not be economically sustainable, but I think it would be amazing to organize group trips of multiple international ambassadors, to some other country or to some region of Russia, to go to schools and promote HSE. I think a group of international students chosen by the university can be really attractive to prospective students.
And finally we will have a small chat with Yulia Dolgina, the supervisor of this programme. She will provide us with more general info about this project as a whole.
What characteristics do you look for when choosing the new International Ambassadors?
We expect our ambassadors to be motivated, passionate, and creative. A good ambassador should have excellent communication and leadership skills but at the same time be ready to work in a team. We also look for responsibility and commitment to HSE University.
When did this project begin and how did it change during this time?
If I am not mistaken, it all started in 2018, previous ambassadors were able to travel to their home countries to promote HSE University. Due to the Covid-19 pandemic and closed borders, they are not able to do it this year, so most of our activities went online.
What opportunities does a student have when becoming an international ambassador that he or she cannot find in any other project?
I think that first of all, our ambassadors have a unique opportunity to educate and share their passion for education and knowledge. HSE International Ambassadors get a lot of support and have a chance to become a part of a fundamental community.
What has been the most particular or pleasant experience you had that was related to this project?
This project is my first one, so I liked practically every part of it! I really enjoyed watching motivational videos that our future ambassadors send. But most of all I liked meeting (unfortunately only online) our team members.
What do you expect and would like to see in this project in the next few years?
My biggest wish is to get back offline. And I look forward to meeting all those enthusiastic students who are willing to become members of the HSE International Ambassadors family.
With these interviews I have given you an overview of this project and its role. Every year the deadline for the application is in December, so do not hesitate to apply if you are motivated to help and share!
If you have any further questions you can contact International Student Support at internationaloffice@hse.ru
I thank Indiana, Giulio and Yulia for their help!

Alessandro Boni
Yulia Dolgina
Head: International Student Support Unit