Student Initiation at CMD Faculty in 2019
How to become a student of the Faculty of Communications, Media, and Design.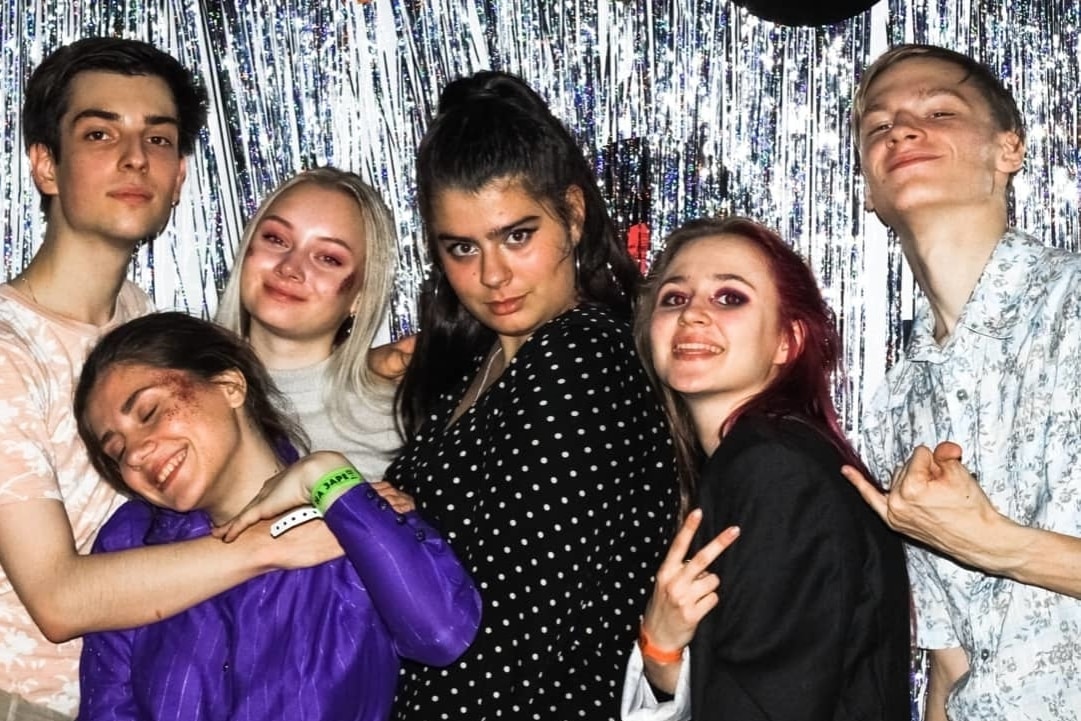 Student initiation ceremony is a starting point of university life which often becomes one of the brightest first-year students' memories. The organisation of the initiation ceremony and ambitious party after it were traditionally provided by the undergraduates.
Na Zare
The name of the initiation event was borrowed from the song released by the famous band «Alyans» in 1987. The single «Na Zare» («At down») became the symbol of the party. The dawn signifies the beginning of life and momentous changes.
The Soviet culture of the 1980s, associated with the settlement of the new mindset in society, became the party concept. After a long period of barriers and strict rules new music genres appeared, movies and theatrical performances were released, and finally «the golden age» of the Russian rock came. Taboos have been replaced by freedom. To participate in the party the students were asked to dress in style of that time and take the ladle — the symbol of the riot against restrictions!
The venue where the initiation took place was also conceptual. The event was held in the recreation centre «Zeleny Gorodok» («The green city») made in the USSR style in Moscow Oblast.
The first part of the event was the initiation ceremony around fire where the freshmen gave their vows to be decent students of the CMD faculty. It was followed by the entertainment program developed by the organisers who succeeded in breaking the stereotype about the initiation as a usual party with litres of alcohol.
The entertainment zones were developed according to a wide-range of students interests to make sure that each of them will have a great time!
The special court was provided for those who are keen on boarding games: UNO, backgammon, boarding hockey and football and many other games were offered to students.
Different types of so-called «Alco-games» were also presented with a few tournaments, and their winners got presents from the official partners of the event — HSE FACTORY shop.
The students also had an opportunity to win prizes at the «Quest Room» zone, where they had to solve puzzles and find the hidden item working in teams. The winners got clothes from the 21SHOP! Those who are interested in the mysterious future and have some questions about the present could visit the tent of the fortune teller and find the answers.
Of course, much attention was paid to the music program: many students were spending that night singing famous songs to guitar music in one zone, while others were hanging out on the dance floor with disco-lights.
The «chill zone» was also introduced for those who was too tired after a few hours of alco-games and dancing.
Thanks to undergraduates who work at their maximum potential, initiation events at the CMD faculty are becoming more and more sophisticated every year!
Text by
Kamilla Abutalieva