ESN HSE Moscow: Students Helping Students
Elizaveta Alekseeva talks about Erasmus Student Network.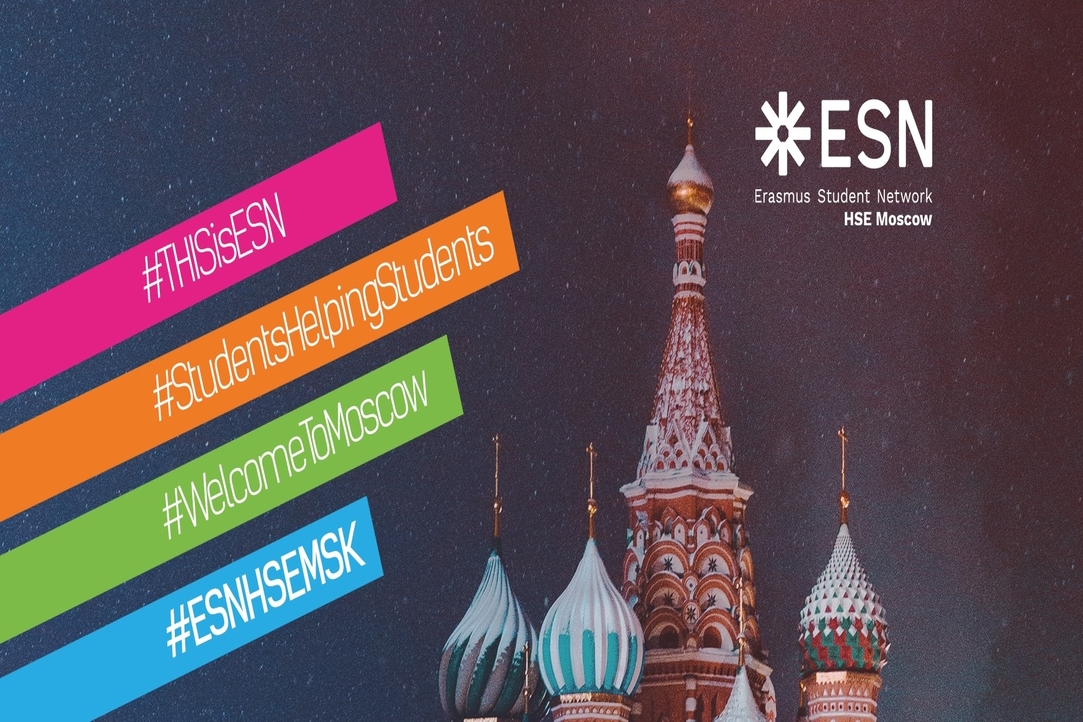 Erasmus Student Network aka ESN is the biggest non-profit student association in Europe the aim of which is supporting and developing student exchange opportunities.
ESN was founded in 1989 and now is present in more than 1000 Higher Education Institutions from 41 countries and involves around 40 000 volunteers who are ready to offer their help to thousands of international students each year.
What does ESN stands for?
ESN works for the contribution to the establishment of peaceful and respectful intercultural dialogue, creation of a tolerant, mobile and flexible education environment, provision of opportunities for self-development by supporting students' interests, motivation, needs and rights.
Russia became the 37th country accepted to the Erasmus community in 2014. To date, there are five constantly developing sections:
ESN SFTU (St. Petersburg)
ESN Ural Federal (Ekaterinburg)
ESN HSE Moscow (Moscow)
ESN HSE St. Petersburg (St. Petersburg)
ESN Saint-Petersburg State University (St. Petersburg)
ESN HSE Moscow is the first section in Russia. Nowadays it consists of eight Board Members, 36 Active Members who are responsible for the student organization development and growth and around 140 buddies. In 2019, 3 international students became a part of ESN HSE Moscow.
The activities are divided into 5 blocks representing various environmental spheres:
Student Adaptation
As soon as international students arrive to Moscow they need to be fully comforted within the unknown environment. Great help for that purpose is provided by the Buddy System, which is a volunteer system of 140 Russian HSE students who are ready to get exchange students to know Moscow life by meeting them at aeroexpress station, accompanying to the dormitory, helping out with a social card and just showing around the city. What is more, each August and January ESNers and Student International Mobility Office (SIMO) organize Orientation Weeks while which internationals may learn what studying in HSE is like.
Social Inclusion
The aim of this project is to promote a social attitude among students, provide them with a chance to understand society's problems and make a long-lasting social change through volunteering activities. Within Social Inclusion program ESNers organize such events as Dog and Cat Dating, Bake Sale, Charity Party, Silent Lessons etc.
Mov'in Europe
It is an initiative of academic mobility promotion and better provision on mobility opportunities for students. Moscow ESNers organize events for all tastes and interests: Language Meetings for language practice, Travelers Public Talks for those who want to know more about cheap trips and HSE Exchange Night for creating a platform for students to share their exchange experience.
Cultural and Entertaining Events
ESNers do whatever possible to make exchange students' life in Moscow more fun. It includes festivals and parties, trips over the whole country from Kazan and Tula to Murmansk and Kaliningrad, museums visits, international dinners and many more!
Internal Talent Management
Being a helpful buddy and a responsible volunteer requires a lot of energy and motivation, that is why it's vital to keep a friendly, mentally healthy and professional atmosphere in the team by organizing Training Days and Meetings.