Pokrovka VS Basmannaya: Which Cafeteria Is Better?
All HSE media spoke only about Basmannaya's cafeteria until a new one was opened on Pokrovsky Boulevard! So which one is better?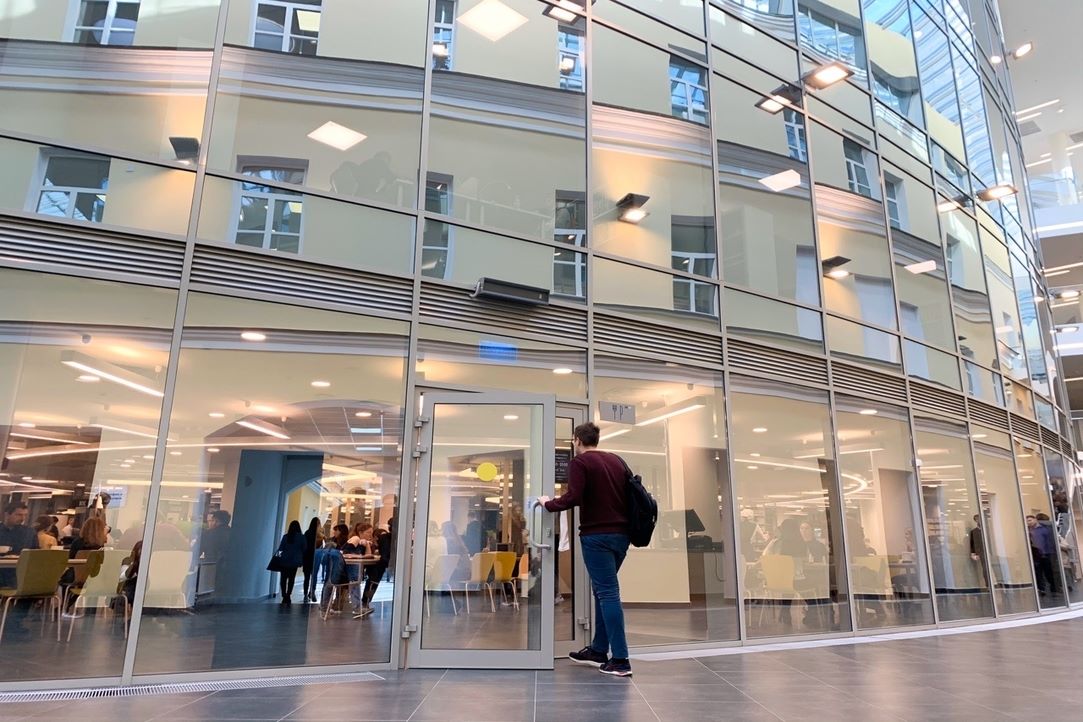 The buildings of Higher School of Economics are scattered throughout Moscow, and they are all so different - some are divided into several sections, others fit in 4 floors. Inside each building has its own atmosphere. However, the heart of any building is a canteen. There are a large number of people from different programs who get together in one room and create the atmosphere of a large HSE community. Only in a cafeteria you can meet friends from other groups, stand in line together with the professors.
All HSE cafeterias offer students full-fledged meals at any time (there are options for breakfast, lunch and even dinner), drink tea with sweets or just work during the break between lessons. We were interested in comparing the largest and most sensational canteens at the Higher School of Economics – the one in Old Basmannaya Street and the one in Pokrovsky Boulevard.
So let's start with Pokrovka!
At the lunch time (about 1 p.m.) we came to Pokrovka's canteen. It is located in the building "N" on the first floor. The best way to get there is going through entrance 2 (Durasovskiy Pereulok) or going all the way through "Atrium" to the "N" sector . It is not hard to find the cafeteria, because its exterior definitely catches your eye: it is really modern and made of reflective glass. Anyone would be impressed by this view of a simple student canteen.
When we came inside we easily found some seats, though there were quite enough people and maybe at a big lunch break the canteen would be overcrowded.
The choice of food in this cafeteria is really big. There is "home style" food like soups, salads, different kinds of garnish and meat. But students also can order WOK, burgers, and shawarma. There is also a nice salad bar, so you can make your own customized salad. This option is only available in Pokrovka. It's definitely worth noticing that there are vegetarian options too: in a burger and wok area and even for a lunch set.
After contemplating the beauty of this canteen we took a usual lunch set which included one vegetable soup, one dish with chicken and pasta, bread and a strawberry drink. Every day the lunch set is different, so you can always try something new. The food was warm, fresh and tasted good. It is just what a student needs! The price of every lunch set is 135 rubles which is higher than at other HSE canteens, but it is not a big difference, considering the wider choice and the quality Pokrovka's canteen offers. If you have little time between lessons and want to eat something quickly, there is also a fridge with take away food. It has sandwiches, rolls, salads, desserts and even sushi. There is something for everyone in this place! You can also take coffee or tea and some bakery. If you prefer bringing your own food, you can also warm it up in a microwave.
Pokrovka's cafeteria really impressed us. It is not a usual canteen you would see in any HSE building or even in any other Russian university! It offers you tasty food which you can eat in a pleasant atmosphere. We definitely liked it! But what about Basmannaya's cafeteria? Is it also as good as Pokrovka's?
Cafeteria in Basmannaya
To get to the cafeteria on Basmannaya Street you need to go to the building "Л". Actually there are a lot of pointers so it's hard to get lost. There are even two floors with food inside!
If you want to take a normal place, then you should come, approximately, in the middle of the day, otherwise you will be searching for a long time.
A student lunch here costs 110 rubles and have the same quality as in each cafeteria at HSE. So if you want to take a usual student dinner, it's better to eat in the cafeteria on Basmannaya Street than on Pokrovka.
The second floor is for usual food, the choice of it is not really big here. Salads, meat/fish, soups, side dishes, desserts, coffee - and that's all!
So if it is not enough for you - go down to the first floor. Burgers, French fries, hand-made pizza - all of these you can find here. The prices are quite normal, the average check is about 250 rubles. Furthermore, with such a choice, students don't have to go to the "АРМА". Actually, who would want to go anywhere else when it is even a smoothie bar on the Basmannaya? Also you can get pancakes with different fillings here. And a barista can make a coffee for you, whereas on Pokrovka there is only a coffee machine in the canteen at now.
It's worth saying about the atmosphere in this cafeteria. Unlike the cafeteria on Pokrovka, on the second floor on Basmannaya you can look out of the window from almost every place. And this fills you with a little bit of relaxation! The design of two floors here is cozy, made in warm and calm colors. Tables and chairs are really comfortable to sit. So if you need a place to do your homework or any other work on the computer - come here.
We enjoyed eating in and visiting both cafeterias. It was hard to say which one is better, because they both have pros and cons. So, the best way for students of these two buildings - is to choose the nearest cafeteria for them as both are really good for eating there.