Myasnitskaya VS Pokrovka: Which Library is Better?
Compare two popular libraries of the Moscow campus of the Higher School of Economics. Which one suits you?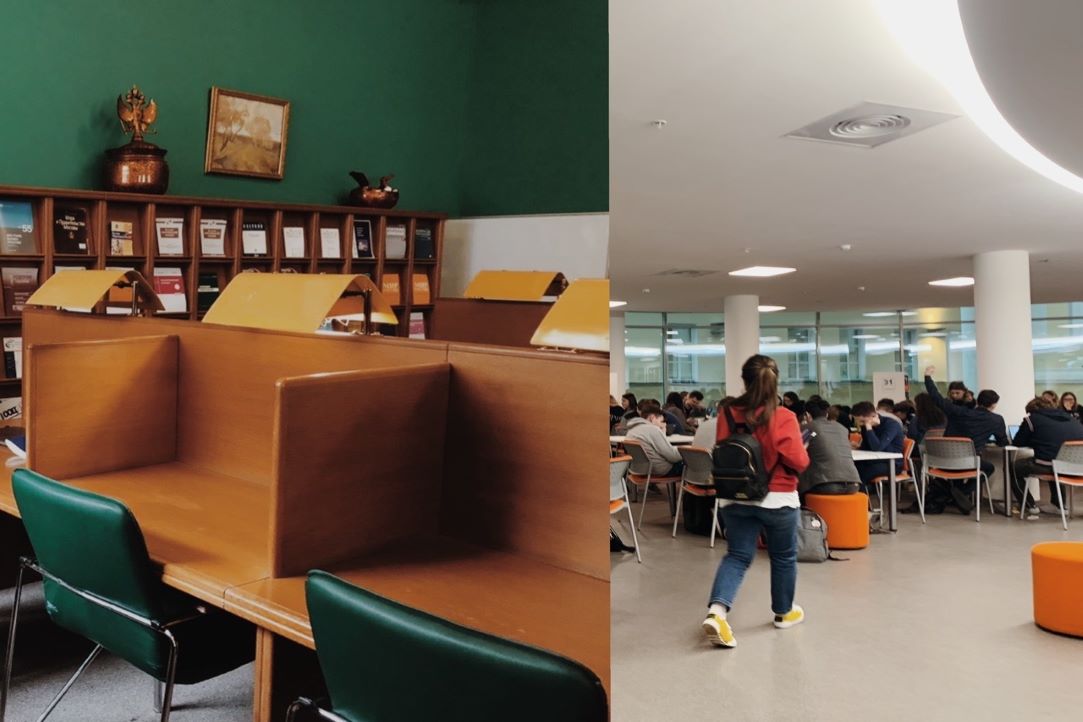 Today we are comparing two biggest libraries of HSE in the center of Moscow. So, if you are interested in a finding a cozy place to work or study without different annoying sounds, this article is for you!
Many students prefer creating their projects outside the home. But cafes and restaurants, for instance, are not always a suitable option: there is always a lot of noise, you need to buy something, and this is not always beneficial for students. That's why a university library is the best option: you can work for free and in silence, at the same time it is a great opportunity to meet someone from another faculty.
Now we are going to compare two Moscow campus libraries. Which one is more suitable for you?
Pokrovka (Pokrovsky Boulevard, 11; metro Chistye Prudy, Kitay Gorod, Kurskaya)
Since this academic year, the main building of the library is the building on Pokrovsky Boulevard (pavilion N).
Advantages:
-There is a modern space, which includes many comfortable sofas and tables, as well as several areas for group work. The library on Pokrovsky Boulevard is located on three and a half floors and is designed for 500 seats, including computer-equipped places for working with the electronic catalog and electronic resources.
- On each floor there are consultants who you can contact on any questions related to the search for literature and the work of the library, on the second floor there is a consultant for working with electronic resources.
- There are a lot of sockets for chargers, they are on almost every corner! Moreover, there are special safes where you can leave your phone by connecting it to a charger, and then calmly pick it up. This is a very cool thing!
- There are a lot of foreign literature, rare books, even newspapers
- Round-the-clock mode. The reading room works 24 on 7 (the first floor only)
Disadvantages:
Despite the fact that this library has many advantages, we should also mention the significant shortcomings:
- The most difficult task is to find a free place here. There are always a lot of people here, especially between 12-18 p.m. So, be ready to spend some time on finding a place.
- Rush hour is always stuffy here, so it's very difficult to work productively
Opening hours:
sanitary day: first Friday of the month
Myastnitskaya 20 (metro Lubyanka, Chistye Prudy, Turgenevskaya, Kitay-Gorod)
Advantages:
- This is a very authentic library in the very heart of Moscow, which is located in one of the first buildings of the Higher School of Economics. There is an atmosphere of silence and knowledge
-Moreover, you can always find a place here. There are not as many people as in the central library
- This library is not as popular as the first, but no less nice and cozy. Small space and number of people contribute to the manifestation of the greatest efficiency and working atmosphere.
- It is located right in the heart of Moscow, near full of picturesque streets and delicious places to eat
Disadvantages:
- Less choice of literature
- Lack of places for group work (although for someone this is a plus, because there is no additional source of noise)
Opening hours:
sanitary day: first Friday of the month
Note: There are special hours for airing the reading room
Monday Friday:
12.45 - 13.00
16.45 - 17.00
Saturday:
11.45 - 12.00
15.45 - 16.00
Material by Anna Samoilova