RFBR project team participates in the discussion of the federal law on the youth policy draft
On November 10 an online meeting "Youth and youth policy: conceptualization in the new realm" took place. It was attended by researchers of youth policy, heads of youth centers, representatives of youth non-profit organizations, as well as officials of executive authorities. The main agenda of the meeting was a discussion of the federal law draft on youth policy.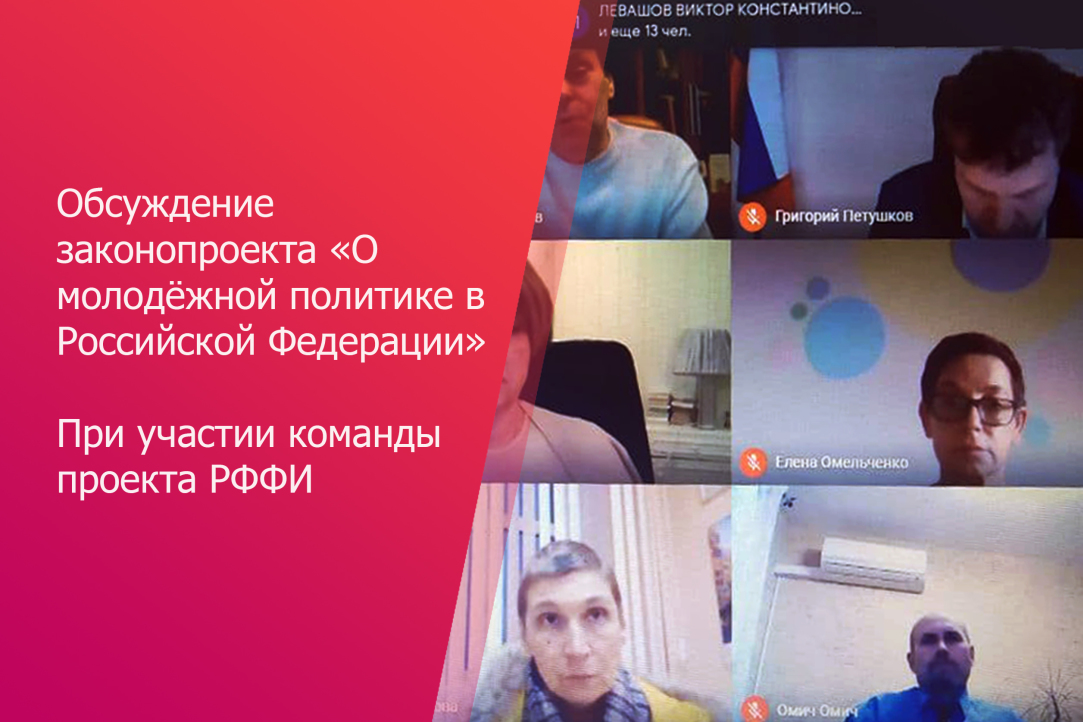 It should be noted that this is the second meeting of the academics and practitioners to discuss the draft law. The first meeting was held on July 30, during which the general concept of the draft law was discussed. Scientists did not agree with the proposed wording of the law. Therefore, at the second meeting, the key issues were related to clarification of concepts of "youth", "youth age", "youth policy", "state youth policy" and "non-governmental youth policy". Also the question of modern understanding of state youth policy as a branch, systems of bodies on youth affairs, the role of the Ministry of Youth Affairs and its conceptual outlines was addressed.
The meeting was moderated by Andrey Valentinovich Kochetkov, Doctor of Legal Sciences, Professor of the Department of Public Service and Personnel Policy of the Russian Academy of Sciences and Civil Engineering, who spoke about the inconsistency of the main terms used in the bill, especially the problem of understanding the youth and youth age. As the scientist noted, on the one hand, this draft law speaks about raising the border of youth age up to 35 years, and on the other hand, about the abolition of the upper border of youth age.
The second meeting of experts in the sphere of youth policy was attended by the team of RFBR project "Anti-crisis Potential of Youth Policies in Russia and Europe in the Era of Global Risks: National Imaginary, Patriotism and Social Engagement". Project manager Elena Omelchenko gave a comment on the research project and its prospects, changing the boundaries of youth age in favor of increasing the interval, as well as the need to apply the generational dimension to the definition of youth and youth age.
On November 11, the bill "On youth policy in the Russian Federation" was adopted by the State Duma in the first reading. Amendments to the draft law will be made within thirty days after its passing.