Several Parks in St. Petersburg That Are Worth a Visit
There is nothing better than to walk outside in summer. Sifan Chen invites you to the parks of Saint Petersburg.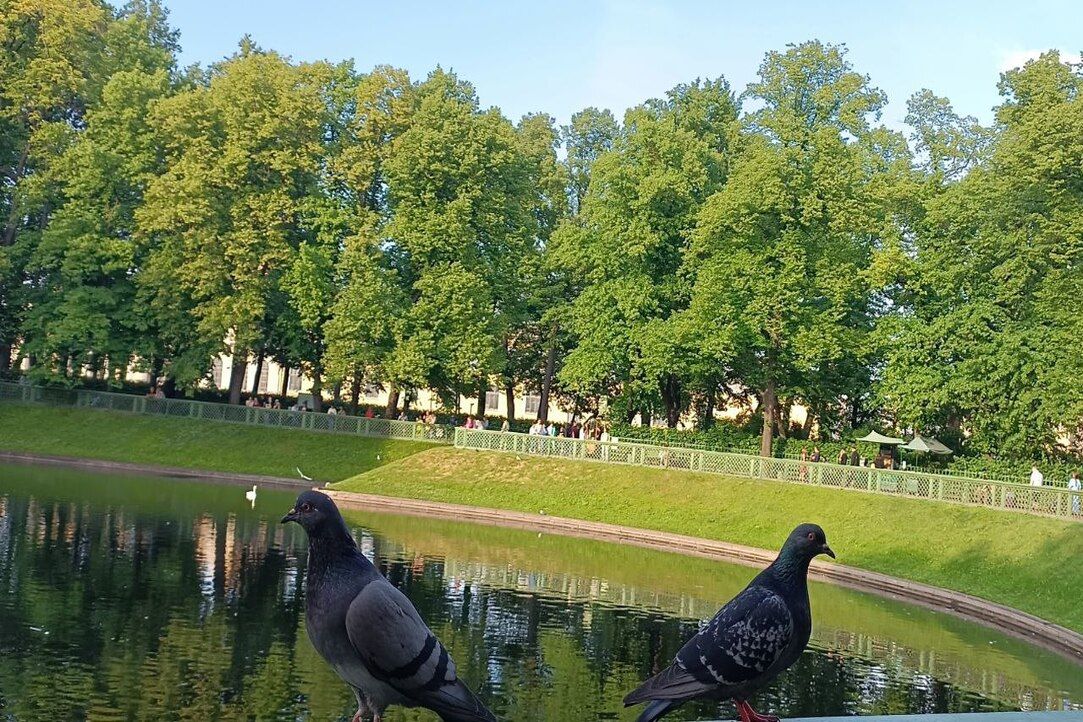 It was once said that a park is a work of art. A park is a piece of history and a microcosm of a city's culture. St. Petersburg, Russia's capital of the north, is at its best in summer. For the coming summer holidays, I would like to suggest some interesting parks in St. Petersburg, so take advantage of the free time and enjoy the charm of nature.
Primorskiy Park Pobedy
Address: Krestovskiy Avenue, 23
Opening hours: 24 hours
I arrived at this park on a sunny afternoon. It is a very large park with 11,000 square metres of trees and 68,500 square metres of shrubs, with Rotunda, ponds, wooden embankments, sports fields, recreation areas and cycle paths. As soon as you enter, you can see the fountain in the central square from a distance and people take a leisurely stroll through the park.
According to information, this park is listed on the National Register of Historic and Cultural Monuments of Regional Significance. In summer, various events are held here. For example, a food festival. The seafront also hosts events such as yoga and boxing. In addition, my friend told me that this park is one of the few places in St. Petersburg where cherry blossoms bloom in spring, and that the cherry trees usually bloom in April-May.
Summer Garden
Address: Naberezhnaya Lebyazh'yey Kanavki
Opening hours: 24 hours
As soon as I walked into the Summer Gardens, I could feel the romance and relaxation of the place. Walking along the park's walkways, surrounded by walls of shrubs and plants, I looked at the fountain in the distance and the replicas of marble sculptures by Venetian sculptors lined up on either side to get a feel for this baroque French garden.
It is known that the park was originally conceived by Peter the Great in 1704 and built by foreign garden planners between 1712 and 1725. If you want to learn some history and experience a strong artistic atmosphere, this park will not disappoint you.
Izmaylovsky Garden
Address: Fontanka River Embankment, 114
Opening hours: 24 hours
My friend in Russia told me about one of the oldest gardens in the centre of this place. The park is located on the Fontanka embankment and has an area of 1.5 hectares, including the buildings, and 0.6 hectares of "green space". The park, which dates back to 1724, was rebuilt in 2007 with a new theatre, restored bandstand and pavilion, and all the greenery and flowers have been preserved, with trees that are said to be around 150 years old.
Strolling through the garden, you will see many unusual sculptures. One of the most famous sculptures is Roman Schustloff's "Angel of St. Petersburg", which is on a hill in the middle of the garden, with a bench behind which sits a bronze angel with an umbrella, reading a book.
Friendship Garden (Sad druzhby)
Address: Liteyniy Ave
Opening hours: 24 hours
This is one of the most intimate parks I have felt since I came to the city. As an international student who came here from China, I was still excited to see the park with its classical Chinese style buildings. The park is very small in size. But there was a constant stream of visitors coming to take photos. It is understood that this park is a "friendship garden" in the oriental style presented by the sister city Shanghai to commemorate the 300th anniversary of the founding of St. Petersburg.
Aleksandrovskiy Park
Address: Park Aleksandrovskiy, 7
Opening hours: 24 hours
This park is a park on Petrograd Island in St. Petersburg. It was one of the first parks in St Petersburg. The park is unique in that it has the only outdoor miniature park in Russia. The first time I visited this park I was fascinated by the bronze replicas of the city's architectural landmarks scaled down in the park. The park is semi-circular in shape, with a theatre, concert hall, planetarium and several restaurants in the northern half.
Saint Petersburg Botanical Garden
Address: Ulitsa Professora Popova, 2
Opening hours: 10:00 - 19:00
Tickets: 500 RUB
If you are interested in all kinds of plants and flowers, this park would be a very good choice. It is the oldest botanical garden in Russia and is one of the most famous of the St Petersburg botanical gardens. The garden has 25 greenhouses, some of which are open to the public (guided tours only).
In addition, seasonal tours and educational and themed tours tailored to students of all ages are frequently held here. Once or twice a month it is open for casual walks and visits to exhibitions by the public. The park's large greenhouse contains 7,500 species of plants, such as the "Hanging Garden" and the "Japanese Garden" which are very popular with the public.
The year of study has come to an end and summer life is has begun. And each of the parks in St. Petersburg has its own character, combining elements of culture, history and leisure, and is full of aesthetic significance. Therefore, I recommend these interesting parks to you in the hope that they will give you some suggestions of places to visit in your daily activities. So, come and experience these parks that are full of nature and rich in humanity!
Shared by
Sifan Chen