Traveling to Korea
Korea is indeed an attractive destination that is hard to refuse. If you are tired of the cold atmosphere in Russia or European countries, let's follow me to explore Korea with Seoul and Busan with my last summer trip.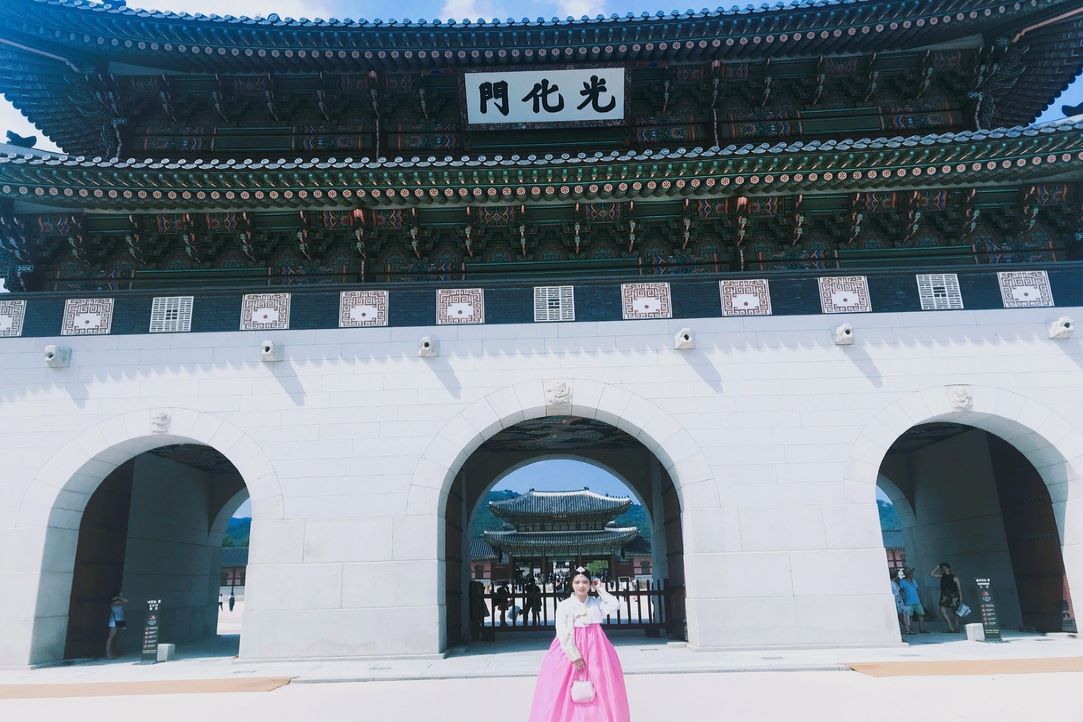 In contrast to the chilly autumn air of Moscow, Korea welcomes itself with somewhat hot weather. The temperature at that time was about 30 degrees, quite hot for someone who is used to the Russian New Year. Therefore, I recommend that you wear thin clothes if you intend to travel to Korea or Asian countries in the summer. In my opinion, Seoul is a place with a lot of interesting places to go, I spent 15 days to experience all of the following places.
Namsan Tower
Topping the list of Korean tourist sites chosen by many domestic and foreign tourists is the most interesting attraction and this is also a typical symbol of Korea. In addition, the most prominent feature here is the love brick wall that many people check-in. If you come to Korea with your other half, this is the place you should not miss to create memories. Coming here, you will feel the loving space of couples who come here to hang colorful locks symbolizing their love.
Gyeongbokgung Palace
Gyeongbokgung is the largest palace representing classical architecture and is a typical work of Korea. It is the largest royal palace in Korea. Gyeongbokgung is like a complex with not too large and quiet space. Among them are the four palaces of Changdeokgung, Cheongyeonggung, Deoksugung, and Gyeonhuigung enough for you to freely learn about the long traditional history of this place.
As the check-in point of many foreign tourists, here you can also rent a traditional Korean hanbok. I rented a Hanbok in the shops near the palace gate and took beautiful pictures outside and inside the palace.
Everland Park
This place is known as the most spectacular entertainment paradise in Korea located on the outskirts of Seoul. This modern amusement park has a water park, the main sightseeing areas are designed to simulate the five continents of the world and especially here there is the Lost Valley Zoo. If you intend to go to this park, I recommend that you prepare at least half a day because there are many interesting games and there are many interesting places to visit. I spent a whole day playing here and I think it's worth it.
Bukchon Hanok Village
This is a traditional craft village in Korea with a long history and is located between the two palaces of Gyeongbok and Changdeol, the Jongmyo shrine. Coming here, you will see the typical old houses and alleys and experience and discover the unique culture of Korea.
An experience not to be missed when coming here is wearing a traditional hanbok and taking pictures between the roads. Bukchon Hanok village has become a famous Korean tourist destination loved by everyone.
Gangnam neighborhood
One of the tourist places in Korea that most people visit to have fun and entertain themselves with friends and family. Here, there are entertainment centers, shopping centers, high-class "Korean hotels" to serve the resting needs of domestic and foreign tourists.
Besides, this place is also famous for other attractions such as kimchi food museum, COEX underground shopping area, Apgujong and Garosukil streets. In addition, it is also home to entertainment complexes, hospitals and headquarters of leading Korean companies.
Busan beach city
It is the largest port city in Korea with a beautiful long beach. Bustling Busan city is famous for beaches such as Haeundae Beach, Songdo, Gwangalli, Pusan Aquarium - one of the leading aquatic parks in Korea. In addition to the beautiful beaches, you can also visit the fish market with many specialties of the Busan sea, which is also an interesting attraction with thousands of fancy and fresh sea fish.
Jagalchi Fish Market is a large seafood market, representing the famous Pusan throughout the country. Coming to Busan, visitors will have the opportunity to enjoy famous local delicacies such as Pork Soup, delicacies from fresh fish, Milmyeon noodles, Ssiat Hotteok
At the end of the trip, I still feel like I haven't explored all of Korea. Korea gives me a feeling that is both familiar and strange. Familiar because I'm Asian, so the culture is a bit similar. Or maybe it's because I've watched a lot of Korean dramas and these places are not strange at all. But I found it strange because it was the first time that I experienced Korea in real life, went to beautiful places, and experienced delicious food. Indeed, Korea deserves to be a country to return to travel again and again and I will definitely come back in the future.
The guide by

Thao Pham