HSE Journey of Tinh Nguyen
Tinh Nguyen is an international student from Vietnam and graduated from HSE in 2022. Today he talks about his three year experience in Russia.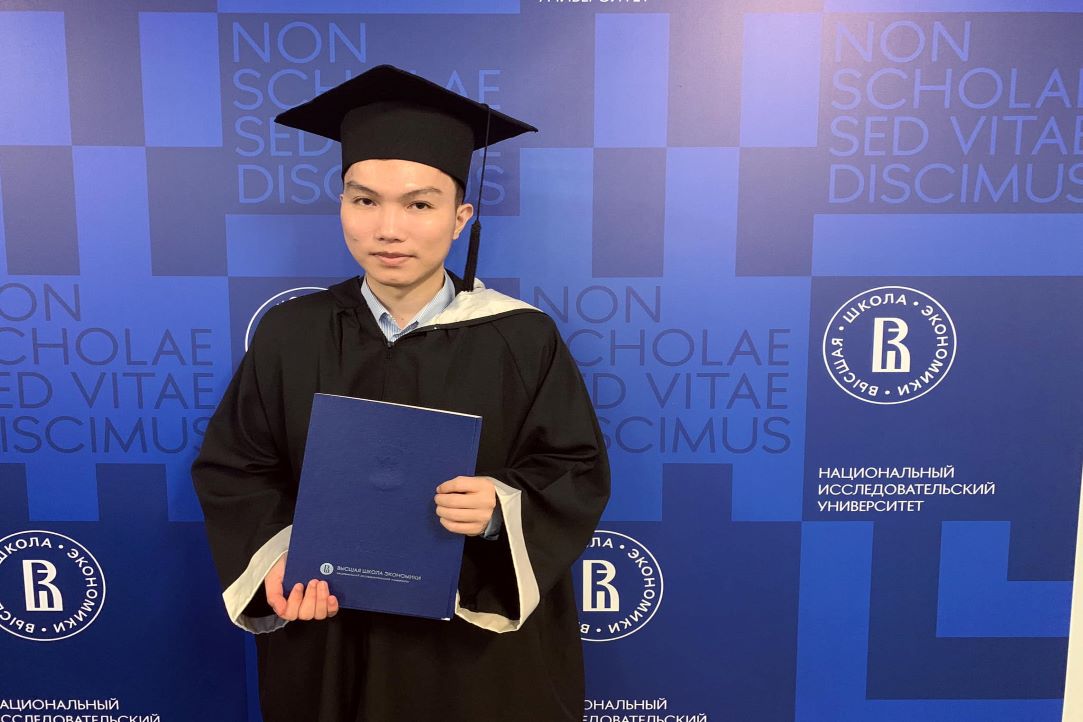 Hello Tinh! We are glad you joined us for the interview for HSE Illuminated. Could you, please, introduce yourself to our readers?
Hello everyone! I am Tinh. I come from Vietnam. I have just graduated from HSE with a Master's degree in International Relations with a major in Asian studies.
Great! Can you share with us how you studied in HSE university?
After graduating with a Bachelor's degree as a runner-up, I applied for a scholarship provided by both Vietnamese and Russian governments. After thoroughly researching rankings and curriculum, I have decided to choose HSE University for my master's program.
What did you expect from HSE?
Before choosing HSE for my Master's program, I did a lot of research about the school, so the study environment at HSE met my expectations. A world-class school where quality education and research comes first, experienced dedicated professors and state-of-the-art facilities were what I expected. And obviously, that's what I was fortunate to experience at HSE.
What was the most difficult part of your study and your life?
For me, the biggest obstacle in the learning process was the language barrier. To be honest, one year of the Russian language preparatory program was not enough for me to absorb the disciplines taught entirely in Russian. Understanding this difficulty, professors always send me English materials after each class. In addition, the professors allowed me to write research papers in English. Another barrier was the ability to adapt to the new learning environment. The world-standard academic environment at HSE forced me to do more research on my own in order to solidify my academic background and bridge the gap with world-class universities. I faced many difficulties but I consider these obstacles as the motivation for me to discover myself and strive on a daily basis.
Can you share some tips for our readers, especially for international students to study better?
For students majoring in relations like me, the ability to stay up to date with the news plays an important role. Every morning I usually take time to update international events happening around the world. You see, international politics changes very quickly, so if learners are not equipped with the skills to stay up to date, it will be easily outdated. In addition, on the same topic of international relations, I often read many different sources of documents from Vietnamese, English and Russian to compare and contrast the views of different scholars, from which I have a comprehensive understanding of current events and avoid research bias.
Did you have a chance to travel in Russia?
As a history and culture buff, I have made trips to the cities of the Golden Ring that are considered the cradle of Russian culture. I was really captivated by the ancient monasteries with a long history. In addition, in these cities, I feel like returning to an ancient Russia with traditional houses, costumes and even cuisine.
What was the most impressive thing to you when you lived in Russia?
During the three years I lived in Russia, what left an indelible impression on me was the winter with snowfall, which I had never experienced before. In the winter, I often visit the Christmas and New Year decorations outside the Kremlin and drink a cup of hot coffee under snowfall. It was a wonderful combination that I will never forget.
So, right now are you in Vietnam?
Yes, I have returned to Vietnam after graduation, and now I am living in Ho Chi Minh City, Vietnam and look for new opportunities for myself.
After returning to Vietnam with a Master's degree in International Relations, do you have bigger opportunities?
Graduating with a Master's degree in International Relations from a world-class university offers me a lot of job opportunities because the knowledge I have equipped at school allows me not only to work at educational institutions, but also apply to work at foreign affairs agencies as well as foreign-invested enterprises. Currently, however, I spend most of my time pursuing my research direction.
What are the difficulties and opportunities when you do the research in the field of your major?
Thanks for such an interesting question. During my university years, I oriented myself to follow the applied direction rather than research, so I focused a lot on applied skills subjects. It was only when I studied for a master's degree at HSE that I seriously thought about the direction of my research and decided to pursue it. Therefore, an important obstacle was closing the gap in research. I spend a lot of time reading books on methodology and research methods. Despite many difficulties, I am fortunate to encounter many good opportunities to develop my research direction. At HSE, I have met young and talented professors who were truly passionate about research. This is a model for me to strive for every day. In addition, I am fortunate to meet experienced professors with many years of research in the field of international relations, who give me a lot of valuable advice.
Are there anything that you regret which you could not do in Russia before you came back to Vietnam?
What I regret is that I have not had the opportunity to explore and experience more Russian cities due to the Covid-19 epidemic, and hectic schedule of learning. There are many cities and lands that I want to set my foot in such as Saint Petersburg, Sochi, and so on. I hope to have the opportunity to return to Russia as soon as possible to make it happen.
What are your goals for the upcoming journey?
As shared, I am still pursuing my research direction. Therefore, in the future, I will do my best to further research the issues that interest me and try to find opportunities for a PhD program.
Thank you very much for taking time to share with HSE Illuminated. Such an inspiration for our readers! We wish you success on the path you have chosen.
Interview by
Thi Thuong Cao