A Typical Day Of An HSE Student
An interview with Tran My Linh who is an HSE foreign student.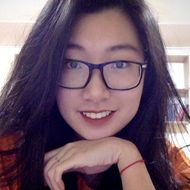 Tran My Linh
Tran My Linh is a student from Vietnam. She would like share with HSE readers how she spends her day.
Dear Linh, please, say some words about yourself.
Hi guys, my name is Tran My Linh, but you can call me Linh for short. I'm from Vietnam and I'm turning 22 this winter. My major is International Relations. I'm currently in my country because of COVID-19. I planned to return to Russia this November but HSE is temporarily returning to distance learning now, so I hope I can come back on the third module.
Since you study online now, it would be very interesting to hear how your Russian day differs from the your Vietnamese one.
Well, it depends on my schedule that day. When I was in Russia, I usually woke up around noon if my classes were in the afternoon or evening. If they were in the morning, I got up an hour before my classes started. It was because I often stayed up late at night doing my homework and finishing my deadlines. When I come back home, this habit doesn't change a bit. Russia is 4 hours behind Vietnam, so sometimes some classes end at 9 P.M. in Russia, and it is 1 A.M. in Vietnam. Moreover, I have to complete some work before the deadline at 11:59 P.M. and this makes me stay up late and I can't get up early in the morning.
If you wake up late like this, it means that you also skip your breakfast?
Correct. In Russia, if my classes started at 9:30 or 11:10 in the morning, I bought some chocolate bars in the vending machine just in case I got hungry during class and that's all. If classes started later, I cooked brunch. I got myself a cup of milk or hot chocolate or coffee and a bowl of noodles with eggs and sausages. However, there's a difference when I'm in Vietnam. My parents cook brunch for me. That would be a standard Vietnamese meal with rice, two savory dishes, and soup. Instead of eating alone, I can eat with my family, and the food tastes so much better.
How about your classes?
When I was able to come to the campus to study offline, I used to sit at the same table with my friend. She also comes from Vietnam. We are not all that good at Russian so we have to work very hard. Sometimes I don't hear what the teacher is saying, my friend will repeat it for me and vice versa. We also share materials that we find and support each other if needed. During seminars, we try our best to speak as much as possible to have a better grade. However, because of COVID-19, we both came home, but we live in different cities so I haven't met her since then. I kind of miss my friend and my offline classes with her. During online classes, if I have something to say to her or if she needs my help, we usually communicate with each other using the chat function in Zoom. However, this is only a temporary solution and cannot completely replace face-to-face communication. I even miss having lunch in the university cafeteria with her. I still remember we used to order the lunch complex for approximately 200 rubles. Sometimes when we wanted to change our appetite, we ordered noodles or burgers at the canteen on the Pokrovka campus. However, no matter what the main dish I ordered, I always ordered it with a glass of kompot (a Russian drink that is made by boiling a combination of dried fruits, such as apples, strawberries, apricots, etc.). I also miss this kind of drink.
What do you often do after classes?
Well, again it depends on my schedule. When I was in Russia, I liked hanging out a little bit before coming home. If my classes ended early, I went to the supermarkets to do grocery shopping. I like going to Auchan, there are lots of things to buy there. However, if the time was limited, I just went to some supermarkets near my dorm like Perekrestok or Billa. I went to the supermarkets two or three times a week. To be honest, sometimes I went shopping not to buy something but to relieve stress as shopping helped me feel more relaxed. If I didn't go shopping, I definitely walked around where I lived. Near my dorm, there is a park and I like spending my afternoon there. In the summer I and my friends often took a few walks in the park and after that, we ate ice cream on the way back home. When my classes ended late, I ate out somewhere or went straight to the dorm. No matter how late my classes ended, I still walked to the metro station. You may not know it, but it's quite far from the campus where I study to the metro station. That's why some people often choose to take the bus there, but I prefer walking. I like walking slowly while looking at the streets and the surroundings. I even stopped a few times to take photos of the sky or the buildings. When I'm in Vietnam, I like spending more time with my family. I help my parents with the housework and go shopping with my older sister. If my free time coincides with my friend's. We go around Hanoi, where I live, by motorbike and try all kinds of street food.
What do you usually do in the evening?
I eat dinner, of course. Like I already said, if my classes ended late, I ate out because I was too tired to cook for myself. I often ate at fast-food restaurants like KFC, Burger King or McDonald's because the food there is quite cheap and the service is fast. I really miss the KFC wing basket, I want to eat it so bad but KFC Vietnam doesn't serve it. I guess I should come back to Russia as soon as possible to eat it. If my classes ended early, I often cooked and ate dinner with my friend. I usually cooked Vietnamese dishes so that I didn't miss my family and my home. Sometimes I wanted to change my appetite, so I ate at the cafeteria of my dorm. Although the food here is not as diverse as in the university cafeteria, the quality is not bad at all. Moreover, if you don't want to eat in the cafeteria, you can bring food to your room. It's very convenient. When I'm in Vietnam, classes often coincide with dinner time, so I usually have a snack at break time and eat dinner after classes are over.
What do you do after that?
Well, a lot of things. Usually, I do my homework. When I was in Russian, I called home before doing my homework. I told my family how my day went, what I studied at school, what I bought at the supermarket, what I had for dinner. Sometimes I cleaned the room if it was my turn to be on duty that day. I and my roommates also had to clean the dining room of our floor when the day of duty came. On that day we often waited until very late, when no one came to the dining room to clean it. As I already told you, I often stayed up late to do my homework. In order not to disturb my roommates as they usually had to get up early to go to work, I studied in the study room on the first floor. I like the atmosphere there because it made me more focused on studying. A lot of people went down there to study and they were very focused and somehow it motivated me to study. Staying up late made me very hungry so I often ate while studying. My friends even brought some snacks for me. When I'm home, it's my mom who brings snacks for me. Sometimes I have classes even after dinner and they last until 1 A.M. If I still have energy, I'll do my homework, if not, I'll go straight to bed and sleep.
This is just a normal day of my university life. It starts with waking up late, skipping breakfast, going to university, or starting Zoom conferences, hanging around, having dinner, calling family if I was in Russia, cleaning the room, doing homework and it ends with going to bed late at night.
Lihn, thank you very much for describing your day to us. Would you like to say anything to our readers?
Well, I wish you all a successful academic year. Hope you always keep your passion for learning new things. Don't be discouraged because we can't meet in person but have to study online. Please stay healthy and follow the government directive so that the COVID-19 epidemic will soon pass and we can return to our normal lives.
Interview by

Van Ly Vu