You Can Be A Real Barista At Home
Best drink recipes that can make you feel comfortable and warm in winter by Nga Pham.
https://youth-time.eu/warm-drinks-to-keep-you-in-a-positive-mood-during-the-cold-months/
I don't often go to the cafe because I can make coffee myself by learning a few tricks from the internet. But there was a time my friend suggested me to go to Starbuck to try their new coffee, namely pumpkin spicy latte. I was kinda excited at first but then slowly disappointed because the coffee was worse than what I made at home: the lack of flavor, too much cream, and the price was not worthy. So I hope that with the recipe list below you can save a lot of money to the cafe and still have the best-quality drinks at home.
Sweet corn milk
Corn milk is not only favored for its beautiful yellow color and delicious taste, but it is also rich in nutrients. The ingredients for a drink are extremely simple: you just need fresh corn, cow milk, and a little bit of white sugar. You can also customize the milk according to your taste such as controlling the amount of sugar added to milk, or adding nuts or grains, etc. Corn milk can be stored in the fridge and you can add ice if you want to drink it cold, however, in the winter you should have the hot version because it will warm your body and bring enough energy to work for a whole day. Corn milk is not only good for the digestive system but also helps you to improve skin, as well as reduce nail breakage and hair loss. Corn milk is especially tasty when it just comes out from the pot. You can sprinkle a little bit of cinnamon powder on the surface of the milk cup to flavor it. This drink is suitable for all people and of all ages.
Note: should use low-fat milk and 1-2 spoons of sugar so that the milk won't be too fat and sweet. Plus, do not use packed corn as it will reduce the taste.
Lavender London Fog
Lavender London fog is your drink if you have an endless passion for British tea and tea culture, you should not miss London Fog. Although the recipe comes from Vancouver, Canada, it still bears certain British features because of its signature ingredients: the famous Earl Gray tea and foamed fresh milk. In addition, one of the key ingredients of London Fog is the vanilla syrup. And a touch of dried lavender can make your tea richer and more luxurious. What could be better than on a snowy day, you stay at home, read a book and have a cup of London Fog in hands?
Note: you can replace vanilla syrup with vanilla extract, lavender is optional.
Recipe: https://www.gimmesomeoven.com/london-fog-tea-latte-london-fog-drink/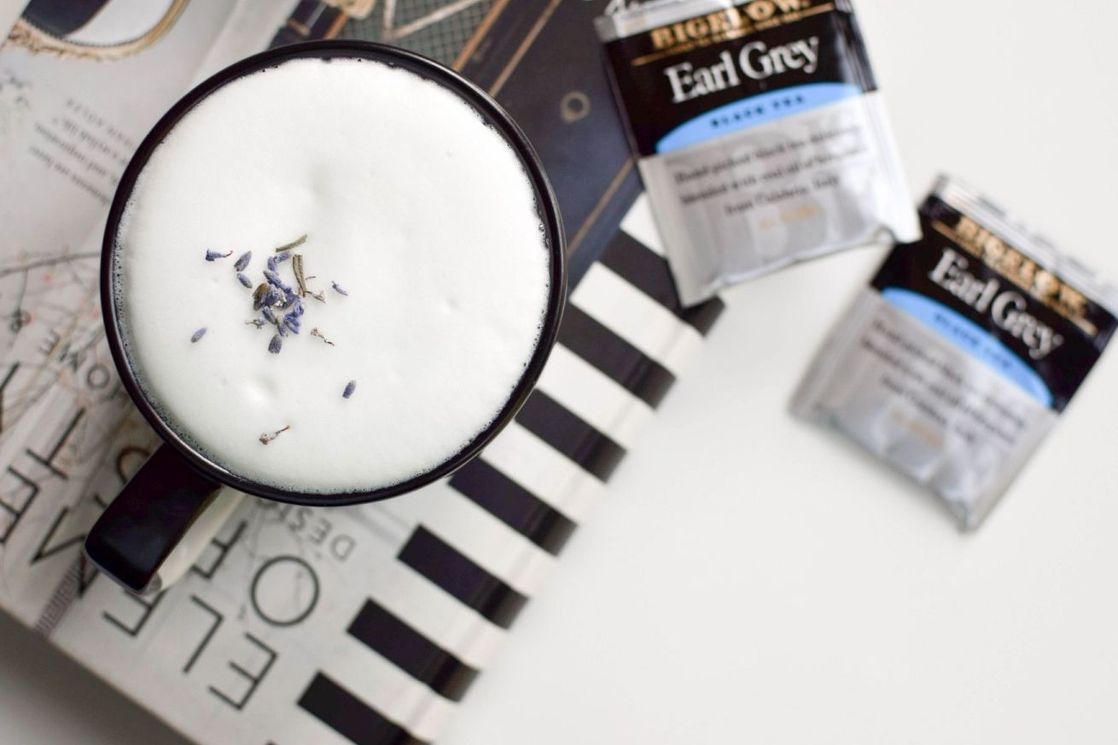 Coffee with condensed milk
The original coffee version in Vietnam is one part of espresso mixed with one or two servings of condensed milk and finally lots of ice will be added in. However, in the cold season we can still have a delicious cup of coffee without ice. All the ingredients you need are just high quality coffee and any types of condensed milk. There are two ways to make this drink, which you can find in the link below, but the fastest way I usually do it is to use a Vietnamese coffee filter: It only takes me 1-2 minutes to finish making espresso, and then add condensed milk.
Note: Coffee may not be suitable for everyone because of its strong taste.
Recipe: https://www.bonappetit.com/recipe/vietnamese-iced-coffee
The link to get a filter: https://reddragon-spb.ru/chai/posuda-i-aksessuary-/nabor-dlya-chaynoy-tseremonii-1/
Orange spiced tea
The erratic weather makes you more susceptible to illnesses like colds, sore throats and headaches. At these times, it is advised to drink lemon juice mixed with honey to alleviate the fatigue. However, if you want to try something new, you can make Orange spiced tea. This drink is not complicated to make but still fussy enough to delight you because oranges bring a sour taste, honey brings sweetness, and ginger cinnamon will warm up your body. Not only help you prevent flu and sore throat, but orange spiced tea also aids digestion, anti-inflammatory, and skin beauty.
Note: You can add nutmeg (optional) for a more flavorful taste. Oranges should be blood oranges and cinnamon sticks will work better than cinnamon powder.
Hot Chocolate with peppermint
You may be too familiar with drinking a cup of hot chocolate in the morning for a productive day. However, with just a little more milk, cream, and peppermint oil, voilà, you can have a new drink. The hot chocolate will warm your body instantly, while the mint will help you relax and relieve stress. In addition, for people that have bloating, peppermint oil is also an effective remedy. This drink is suitable at all times of the day.
Note: Pure dark chocolate is highly recommended. If you use milk chocolate or any other type of chocolate with a lot of sugar, you should cut back on the sugar so the drink won't be too sweet.
Recipe: https://www.bbcgoodfood.com/recipes/midnight-mint-hot-chocolate