Road Trip As An American Phenomenon
Road trip is an exceptional feature of America. Let's talk about its unique sights and existing difficulties.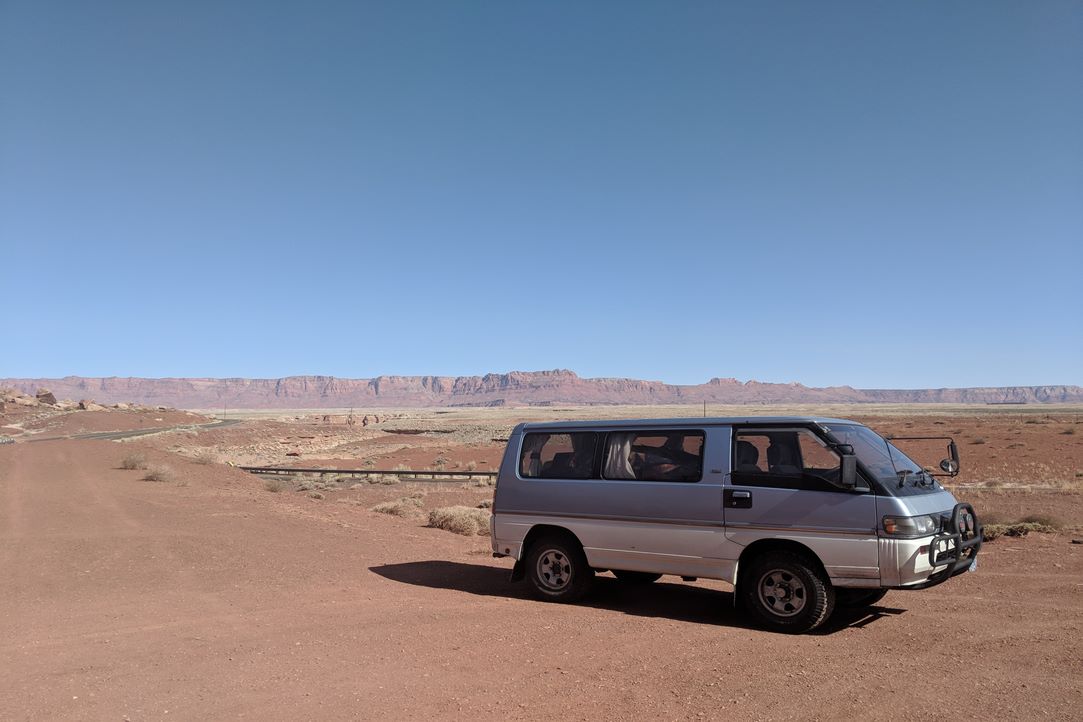 Have you ever had the American Dream of setting off on a road trip all over America? As for me, I've always wanted to go through the country and to see its famous sights. Especially after watching American movies with the spirit of freedom and dreams. As long as I cannot fulfil this dream, I can only get knowledge about it and prepare for it.
In this article you will learn why the road trip is an American phenomenon, which places are essentials for visiting, which difficulties arise when going on a road trip, the tips of travelling around the USA.
As far as we're all concerned, we do not dare too much to take road trips in Russia. Russians prefer travelling to exact places instead of road trips. Although the Russian nature is marvellous and there are lots of sights to admire, road trips can't catch on in our country. To my mind, the reason for that is the lack of infrastructure and accommodations for tourists along the way. It might be harsh and severe to drive, for example from Moscow to Vladivostok, around 9000 kilometres. Therefore, people choose commuting to destination by other means of transport and enjoying the velocity and comfort.
However, road trips is one of the most popular kinds of travel in America. And my friend William Brown who has a huge road trip experience in the USA will share it with the readers of HSE Illuminated.
What is a road trip for Americans? What is so special about it?
The road trip is an important piece of Americana. Most of us grow up with the idea that we'll take some grand road trip at some point that will be transformative. There's some magic in this idea that you get on the road and drive for hours either with friends or by yourself. It gives you time to think but also provides lots of opportunities to observe different aspects of life that we're not normally party to. I think it's definitely an American phenomenon – we think of Europe as the place where you do train trips more than road trips. But I have been on road trips in Russia as well (Sterlitamak to St. Petersburg, the Golden Circle), which was really fantastic.
Do Americans travel more often internationally or domestically?
The US is a pretty big country, so there's a lot to see and do (I know that may sound odd considering Russia is 1.8 times bigger). Because the country is so big and we have the infrastructure to support road trips, we really love traveling in the US and, in fact, the majority of Americans have never left the country.
Why do people choose a road trip as a kind of travel? What are the perks of it?
In general, I like road trips because there's something peaceful, even Zen, in the "just you and the road" connection. It can truly be meditative, and it gives you time to be in your thoughts. If you're with other people, a road trip can form deep bonds and shared history. Road trips are also in our national DNA – have you ever heard of the Oregon Trail? Americans have been crossing the country on long trips to explore and build new lives for almost 200 years.
Please, tell me about your experience of going on a road trip.
The last road trip I took in the US was in 2018. My father and I drove from Portland, Oregon to Columbia, South Carolina so I could start graduate school. In total, the trip took a week and was about 5,200 km. From Portland we went to Boise, Idaho, Salt Lake City, Utah, Flagstaff, Arizona, Amarillo, Texas, Oklahoma City, Oklahoma, and Atlanta, Georgia before making it to Columbia. Along the way we stopped and spent two days at the Grand Canyon and Meteor Crater. Our van, a 1991 Mitsubishi Delica, went through hell to make it all the way. The turbo blew and the engine overheated while going through the mountains in Arizona when we hit an altitude of about 3,000 meters. Luckily, after it cooled down, I was able to tape some pipes up and refill the coolant. There were still about 3,500 km ahead of us and we couldn't go faster than 100 kph. It was stressful then, but these are the moments we laugh about now. In some ways, the hard parts are the stories you're hoping for when you take a long trip, the kind you'll use to entertain your kids and grandkids someday.
Does a road trip really look like those shown on the TV screens? Isn't it too stereotypical?
Honestly, I think this is one of the aspects of American culture that is pretty fairly depicted in films. When you're on a road trip in the US, you'll meet all kinds of people along the way. Most people bend over backwards to make sure that you have what you need whether it's a refill of your coffee or help fixing your tires. That said, you might also find yourself in some hair-raising situations with some classic "weirdos".
What should be considered before setting off on a road trip?
When it comes to preparing for a road trip, you really have to focus on the basics. How much is my fuel going to cost? Where are we going to sleep – in the car or hotels? What condition is my car in? Are my tires ok? What about the spare tire?
Once you check those items off the list, you can consider more clearly where you're going to go and what you're going to do. Some people just go for the drive, others go for the sights. You should also think about what you want out of the trip. Are you trying to make a long trip from Point A to Point B more interesting? Do you want to have a unique experience? Do you need space away from your regular life to make an important decision?
In general, there are endless things to consider before taking a road trip, but the most important one is are you going to do it or not? If the answer is yes, don't think too much about it – just do it.
What do people usually take along with them on a road trip?
For the most part, people just take clothes, toiletries, and some snacks. They usually don't take a ton of food because there are so many roadside restaurants and convenience stores that it's usually easier to buy what you need than trying to transport a bunch of groceries. That said, if you've been on a road trip and dealt with issues (like having coolant pipes explode in the desert), you'll bring a few tools and some basic vehicle supplies (oil, coolant) as well.
And what about food?
One of the things about driving in Russia is that you can really go for miles and miles and not find a place to eat or get gas. In the US it's the opposite. Most of the time there are gas stations, convenience stores, restaurants, and places to sleep every mile or so.
What 5 places in North America do you suggest visiting?
This is a really tough question because there are so many amazing places. One of the special aspects of road trips is that you get to see the spaces between cities, so I'll suggest a few of my favorite stops that have left deep impressions on me.
The Grand Canyon – it's hard to describe the feeling of seeing this awesome natural monument. The sheer size of it makes you feel incredibly small as you marvel at the beauty that nature can create.
Yellowstone National Park – this is probably the most vast slice of natural beauty that you can find in the United States.
Cannon Beach and Cape Kiwanda on the Oregon coast – it's not the best place to swim, but the Oregon coast has some of the most beautiful beaches you'll see in your life.
Garden of the Gods – Colorado is filled with some incredibly beautiful spots that you can check out on a road trip. This site is definitely one of the most amazing.
Charleston, South Carolina – this is in my home state and one of the oldest cities in American. It has a unique feel to it and is close to some cool beaches!
I also have a friend Yana who moved to the USA from Ukraine, had a road trip and have fresh impressions of it. She will tell the readers of HSE Illuminated about it and will give some advice on what to be prepared for.
Yana, introduce yourself, please, and tell the readers why you chose America to move.
I am from Ukraine and have lived there most of my life. My love of travelling has led me to my dream job — I was a flight attendant in the Ukrainian Airlines and flew around many countries.
I visited the USA several times for work and understood that I like the American lifestyle and mentality. Then the idea appeared: "Why do not you move here?". I found a like-minded person (my husband) and after a while we moved here together.
I know that you had a road trip around the USA. Could you share your emotions about the country, people you meet along the way?
Yes, from time to time we go on short trips. This fall we decided to take a road trip across the country from South Carolina to Seattle, Washington. The purpose of the trip was to visit our friends who live on the Pacific Coast, as well as travel and see how people live in other states.
I was surprised how many Spanish speaking people live in Miami! Once I went to the store, where all the employees spoke Spanish and some of them even didn't know English. It was a very strange feeling, like I'm not in the USA.
Everything for me is here - mountains and ocean, canyons and forests, waterfalls and deserts, summer and winter, in the end! Free movement between states, cheap flights, just choose the direction and go!
What difficulties can Russian people face during the travelling in the USA?
Difficulties can be with the law if you do not follow the rules. In other cases, people here are open enough and ready to help, even if you have a bad English.
What would you suggest Russians before setting off on a road trip around the USA?
Plan the route, taking into account the fact that there may be toll roads along the way.
It's better to get insurance in your home country before leaving, as in the case of an accident, the medical bills will be huge in America.
If you are travelling to a big city – find a place where you can park your car in the case of the lack of availability on the street.
Read U.S. rules of the road before your trip.
Pay attention to the color of the curbs, for example, the red curb means that you cannot park your car there or there may be time limits for parking, left turns, etc.
And just have fun!
Interview by
Liubov Zaytseva