Istanbul: To Go Or Not to Go?
Learn more about Istanbul from a local before applying for an exchange program.
https://pixabay.com/photos/galata-tower-ferry-bosporus-city-3880494/
Spending a semester abroad is an invaluable experience but the road that leads to it is a tiresome one that demands a lot of research if you want to get the best out of your mobility period. The applications to study abroad for the Spring semester may have ended, but it is never too early to start doing some research for the next call of applications which will be here soon.
As someone who has been to two exchange programs during his undergraduate years and who is planning for a third one during his graduate studies at HSE, I cannot emphasize the importance of doing proper research before those applications enough. It is always a good idea to try and get in touch with people who have been to the schools/cities that you want to go, but what is better is talking to a local who can answer most of your questions. Well, in case you have been thinking about going to Istanbul for an exchange period, you are in luck. I am here to try and answer all your questions regarding Istanbul and Turkey in general, and Koç University in particular, as a local and a former student respectively.
Who am I?
I double majored in Comparative Literature and History at Koç University from 2015 to 2020 and as someone who always loved travelling, the idea of spending five whole years in one campus seemed rather dreadful to me. That is why I went to UBC, Vancouver for an exchange semester in 2018, and another one to HSE St. Peterburg on my last semester. From 2018 to 2020 I presided over the International Student Club in my university, and also became the head mentor for the exchange students by the summer of 2019. These roles meant that I ended up organizing quite a lot of parties, some trips to various parts of Turkey, and a variety of other smaller events throughout the last two years, all geared towards the international and exchange students at Koç. I would like to think that this makes me experienced enough to talk about spending an exchange semester in Istanbul. After all, I spent the better part of my last two years working with people that went there as exchange students, listening to their feedback, good memories and the bad alike. Internationalization is one of my top priorities when it comes to higher education, and as an aspiring scholar, I would love to teach in a world in which most students have some sort of exchange experience, no matter whether it is a short summer program, or a much longer double track, or anything in between. So, anything I can do now to motivate more people to partake in such programs is a huge plus on my book. Without further ado, let us now have a look at one of your possible exchange destinations, Istanbul.
We sailed around the Bosporus while listening to some old Turkish songs and eating some local appetizers.
Why Istanbul?
Why not? You have all heard of Turkish hospitality, kebabs, and the Bosporus so why not spend a few months in Istanbul to experience all of these and more? Moreover, almost all the Russians I met so far have been to Antalya, and maybe Cappadocia, but most of them have not been to Istanbul yet. I see that as a huge loss. Antalya is nice and all, and Cappadocia is a must go for sure but if you really want to see how the Turkish youth lives and also live in one of the biggest metropoles in the world, nearing twenty million people, then you are better off going to Istanbul for some time.
There are plenty of ESN branches and many International Student Clubs (such as the one I was in) in most universities of Turkey. All three options we have from the International Office boasts significant international and exchange student numbers, especially compared to their size. Almost all the schools provide some sort of mentoring program which pairs you with a Turkish student (much like the buddy program of ESN here) and funds some orientation activities that can range from picnics to daytrips around Istanbul so that you can quickly make friends among your new crew.
What is more is that Turkey does not end with Istanbul, and Istanbul sure is a great gateway to other parts of Turkey. Most clubs and sometimes schools organize trips to many important tourist destinations around Turkey, for a ridiculously cheap price. A three-day trip to Cappadocia that I myself organized a year ago costed only 600 TL which is around 6000 roubles nowadays. You can easily find trips to Cappadocia, Ephesus, Pamukkale, Antalya (mostly including diving etc. as well), and to the Black Sea region with its lush green mountains and great cuisine. Since Istanbul acts as a transportation hub, you can also easily find cheap tickets to many nearby countries if you ever feel like you want to do some more exploration during your semester in Istanbul.
It is important to note that due to the economic downturn in Turkey, the prices in Istanbul (which are the highest in Turkey) will be shockingly low, especially compared to Western European and American cities. In most schools the cafeterias will fill you up for less than 150 roubles, and for 200-300 roubles you can have a meal outside. Almost anything you can imagine will likely be cheaper than Russia, well except booze and electronics. More on that on our next chapter.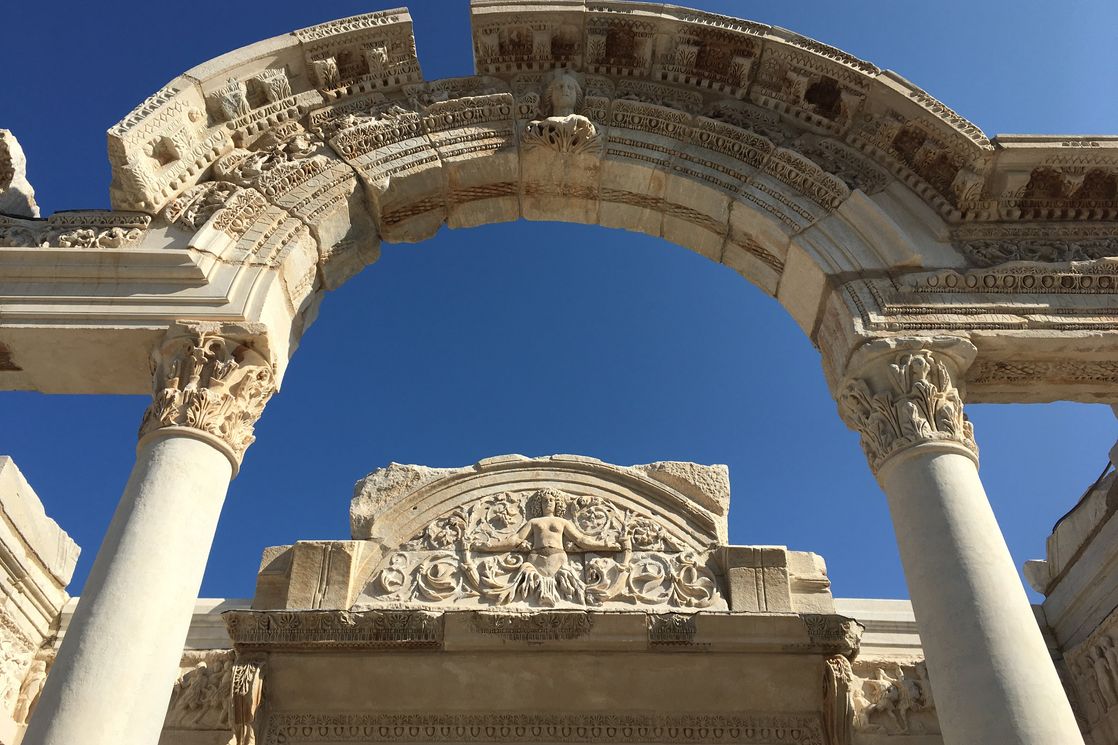 A photo I took in Ephesus. Turkey is home to hundreds of ancient ruins so if you are into those sorts of things, it may be a good option for you.
And, why not?
Let us be honest here. Not a single spot on our lovely planet is perfect for everybody. As someone who lived in Istanbul for 10 years, I think I can easily point out some downsides of living here so that you can make a better decision.
Let us start by those prices. Prices are low, sure, but that does not apply to alcohol and in most cases to housing as well. Rents start from 15000 roubles for rather spacious but far away apartments and decent rooms in the centre usually go for the same price as well. A month in dormitories (which are often quite nice and are cleaned daily by dedicated workers) can start from 20000 roubles. If you are staying at a dormitory right now, just realize that you will be spending most of your monthly budget on housing once you go to Istanbul. Prices of alcoholic drinks is yet another problem in Turkey. Due to extremely high taxes, the worst beer on the market starts from 110 roubles and you can easily spend 800 roubles on a single cocktail in a normal pub/club. A somewhat decent bottle of vodka can easily amount to 3000 roubles in the market, and honestly, I did not even bother asking for its price in a club. So, if you are into partying, and like to drink heavily, Turkey may not be the best spot for you.
Vastness of Istanbul is both a boon and a curse. Sure, it lets you explore a huge urban environment with thousands of restaurants, museums, pubs, clubs, cafes etc. to discover but at the same time it means that quite a lot of your time will be spent in public transportation. I remember spending up to six hours in a combination of buses, metros, and trams when I last visited the Anatolian side of the city. Smarter planning and waiting for after hours to move around can get those numbers down significantly but if you are one of those people that got bored of a 10-minute metro ride, Istanbul may not be the perfect option for you.
Let us not forget the Turkish food. From the famous "döner" to desserts made of pistachio, there is something for everyone in Turkey. Well maybe not so much for the vegans…
Ok, but which university should I pick?
After weighing in the pros and cons of Istanbul, if you decided to try your luck there, you will be welcomed by three different options in the website of our International Office. These are Koç University, Boğaziçi University, and Sabancı University. Here is my rundown on each of these options with their own pros and cons.
As a graduate of Koç University who now studies at HSE after spending a semester abroad in here as well, the first and most important thing I can note about Koç is that it is extremely similar to HSE in many ways. Both schools started accepting students in 1993. They are both quite famous and successful in their respective countries, ranking the best in certain departments/fields etc. Students in both schools have a similar profile, quite hardworking but they also know when to let go and party. Professors are friendly, and quite easy to reach out to. Both schools are relatively small, and the classes are often quite relaxed with few students in them. The only downside to Koç is that it is considerably far away from the city centre.
Boğaziçi University is often considered the best state university in Turkey, and with good reason. It has great professors and a lot of research opportunities, but it really fails to deliver on teaching on most departments due to its overcrowded classes. I am not talking about thirty or forty people in a class, I mean hundreds of students tucked together in one big conference hall. My friends who studied there reported not being able to talk to the professor at all, or going to most of their offices, so these are all issues to keep in mind. However, it is situated on a lovely hilltop overlooking the Bosporus, and it is close to the city centre so it certainly provides some food for thought for those of you who just want to explore Istanbul and Turkey, and worry very little for the quality of the education or the grades that they may receive during their exchange period.
Sabancı is your third option, and it really should be at the bottom of your choices as well. Education is lagging behind Koç and Boğaziçi on most departments. It is campus, students and professors could easily remind you of Koç if you saw both universities. What is truly troubling with Sabancı is the fact that it is literally next to the provincial borders of Istanbul. If you thought getting to city centre from Koç was a big deal, think again. I am talking about hours spend in the traffic, as long as three to four if there is some congestion around the bridge. If you are okay with sticking mostly to the Asian side of Istanbul, then this would not be a problem but who would want to do that when all the beauties are on the European side?
If you were to ask me, Koç University should be your top pick in Istanbul. If you want a similar university life, and do not want to stress about adapting to an entirely different system, then Koç is the way to go. If you really want to be as close to the centre as possible, and just want to enjoy your semester abroad partying and going on trips around Turkey, then Boğaziçi may also be a good alternative. Sabancı should really be the last option, and if you end up opting for it make sure to rent a house closer to city centre rather than to the university itself.

I really hope that this article will be of some use to those of you who wishes to study abroad but cannot choose where. Or to those that want to study in Istanbul but cannot decide which university would be the best pick for themselves. If you have more questions about life in Turkey or education in Koç University, or anything in between, feel free to reach out to me over VK.
Text by
Mustafa Serdar Karakaya