Jazz and the City: Billy's Band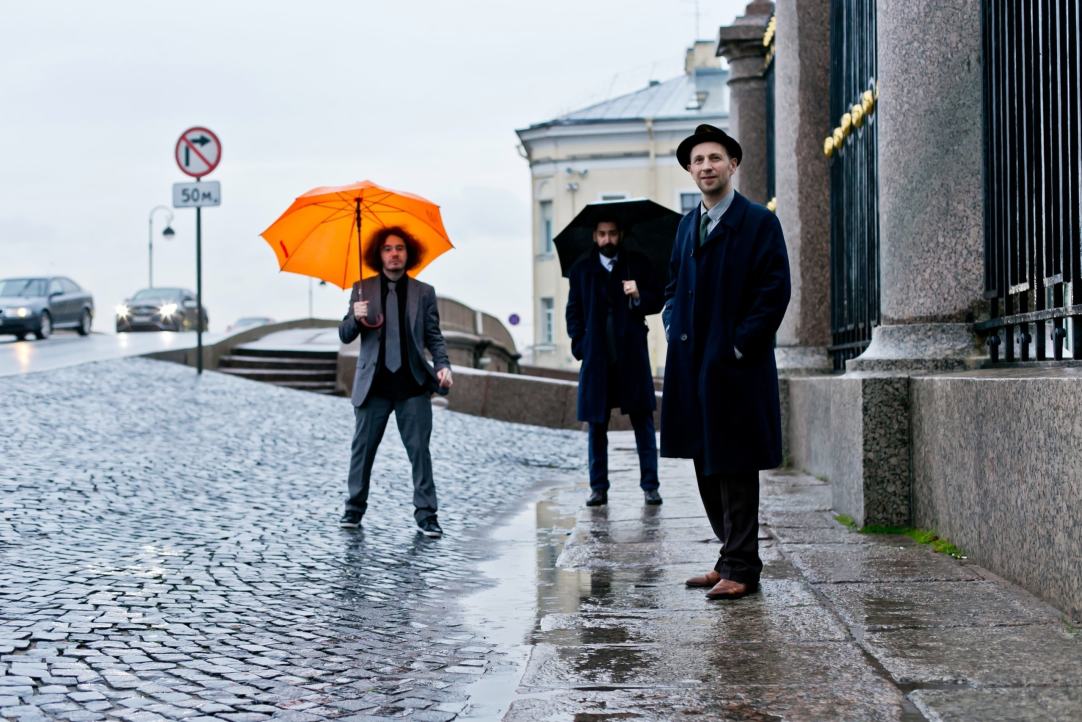 © Billy's Band official VK page
What is the best way to spend a summer night in St. Petersburg?
Of course, it is a jazz concert. There are many places in the city where you can do it any day: JFC, State Jazz Philharmonic Hall, the Hat, Dom 7, the Coffee House in Summer Garden, 48 Chairs, etc.
But in summer you have also a unique opportunity to enjoy the music on the roof. Every year the Roof Music Fest takes place in St. Petersburg.
On July 28, Billy's Band, a legend of the city, performs at Roof Place.
In August, the group will celebrate its eighteenth birthday. Today they are the stars of Russian jazz with sold out tours and TV performances. Leading mass media write articles about them. The group have become the same symbol for their native Saint Petersburg as the White Nights and Drawbridges.
In this article we will look at the group's history and talk to its frontman Billy Novik on love and the beauty of music.
2013 became a turning point for Billy's Band. The group changed its original style called "romantic alcojazz" (the name was given by musicians themselves) and inspired by Tom Waits to create an album that sound like classical jazz ("When I Was Alone").
In 2015 "In Rock" was released. It was an experimental album of rock versions of the band's hits and new rock songs.
However, Billy's Band turned back to jazz on following albums "Slightly" ("Slegka"), New Year's "Santa Clauses' Song" ("Pesni Dedov Morozov") and studio live "The Postcards from St. Petersburg" ("Peterburgskie Otkrytki"). So it would be fair to say that the group creates classical jazz in Russian which does not exist yet.
HI: Billy, is jazz a cosmopolitan music for you or it can have a national character? Does, for example, Russian jazz differ from non-Russian in anything but the language?
Billy Novik: Jazz for me as music itself is a universal language. We often do not need words at all. Emotions, feelings, and senses are conveyed the same way in any language. Maybe even more precisely… But like any language, to understand it one should of course practice it. Jazz for the period of more than a hundred year existence have become a common heritage of mankind without national mark. It is played all over the world, including Korea and Mongolia. The specific features depend on personality of certain jazzman rather than his nationality.
HI: Billy's Band shifted from its traditional sound which you call "romantic alcojazz" to traditional jazz in later albums. How do you see this new direction of yours: new mainstream or one more sound variant as "In Rock"? Do you leave romantic alcojazz in the past?
BN: For me, it is something I've been trying to reach for all my life but somehow failed. That is why we were forced to hide behind some beautiful and epatage style descriptions. In general, styles do not mean anything to me today. I pay attention to such terms as beauty and music which are framed into some musical form. The rest is crap.
HI: Your jazz works in Russian are unique. Though it seems that jazz in Russia does exist and we have pretty good musicians, too. Why do you think nobody made such music before Billy's Band?
BN: There is a misconception that jazz doesn't sound well in Russian. It is true in a way. Everybody who tried to play jazz in Russian before failed as they managed to get only some grimacing, phonetical errors and omissions of the Russian words, ugly "foreign" accents, etc. But actually Russian vocal needs a little swing, a typical rhythm of jazz music, and a sense of proportion that is the hardest in jazz. I personally think that Russian can be swung and sung very well. Listen to our album "Slightly" and tell us your point of view.
It's hard to argue that "Slightly" is an example of pure jazz in which Russian language sounds naturally.
A Brief History
Music career of Billy's Band is considered to start from Tom Waits covers and original songs a la Waits.
The spirit of this great californian embodied in the band's theatricality, storytelling, manner of singing and, of course, the hat of its singer-songwriter Billy Novik.
The first group album of own songs "Paris Seasons" was recorded in 2003 after returning to St. Petersburg from Paris where they tried to earn money performing in the streets.
At this period the musicians work very productively. Soon after "Being Tom Waits" and the "official" debut "A Little Death, A Little Love" was released. This is one of the brightest album by Billy's Band where they even dare to sing Boris Grebenshikov's "a Train on Fire".
The band entered the media space by presenting a cover of Alsou's "Winter Dream". Billy Novik, former autopsist, sang this pop hit so brilliantly that amazed even the original singer.
"Let's go crazy in Petersburg manner", filled with the energy of Balkan music, entered the radio charts and TV having become the first real hit of Billy's Band.
"Spring Exacerbations" album of 2007 has another significant for the band composition which is considered to be the hymn of one of the districts of St. Petersburg – "Kupchino is the capital of the world". Kupchino is the neighbourhood where Billy Novik grew up. Following album "Flea Market" includes the songs devoted to other districts – Udelnaya and Vesely poselok.
In 2010 the band participated in various jazz festivals in Rochester (USA), Toronto and Montreal (Canada) impressing the audience and selling a large amount of their discs.
On Own and Cover Songs
While recording new songs, Billy's Band proves to be an authentic and bright cover-band who are able to make interesting song versions of various artists from the Beatles to Russian rap group "Kasta".
Beside "Being Tom Waits" the band released two cover compilations and also recorded a song with the lyrics of Iosif Brodsky whose poetry is difficult to sing.
HI: Billy's Band has been performing covers and original songs since the very beginning. Svetlana Surganova has an album of covers called "Someone else's as your own". Do you take other songs as your own? How does it differ for you to perform your own songs and the songs by other authors on stage?
BN: It is harder to perform your own songs because you reveal more of yourself. Singing the songs of other authors you can change them as you like, you have less responsibility. Besides, there is always an excuse like – it is not my text, I cannot knock words out of someone else's song. But it will not take you far. People want to hear something written by a person who is performing on stage. Then I guess the words can get through to you deeper.
HI: The press release says that Sergei Reznikov is the author of the greater part of the tracks for "Slightly" which is no typical for your earlier works. Is it difficult for you to write lyrics for such type of music or there are other causes?
BN: Sergei is my major co-author. For this album's songs I generated ideas, sometimes a story and sent the material to him. Sergei creates the initial variant; I correct and polish the text to a point as I see it. I did not put my name as a co-author as the major work was done by Sergei. Moreover, I reached the stage in my life when I don't have to assert myself. I do not need to lay any copyright claims. I share the same point of view as Boris Grebenshikov saying that "Everything belongs to Everybody".
The Postcards from St. Petersburg
In 2017, Billy's Band released a studio live album "The Postcards from St. Petersburg".
That's how the musicians comment this record:
We just came to the studio with our friends and made 2 or 3 takes of every song. Then we chose the best ones. Being recorded in excellent studio quality the album was able to keep an authentic sound of live band with its errors and studio noises.
Listening to their songs you could find Billy's Band to be strongly attached to St. Petersburg.
Beside of songs about hometown Billy Novik, for example, made a contribution to its music culture by opening a jazz bar in the city centre. In 2013 The Hat was included in the list of 150 Great Jazz Venues by Downbeat Magazine.
Moreover, our interviewee founded the annual international "Big Jam Festival", "Jazz and the City" community and such projects as "St. Petersburg Jazz Stars" and "St. Peterburg Jazz Asset". He leads the jazz Russification movement aimed at creating Russian jazz standards.
In 2011 the band's frontman was awarded the "Golden Soffit", one of the main Russian theatre award, for the role of Fool in the "King Lear" play. Today he is also a music director of a night jazz spectacle "It's Piter, baby" (Piter is a general nickname for St. Petersburg).
HI: Your band is strongly associated with Saint Petersburg. It seems that all your music is soaked with its atmosphere. Do you personally feel that the city influences the music?
BN: It does, but mostly love to the city not the city itself. Love. It is the most powerful source. Frankly speaking, I believe that the best song about the city will be written by a person who has never been to Saint Petersburg. But this person loves the city being in the distance and his love is paranoiac.
HI: Have you been able to fulfill your initial idea with The Hat bar? What is it to you today?
BN: The Hat is the best place on Earth. I realized that when I returned from my trip to Berlin, Paris and New York. On my way to The Hat I saw a familiar crowd and heard the sounds of "normal" jazz. And I knew right away that no city in the world has a safer place in a jazz sense. New York jazzmen say the same. I am happy to believe them. I am simply happy.
Have a happy summer in St. Petersburg!