Представляем Вам научного руководителя программы «Государство, общество и экономическое развитие в современной Азии (Ближний Восток и Восточная Азия)»
Профессор Р.Ф.Литрелл имеет большой опыт в области международного взаимодействия. Он был управляющим нескольких международных консорциумов в Китае, Африке, России, в частности, глобальных сообществ, изучающих роль лидеров и культурные ценности разных стран. Роми Литрелл не просто является известным ученым в области кросс-культурных бизнес коммуникаций. Он также обладает уникальным опытом ведения крупного бизнеса (IBM, Xerox, InterContinental), в том числе и в Азии.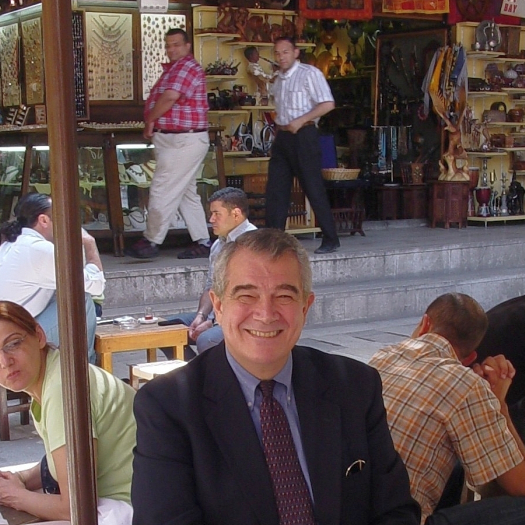 Р.Ф.Литрелл – обладатель двух степеней Ph.D. (2010 - Ph.D., Industrial and Organisational Psychology, Auckland University of Technology, по теме: "Comparative Personal Values of Chinese and New Zealand Businesspeople and Their Influence on Managerial Leader Behaviour Preferences" и 1999, Ph.D., Business Administration, International Managerial Leadership speciality, Robert Kennedy College, Zurich, Switzerland, по теме: "Perceptions of Desirable Leadership Behaviours of Multi-Cultural Managers by Indigenous Chinese Managers and Supervisors"). С 1999 года он также является директором центра кросс-культурных сравнительных исследований  в Новой Зеландии и США (Centre for Cross Cultural Comparisons, Auckland, New Zealand and Austin, Texas, USA.
В качестве профессора Роми Литрелл преподавал в США, Китае, Швейцарии, Германии, Индиии, Турции (курсы по лидерству, управлению культурными различиями, введение в менеджмент, международный менеджмент, маркетинг, международный маркетинг).
В настоящее время Р.Литрелл является координатором глобального проекта по изучению поведения лидеров и индивидуальных ценностей в разных культурах, касающихся развития международных деловых взаимодействий. 

С сентября 2017 года Р.Ф.Литрелл - научный руководитель программы «Государство, общество и экономическое развитие в современной Азии (Ближний Восток и Восточная Азия)». Мы спросили профессора Р.Литрелла – что бы он хотел передать своим бедующим студентам в Санкт-Петербурге:
What new skills and opportunities will the students of HSE get as a result of doing these courses with you?
 "I am looking forward to working with students at National Research University Higher School of Economics – Saint Petersburg in the international business, management, and leadership areas. I see my major strengths when teaching international business courses. I can relate theoretical approaches to experience. I have been a business practitioner in the USA, the Caribbean, and China, and a university professor in the USA, China, Switzerland (Fr), Germany, and New Zealand, and a visiting professor in China, India, Turkey, Brazil, and Peru. I have also engaged in management and leadership research projects in those regions, and also in Russia and Sub-Saharan Africa. I manage research consortia focusing on effects of national culture on in Africa and The Russian Federation, and East Asia. I enjoy sharing my experiences and gaining insights from my students. 
Do you plan to supervise MA students? What topics of research you think to offer them?
I will hopefully have opportunities to continue my postgraduate thesis supervisory activities with Master's and PhD students. My students and I have numerous successful projects leading to publications for the students in academic journals. My areas of interest are leadership across societal cultures, business & culture, and international management. 
Which characteristics you value most in your students? Which ones you suggest they develop deliberately and systematically?
The characteristic I value most in my students is initiative, being self-motivated. Another is knowledge of oneself; one must know understand his or her own culture to understand others. Skills that students should develop systematically are those of analysis and synthesis.
How important is it to develop leadership skills as part of this new MA program? What are the ways to do that?
In a 2003 academic journal article by two leadership scholars, Bennis and Nanus, they comment: "A business short on capital borrow money, and one with a poor location can move. But a business short on leadership has little chance for survival".  Leadership skills can be taught, and should be taught to future managers and leaders. The ways to teach leadership are subject to many contingencies.
Is it possible to briefly formulate your personal teaching philosophy? What is your philosophical approach to the process of education in general?
My approach to teaching is that of "student-centered learning"; there is a reasonably good introduction in Wikipedia "Student-centred learning":
"Student-centered learning, also known as learner-centered education, broadly encompasses methods of teaching that shift the focus of instruction from the teacher to the student. In original usage, student-centered learning aims to develop learner autonomy and independence by putting responsibility for the learning path in the hands of students. Student-centered instruction focuses on skills and practices that enable lifelong learning and independent problem-solving. Student-centered learning theory and practice are based on the constructivist learning theory that emphasizes the learner's critical role in constructing meaning from new information and prior experience. Student-centered learning puts students' interests first, acknowledging student voice as central to the learning experience." (Wikipedia)


According to your experience, what kind of problems future MA students should try to avoid since the beginning of their studies? 
Some, among many (not all my ideas; collected over the years from various sources):
Your most valuable resource is time; don't waste it.

Keep up: never allow yourself to fall behind.

Always Prepare for the Worst: Some of the greatest catastrophes in graduate education could have been avoided by a little intelligent foresight.

Some faculty members can be unsupportive - or even hostile. Plan for alternative sources of guidance.

Nobody may appear to care about you. In fact, some professors care about you and some don't. Most probably do, but all are busy, which means in practice they cannot care about you because they don't have the time. You are on your own; get used to it. This has a lot of implications. Here are two important ones:
1. You must decide early on that you are in charge of your program. The degree you get is yours. Your major professor can advise you and protect you to a certain extent from bureaucratic and financial demons, but he or she should not tell you what to do. That is up to you. If you need advice, ask for it: that's your professor's job.
2. If you want to learn from someone, you'll have to go to him or her, because they won't be coming to you.
You Must Know Why Your Work is Important. When you first arrive, read and think widely and exhaustively for a year. Assume that everything you read is irrelevant or incorrect until the author manages to convince you that it isn't. If you do not understand something, don't feel bad - it's not your fault, it's the author's. He or she didn't write clearly enough.

Persist with confidence. You will continually be asking yourself, "What am I doing here?" Be patient. This stage is critical to your personal development and to maintaining the flow of new ideas into science. Here you decide what constitutes an important problem. You must arrive at this decision independently for two reasons. First, if someone hands you a problem, you won't feel that it is yours, you won't have that possessiveness that makes you want to work on it, defend it, fight for it, and make it come out as your best work. Secondly, your postgraduate thesis work will shape your future. It is your choice of a field in which to carry out a life's work. It is also important to the dynamic of science that your entry be well thought out. This is one point where you can start a whole new area of research. Remember, what sense does it make to start gathering data if you don't know why you're doing it?

Psychological Problems are the Biggest Barrier. You must establish a firm psychological stance early in your graduate career to keep from being pulled toward nonproductivity by the many demands that will be made on your time.

Graduate school is only one of the tools that you have at hand for shaping your own development. Be prepared to quit for a while if something better comes up. A real opportunity could arise that is more productive and challenging than anything you could do in graduate school and that involves a long enough block of time to justify dropping out. An example might be fieldwork in China or the USA on a project not directly related to your thesis work. Only by keeping this option open can you function with true independence as a graduate student. If you perceive graduate school as your only option, you will be psychologically out of balance, inclined to get a bit desperate and insecure, and you may not be able to give your best.

If things really are not working out for you, then you are only hurting yourself and denying resources to others by staying in graduate school. There are a lot of interesting things to do in life.

Whenever you write something get it criticized by colleagues and peers before submitting for assessment. This means you will have to finish it well before the deadline.

If you are writing in English, buy and use a copy of Strunk and White's Elements of Style. Read it before you sit down to write your first paper, then read it again at least once a year for the next three or four years. For general guidance: Day's book,

How to Write a Scientific Paper

, is recommended:
Day, R.A. 1983. How to write and publish a scientific paper. 2nd ed. iSi Press, Philadephia. 181 pp.
Strunk, W. Jr, and E.B. White.1979. The elements of style. 3rd Ed. Macmillan, New York. 92 pp. 
You are an expert in cross-cultural communication. Can you share with us three main mistakes that people usually make while starting to do business in Asia?
Asia is not one place; the differences in national cultures across countries located in the Asia geographic region(s) are at least as great between one another as between a country outside Asia. (Attempting to categorize "clusters" of cultures is not productive, and is in fact misleading).
Someone on YOUR team must be fluent in your language and the local language. Your business counterpart's translator/interpreter is not on your side.
The main mistake people make when starting to do business in any foreign culture is failure to intensively study their own culture, as well as the target culture, and to compare different expectations in the two.
Having good relationships with your business counterparts in Asia is important. Having good business relationships is important everywhere, not just in Asia. Do not use your good relationships as an excuse for abandoning common business sense. Do not let talk about your excellent relationships divert you from taking appropriate precautions and insisting on adequate protection.
Read: Midler, P. 2007. Dealing with China's "Quality Fade". Forbes Online, 26 July 2007. http://www.forbes.com/2007/07/26/china-manufacturing-quality-ent-manage-cx_kw_0726whartonchina.html
Midler, P. 2009. Poorly made in China: An insider's account of the tactics behind China's production game. Hoboken, New Jersey, John Wiley & Sons Inc.
Midler, P. 2010. Millions for food safety. 21 May, Available from: www.paulmidler.com [Accessed 29 February 2016].
Midler, P. 2011. The Blog of the Guy Who Wrote That Book About China. Available from: www.paulmidler.com [Accessed 29 February 2016].