About HSEIMUN
The fourth HSEIMUN Conference will be held on February 11-13, 2021 in a distant (online) format.
Topic: Technologies of the Imminent Future: New Possibilities and Global Challenges
HSEIMUN is an academic event for high school and university students, devoted to the global issues and organized in the Model United Nations format, simulating the UN and its main committees. During the Conference, participants represent various countries, formulate their positions and take part in the discussion of resolutions.
The main organizer of the event is the BA programme in Political Science and World Politics.
HSEIMUN is an excellent opportunity to:
practice research activities on world politics and diplomacy
learn more about the international decision-making system and the United Nations in particular;
practice negotiation skills, learn more about the profession of a diplomat;
get acquainted with peers from different countries;
increase the level of foreign languages proficiency.
Best delegates are awarded prizes from our partners and sponsors
Program
February 11

February 12

February 13
17:30 - 19:00

Workshop "Delegate's Guide to MUN"
10:30 - 11:00

Briefing with Experts (in Committees)
14:00 - 14:30

Presentation of the BA Programme in Political Science and World Politics
How to Participate
Choose a Committee

The agenda of HSEIMUN 2022 can be found here.

Apply by 31 January 2022

Before the registration, please read out Terms of Participation. After the application you will be contacted by the organizers to define the country you will represent.

Prepare for the Conference

Please read or Guide for Delegates.
HSEIMUN 2021 Secretariat

Denis Mukha
Secretary General

Danil Kandaurov
Deputy-Undersecretary
Diana Kuznetsova
Undersecretary for Logistics

Polina Kosterina
Undersecretary for Marketing

Katerina Reznichenko
Undersecretary for Business Development
Agenda 2022: Technologies of the Imminent Future: New Possibilities and Global Challenges
Disarmament & International Security [ENG]
Economic & Financial [ENG]
Social, Humanitarian and Cultural Committee [ENG]
Special Political & Decolonization Committee [ENG]
World Politics and Diplomacy Club
This year, with the help of HSEIMUN team, the World Politics and Diplomacy Club has been organized.
The Club organizes interactive seminars in the English language, where you can learn something new about HSEIMUN agenda or about world politics in general, as well as to prepare for a UN Model.
To learn more about the events of the Club, join the Telegram channel via the link.
News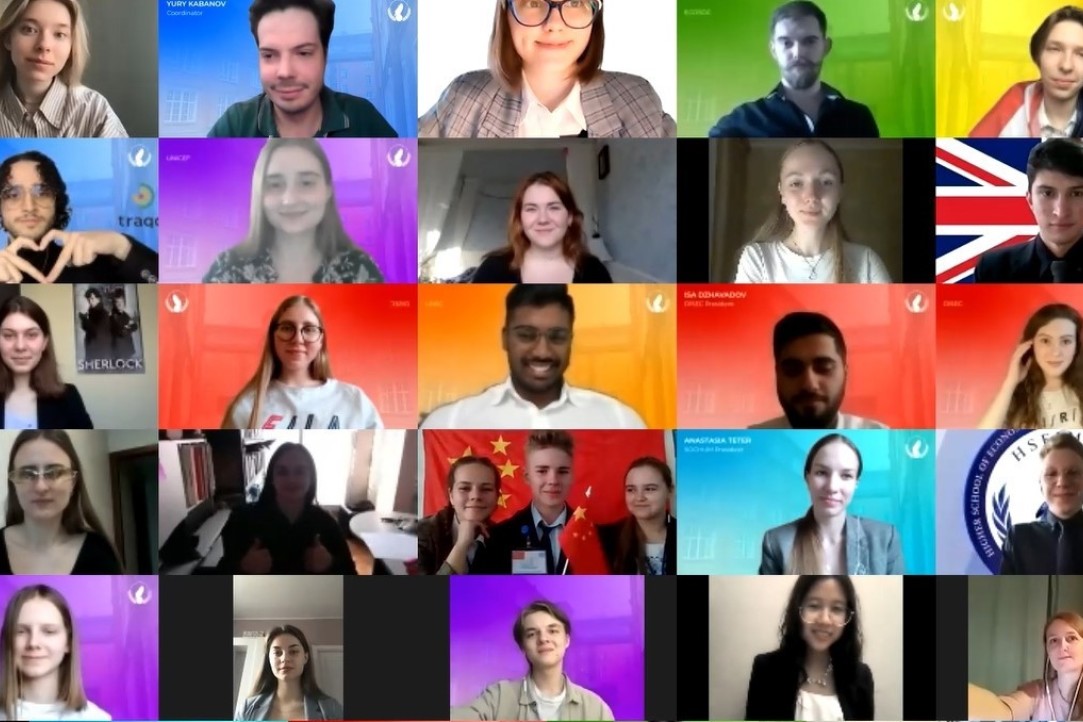 The third annual International Model United Nations conference «HSEIMUN» took place at the HSE University in Saint-Petersburg on 9-11 April. This year it was held online and gathered more than 120 participants from 7 countries.
April 22, 2021
The First HSE International Model United Nations (HSEIMUN 2018) was held in November, with more than 120 delegates from 11 countries.
December 17, 2018
Contacts
Conference Secretariat: mun@hseimun.org
HSEIMUN Coordinator: Yury Kabanov (ykabanov@hse.ru)