Accomodation information
Please be informed about possile accomodation varieties for the participants of the Forum.
1)The participants can stay in the university hostel HSE St Petersburg by the following address: Zaporozskaya 21.
In the university hostel there are two and four-place rooms, to be noted that the number of the rooms is limited (in total there are 250 places available).
The cost of stay is 177 rubles per night per person. The hotel check out is on 5th February, 2016 at 12 o'clock.
Please inform registered and potential participants of the Forum about this accomodation possibility. Deadline for hostel registration is
22nd January, 2016
. For more information please contact Viktoria Tolpegina.    
Route from Zaporozskaya, 21 to HSE St Petersburg Kantemirovskaya 3a.
2) Ale Hotel 
at Zahareskaya street, 14 

Ale Hotel is located in the center of St. Petersburg in a 3-minute walk from the underground station Tchernyshevskaya . Mini - hotel offers rooms category "Standart" (DBL) (for two persons) and "Superior" (for three - four persons) at price 1600 rubles / day (the price includes breakfast and wi-fi).
To book a room, please contact Anna Dorofeeva (+7 911 128 9060) 
Dorofeeva.ann@gmail.com

Route from the Hotel to the HSE St Petersburg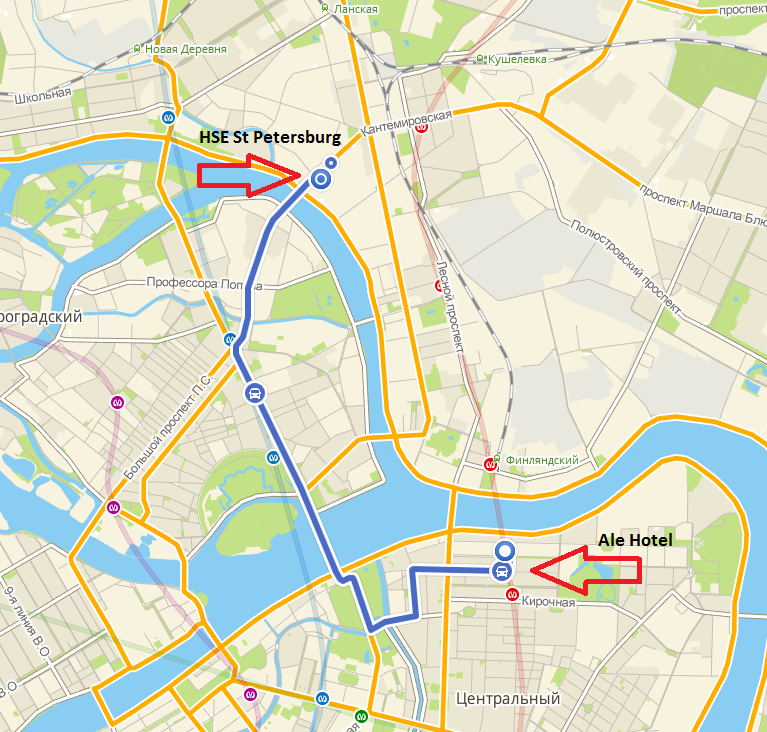 3) Hotel Vedensky by the following address: Bolshoy prospekt, 37

The participants have a possibility to stay in Vedensky hotel, in the rooms of category "standard". Two-place room is available at price 4000 rubles per night, including VAT 18% and breakfast. To book a room, please contact is Elena Afanaseva (+7 812 332 4222*9670 or +7 911 080 3998)
e.afanaseva@vedenskyhotel.ru/ www.vedenskyhotel.ru

Route from the Hotel Vedensky to the HSE St Petersburg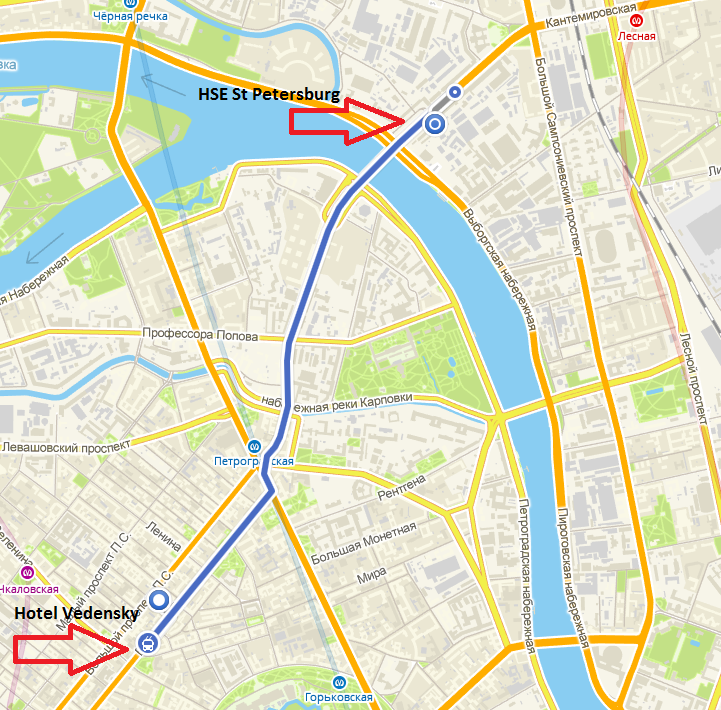 4) Underground Hostel at Voznesensky prospekt, 41

Euro - Hostel is located in the city center within walking distance from metro Sennaya / Sadovaya / Spasskaya.
2 floors : the first - reception, fully equipped kitchen-dining room, guest area; 2nd - rooms and facilities.
The hostel offers accommodation in double , four- and six-dorm rooms . Cost per person: from 250 rubles a day
Travel time from the Underground Hostel (Voznesensky Prospekt, 41) to the HSE (Kantemirovskaya 3) takes about 35 minutes by subway and 45 minutes by public transport.
To book a room, please contact Anna Dorofeeva (+7 911 128 9060) Dorofeeva.ann@gmail.com

Route from the Hostel to the HSE St Petersburg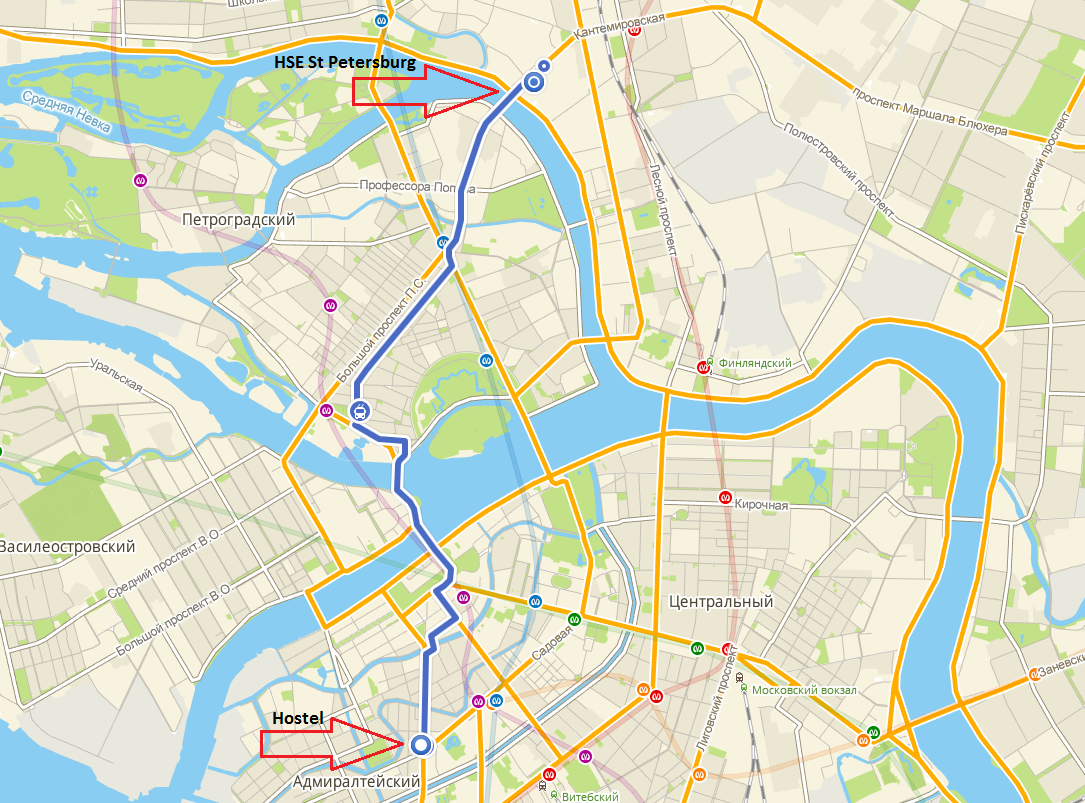 5) Hostel at Ligovsky prospekt, 108
The participants have a possibility to stay in the hotel under the following conditions: two, three, four, five and six-place rooms. The rooms are available at 450-500 rubles price per person, depending on the room type. To book a room, please contact Anna Dorofeeva (+7 911 128 9060) Dorofeeva.ann@gmail.com
Route from the Hostel to the HSE St Petersburg