The Most Wonderful Time of The Year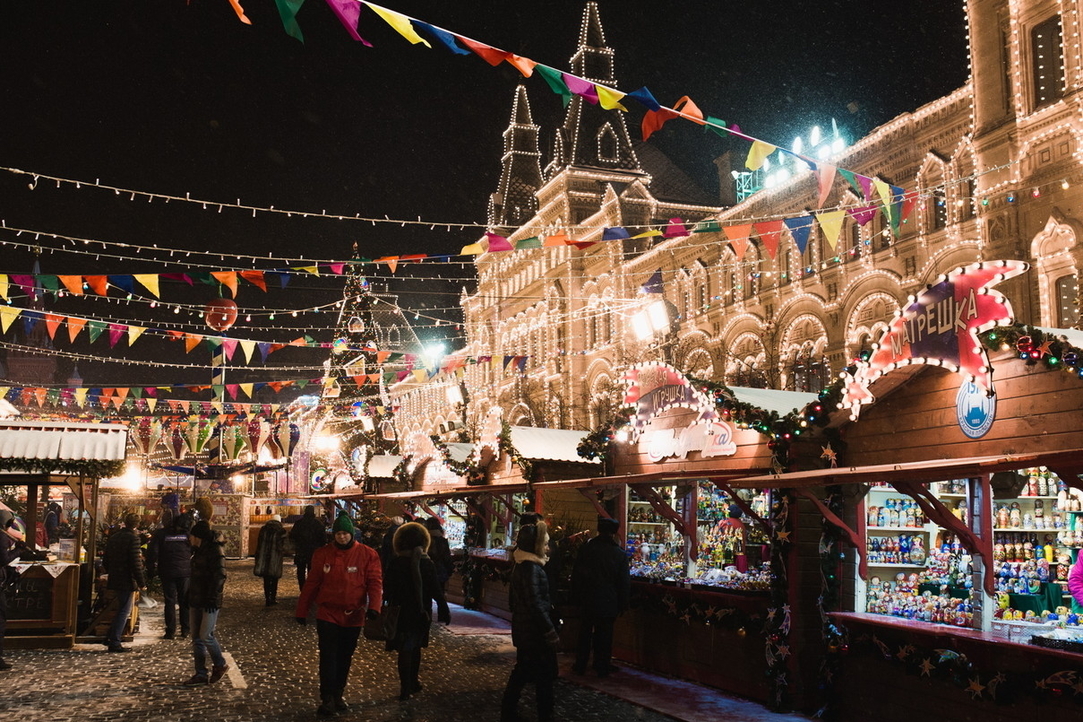 Are you ready for winter holidays? We are here to offer the best New Year and Christmas fairs and markets. Whether you are looking for a perfect present for your loved ones, doing window-shopping or just hanging around to catch some festive spirit while walking along the dazzling streetlights, you will definitely find something to your taste! From traditional Russian-style Red Square market with national cuisine dishes and authentic gifts to eccentric artsy fairs, Moscow has a lot to offer.
GUM New Year Fair
When: November 30 – February 28, every day from 10:00 to 22:00
Where: Red Square
Located in the very heart of Moscow, it is definitely hard to be missed: the flag garlands and strings of lights, along with beautifully decorated vendors, offering a variety of goods, from Russian valenki, kokoshniki and samovar to wild game specialties and fir tree ornaments: all of these is drawing visitors towards one of the biggest markets in the city.
The laughter of children, swirling around the Father Frost and his granddaughter, Snow maiden ("Snegurochka"), while they're encircling New Year trees, the warm mulled wine and apple cider, the smell of delicious pancakes and doughnuts – this is what the Red Square feels like around the New Year.
HAPPY Love XMAS at Flacon
When: December 7 – January 7. Open every day from 10:00 to 22:00.
Where: Flacon, B. Novodmitroskaya st., 36.
"The most extraordinary Christmas fair in the city", as claimed by the event organizers, has already started at a trendy design space Flacon. A former factory, Flacon now is hosting a myriad of events, and the new year market is not an exception. Here you will find not only inspiration for presents, but also get a chance to try food by some local cafes and restaurants as well as to participate in thematic workshops.
"Love is a wonder, New year is a wonder too, so what if to mix them?" – the organizers are asking. Well, I guess we will find out soon!
Happy Market at Flacon
When: December 21-22, 12:00-20:00
Where: Flacon, B. Novodmitroskaya st., 36.
Yet another market at Flacon – now proclaimed as "happy" one. According to the organizers, it will be a true celebration or happiness and joy, with a touch of "hygge", a now popular Scandinavian approach to cozy and wholesome life, which everyone is welcome to experience.
The fair will consist of several sections, dedicated to arts and crafts, with a variety of presents deals, food vendors, where one can find warm cinnamon buns and fragrant tea, and entertainment, but most importantly, the visitors are promised a warm welcome and a homely atmosphere.
Rassvet Christmas Fair at InLiberty
When: December 21-22, 12:00-20:00
Where: InLiberty, Stolyarny lane, 3
Entrance is free, but registration is needed.
You can register and find the full schedule of the event is available on the website: https://www.inliberty.ru/event/rassvet-christmas-fair/
Rassvet Fair is a huge charity market, organized together with a charity fund "Nuzhna Pomosh" ('Help is needed' in Russian). It is indeed more than a typical Christmas fair: a holiday market with apparel section, souvenirs created by people with special needs and even fir trees auction is only a small part of the event.
The organizers promise a busy schedule of classes, lectures and workshops with famous Russian authors, journalists, entrepreneurs and philanthropists. Not to mention an opportunity of buying something unique and handcrafted with love and passion and helping someone at the same time, as it is a part of a profit from the fair will be given to charity organizations and funds.
Bazar at Expocenter
When: December 22-31
Where: Expocenter, Krasnopresnenskaya embankment, 14, building 2.
The Dushevny ('Soulful') Bazar will be celebrating its 10th anniversary, with even more fun and entertainment. It is perhaps the biggest charity fair in the country, and this year it will grow even bigger by offering more than 50 thematic stations, with activities ranging from Christmas wreath workshops and lectures to public talks with volunteers and performances by the special artists of Uppsala Circus.
The festival is a true celebration of diversity of modern world. Most importantly, the funds collected at the fair will be sent to those in need: to charity funds, hospitals and orphanages. Why not to go and help make a Christmas miracle come true?
You can also come to VDNH: here there is a huge skating rink in the open. In addition, the New Year's fair will traditionally be held here. You can buy felt boots, nesting dolls, Orenburg and Pavlovsky Posad shawls - typical souvenirs from Russia.
Another great option to combine ice skating with the New Year's Fair is to visit Sokolniki Park. It is very popular place, as well as at VDNH, so we recommend that you visit both of these places and decide which one suits you best!
Traditionally, New Year fairs in the center of Moscow will be located on Tverskaya Street and Revolution Square. This is a great opportunity to take a look at such a fair while shopping in New Year's Moscow and buy something there. Moreover, Moscow before the New Year is decorated very beautiful, and ordinary walk in the center will give you a lot of pleasant pleasures!
We hope that you enjoy the holidays' fairs and markets of Moscow!
Text by
Polina Skumatova &
Anna Samoilova