Work In Progress Seminar Series
CHEMP will now be hosting a regular 'work in progress' seminar series.
The seminars will normally take place once or twice a month on Wednesday, from 18.20-19.50, in our Kantemirovskaya 3A building.

 All are welcome to attend (no registration is necessary, if you need a visitor pass please contact us (aashkar@hse.ru)) and if you would like to present your own health related research at our CHEMP seminar series, please contact the seminar convenor and Director of CHEMP, Professor Christopher J Gerry (cgerry@hse.ru)
September 6 th : Ekaterina Alexandrova: "Self-assessed Health Shocks and Labour Market Outcomes: Evidence for Russia"
(16.30-18.00, Room 246)
Abstract: This paper explores the influence of self-assessed health shocks on labour market outcomes (wages earned and hours worked). We apply propensity score matching and estimate difference-in-differences equations using RLMS-HSE data for the period 2001-2010.  We find evidence that health shocks lead to a reduction in wages and hours worked, but that the results are sensitive to the means of measuring health shocks.
September 20 th : Daria Tsyplakova and Yulia Raskina: "Health and the work ability of the elderly in Russia: limits of physical health for the increase in retirement age
(16.30-18.00, Room 343)
Abstract: The purpose of this paper is to shed light on how much ill-health (as opposed to other constraints and preferences) constrains older individuals' ability to work in Russia. We explore this question by asking how much older individuals could work if they worked as much as their younger counterparts in similar health. We also analyze the advantages of objective health measures in addition to self-reporting health for this purpose. Using data for Russia from the WHO Study on global AGEing and adult health, we argue that there is additional capacity to work at older ages.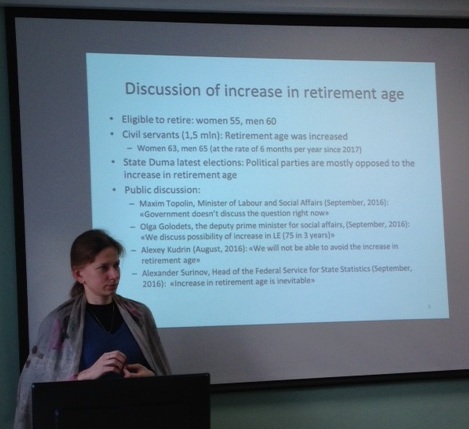 October 25th: prof. Paul Kind "EQ-5D in Russia: from clinical studies
to population health... and beyond?!"

(16:30 - 18:00, Room 358)

Abstract: This presentation will describe findings based on a national population health survey conducted in Russia in 2005. The findings are preliminary and among the first for Russia outside of the context of clinical trials. Normative reference data from this survey will be compared with corresponding material reported in the clinical literature and  a methodology for deriving a value set (scoring system) for EQ-5D in Russia will be described, along with the presentation of preliminary results. Important avenues for future research in Russia will also be indicated. This represents work in progress and offers scope for further innovation – so all ideas and suggestions will be welcome!



Have you spotted a typo?
Highlight it, click Ctrl+Enter and send us a message. Thank you for your help!
To be used only for spelling or punctuation mistakes.