Angel Barajas: 'We Focus on Finding Practical Solutions to Business Problems'
The Master's programme 'Management and Analytics for Business' is designed to instruct students on how to make independent managerial decisions on the basis and with the aid of analytical tools. Its academic director, professor at the St. Petersburg School of Economics and Management, Angel Barajas, revealed to our editorial board what tools and methods are used to train in-demand specialists and why there is no Bill Gates among the programme's professors.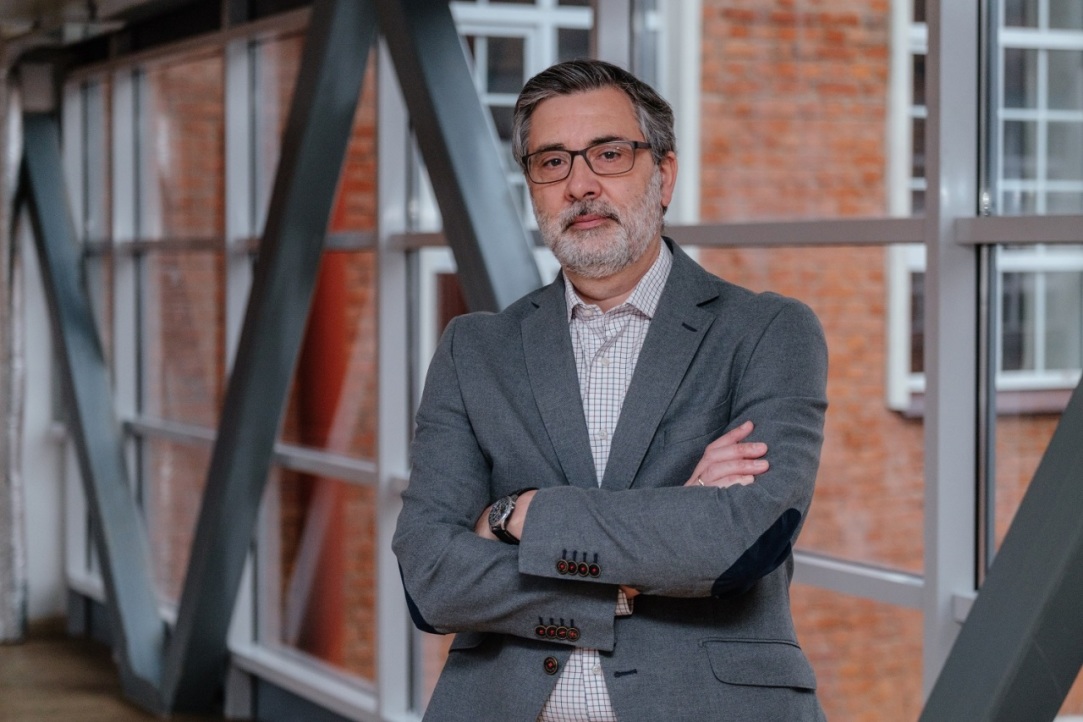 — The Master's programme 'Management and Analytics for Business' is one of the so-called dual-core programmes. What do students learn in your programme? What's the ratio of management to analytics?
As the name implies, our Master's programme is primarily aimed at training students on how to take independent managerial decisions with the aid of various analytical tools. As a result, students acquire both executive and analytical competencies required for big data processing.
We welcome students with educational backgrounds in management and economics, as well as engineering – this creates a beneficial mix for all. Hence, students with experience in management will get a chance to expand their competencies through leadership courses and receive additional analytical education. At the same time graduates of engineering, mathematics, natural sciences (chemistry, biology, physics) and other majors will receive sophisticated mathematical training, acquire the missing management skills and knowledge that are in demand on the labour market.
— How is the learning process organized in the programme? What educational tracks are available for students? Are there any opportunities for research work?
— At the moment there are five tracks. The first is called 'Customer Analytics' and is focused on marketing issues. The second track is 'People Analytics' – a unique track about human resources which you will not find in other programmes. The third track is 'Sports Analytics", we launched it because of a growing demand for professionals with developed analytical skills in the sports industry. These are the three main tracks. The specialisation track is chosen in the second year.
Then there go two more tracks. The 'Network Analysis' track is implemented in collaboration with the Master's programme in Applied Statistics with Network Analysis from HSE Moscow. It is available for a restricted number of students – a maximum of five students that can take it. The good news is that prospective students do not need to move to Moscow, they can study on this programme in Saint Petersburg. On the other hand, students from Moscow can do specialisation here in Saint Petersburg.

And last but not least is a 'Research Distinction' track, which is oriented to students who want to do PhD in HSE Saint Petersburg. The advantage of this track is that the courses studied during the second year will be recognised by our PhD programme, so the students do not need to pass them again. Consequently, they can devote more time to the research. In fact, Research Distinction's courses are taught jointly for the PhD students and our Master's students – this is an undeniable advantage for those who want to develop deeper analytical competencies, as well as obtain a PhD degree.
The learning process depends on the chosen course. We try to introduce practical projects from the very beginning of the studies, helping students to acquire the necessary hands-on skills in the chosen speciality. In this regard, research seminars are especially important, since they allow learning how to independently solve fundamental problems and conduct research.
We regularly conduct project seminars, during which students are asked to solve business cases. Besides, it is a common practice for partner companies to ask our students to address real-life challenges. And in the course of the training, there are also individual projects which require students to complete practical assignments. For example, to take the Applied Statistics with Network Analysis Methods course, students first need to pass the Google IQ and Yandex.Metrica certification exam.
Apart from that, we assist our students when choosing a topic for term papers and master's thesis.
— Which of the following does the programme help students develop more – research or business skills? What opportunities does it offer for an academic career?
— Since HSE is a national research university, education is primarily research-oriented. At the same time, we try to involve our students in real-life management activities. Thus, we apply the results of students' scientific work in addressing companies' actual business challenges. For example, when somebody is defending a Master's thesis, we always ask the following questions: 'What are the managerial implications of this research? In what way is this going to be beneficial for business?'
Receiving training at the HSE University, our students can boast strong research skills. However, when evaluating the Master's thesis, we place an emphasis not on a problem statement's sophistication, but on its relevance in solving real-life business situations. Any research should be practice-oriented, so we try to focus on practical solutions to business problems.
We are committed to finding solutions for actual challenges in business, economy, and other particular sectors.
We are always open to discussing non-standard dissertation topics and conducting research in a variety of fields, from retail to music industry. For example, in the course of practical training on machine learning, our students had to develop and present solutions to specific problems. One team created a solution for selling customized gifts, while the other made it possible to browse and identify various companies on the marketplace to allow customers to select an optimal logistics solution.
In the previous academic year, I supervised a master's thesis, part of which turned out to be the first stage of a real project of a company, in which later the student did an internship. The student developed an application for suggesting tailored health advice. This case was very interesting because the student started doing an internship in the company, then we linked the internship with her Master's thesis, and soon she got a job at that company. So that was a win-win situation for both sides.
— Are there any opportunities for pursuing an academic career?
— Of course. Our students are welcome to join PhD programme upon graduation. We do our best to engage PhD students in academic careers. This way, they can keep working with us later, once they have defended their PhDs.
There is also an opportunity to become teaching assistants in the second year or start working within the laboratories of our campus. At this stage, students get a chance to develop their own research by learning from professionals who are currently working on projects.

Besides, we keep in close contact with international laboratories. We have a strong collaboration with the International Laboratory of Intangible Driven Economy, and we also collaborate with other laboratories where students can work or do an internship.
— Where can the programme's students undergo internships? What tasks will the interns need to solve?
— The majority of our students do internships in HSE partner companies. We have already built a large pool of companies who are pleased to receive our interns. In some cases, students can propose a company where they would like to do an internship. As for international students, they sometimes prefer to do internships in their own countries. In this case, we sign an agreement.

Besides, they can become interns at HSE – Saint Petersburg laboratories. It is during the internship that students get a chance to apply their analytical skills, and we, in turn, try to involve them in as many interesting practical tasks as possible.
— Can you please tell us more about the double degree programme. How competitive is it?
— We have a double degree track with the Barcelona School of Management of Pompeu Fabra University. In the second year of studies, students from Spain can come to the Higher School of Economics – St. Petersburg to study on our programme, while our students travel to Barcelona to receive training on the Master in Marketing or Master in Management programme. In addition, Russian students can do an internship in Spain. It is important to note that the master's thesis has to be defended at both universities, but it can be done at the same time.

To get into the double degree programme, students should fill in the application form and go through the selection process – from our campus and the partner university. It is worth noting that the students have to pay the tuition fee for studying in Barcelona School of Management (in St. Petersburg, in case of international exchange, students are exempted from paying for the year they are on an exchange). The university also offers the possibility to win a scholarship.
We are also working on a dual degree programme with EDHEC Business School, but so far this collaboration is still underway.
— Can the students participate in international academic mobility? Who are your foreign partners?
— As I already mentioned, we are cooperating with the Master's programme 'Applied Statistics with Network Analysis' at the Higher School of Economics in Moscow. Our programme offers all the opportunities for international academic exchanges that are present at the HSE University in St. Petersburg and Moscow. Many second-year graduate students travel abroad for an exchange semester. Our partner universities being ranked among the best in the world, there are many opportunities for students to gain valuable experience.
The programme is part of the QTEM consortium network that brings together the best students of master's programmes from universities around the world with international companies. This is an exclusive club, in Russia there are quite a few universities that belong to this network.
Despite the programme being quite young, we are ready to begin the process of passing the international EPAS accreditation.
We are committed to maintaining the best education quality, so we cooperate only with the best universities.
We are proud that our education meets European quality standards. For example, if Barcelona School of Management decided to launch a double degree program with us, this means that our educational process has the same level of education quality as Pompeu Fabra – one of the leading universities in Europe in this field.
— What is the main advantage of the programme for future career prospects?
— Well, the programme consists of several modules, each of which grants the students vital skills that can be leveraged at the moment of job hunting and throughout the employment, so it is hard to single out just one feature.

The programme is held in English, and we accept a large number of students from different countries. In previous years, the percentage of foreign students ranged from 25 to 33%. The St. Petersburg School of Economics and Management is cosmopolitan – the faculty has both foreign and Russian professors who have completed advanced training courses or internships abroad.
In addition, we often organize unique courses and lectures, inviting prominent foreign and Russian professors with experience working abroad. For example, Christophe Cousman from the IÉSEG School of Management (France) teaches a course at HSE – St. Petersburg. Some courses are taught by professionals with industry-specific experience. We have a hands-on course developed by a digital marketing company. The course on professional strategic management is taught by the CFO of the Moscow Stock Exchange, who previously held the position of CEO at other large companies.
We often invite our former students to give lectures and seminars on separate courses, to share their experiences. That said, the programme is international in every sense: on the part of students, professors and young professionals. Enrolling students from different educational backgrounds undoubtedly enriches the learning process. We have a lot of students with technical education – mostly engineers and programmers. And, of course, we have students who have already studied economics, management or business administration.
We try to encourage our students to work in groups. They have the opportunity to jointly prepare master's theses. These tasks involve a lot of work, so it stimulated the students to work as a team, and we try to make these teams as international as possible – not only by country, but also by academic background. Such teams will be able to better understand the country's market and the specifics of doing business.
— Who teaches at the programme? Can you give us some big names?
— Well, we do not have Nobel laureates among professors. Bill Gates doesn't teach here either. But I don't think we need it. After all, when opting for a programme, students pay more attention to quality and stability.
It is no secret that a master's programme brochure with photographs of famous personalities attracts more attention. But will the stars be with us from year to year? It is much more important for students to see a professor who will support them throughout the course and truly love the subject.
Nevertheless, this does not negate the fact that we are actively inviting representatives of different industries. For example, even during the past lockdown, we managed to invite the general director of the American Major League football club Orlando to the track under the Sports Analytics programme. We also had representatives from the Brazilian club Fluminense.
— Can you please list the major subjects of the programme. Explain why they are important?
— That is a very difficult question. During the first year, we try to provide students with basic courses — all students have to take them. However, it does not mean that these courses are more significant than others. And, of course, students always have their personal preferences for certain tracks. It also depends on personal background.
The curriculum is balanced and is aimed at providing students with more managerial skills. I would highlight several courses focused on working with statistics and the use of analytical skills. A very interesting course, for example, "Practical Machine Learning and Data Analysis" applies to strategic management, which is widely applied in modern business.
There are two courses aimed at solving burning business problems. They are associated with the use of analytical tools; to pass them, students need to first obtain a Google Analytics IQ or Yandex.Metrica certificate. During the first year, students take a course in data analysis to optimize marketing costs so that they can fully focus on marketing. However, I would not say that these courses are the most important.
In general, students make a choice in favour of those subjects that are useful for their future work or study.
— What is your perfect prospective student like? Which skills, education, or personal qualities should they possess?
— The first thing we pay attention to is high academic performance. We carefully look at the curriculum, academic track record, grades. Once I had a situation when an applicant with a philologist's diploma in English literature did not pass the selection process, because the commission was sure that she wouldn't handle the programme. But when re-applying, it was decided to give the applicant a second chance, and as a result, the student coped very well with the exams and succeeded. So the second criterion will be motivation and genuine interest in research. In this case, it was the interest and initiative on the part of the applicant that became the engine of progress in learning. Also, we pay attention to the ability to work in a team and communicate.
Students want to get an education that will allow them to be in demand in the market and receive a high salary, however, we would, first of all, like to enrol those for whom a degree is not just a high income, but a lifestyle, motivation for professional and personal development.
— How can applicants prepare before starting their studies in the programme?
— Candidates should learn at least the basics of working with R, Python, or STATA — these are the most common software that we use. Python is becoming very popular, it comes in handy for data collection and processing. This can be relevant for those applicants who, for example, have managerial skills or business education. Besides, it is a good idea to start reading something focused on business.
However, it is not necessary since students will have onboarding courses at the beginning of their studies, which helps them to adapt. Applicants can as well follow tutorials on YouTube for STATA or R. Still, even if some students have no idea about the basics, during a well-built training process, everybody will get a chance to catch up.
— What are the career prospects of the programme's graduates?
— I can say for sure that our graduates do not have problems with employment because they receive truly valuable and hands-on skills. One of the reasons why it was decided to launch the programme at the Higher School of Economics in St. Petersburg was the need for narrow specialists. There are companies that are more focused on machine analysis or big data processing, such as Yandex, Gazprom Neft, etc. And there are companies representing banking, retail and even the pharmaceutical industry. Companies of all sizes ask our students to do internships at their offices since today they are faced with the question of finding specialists capable of managing big data – this is especially felt in retail with online sales or IT. Quite often students are offered internship opportunities with future employment.
We are very proud of the fact that industry representatives who take part in the examination board express purely positive feedback on the preparation of our graduates and search for potential candidates for employment at our department.
Angel Barajas