Critical Thinking is Key
Christopher Gerry, the Academic Supervisor of the Department of Humanitarian and Social Sciences, has worked at the Higher School of Economics' St. Petersburg campus since September 2014.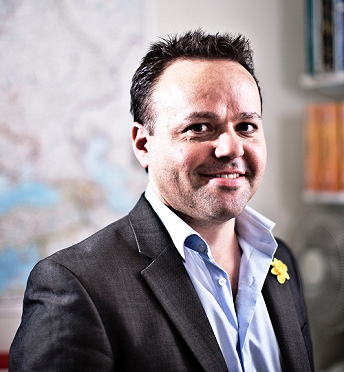 Christopher Gerry, the Academic Supervisor of the Department of Humanitarian and Social Sciences, has worked at the Higher School of Economics' St. Petersburg campus since September 2014.
He received his bachelor's in economics, as well as his master's and PhD, from the University of East Anglia in Great Britain. Professor Gerry previously taught at University College London, where he conducted research on the economics of healthcare. More specifically, Professor Gerry studied how the economic situation affects a population's health and the reforms BRICS countries carry out in this sphere.
— Are you still involved in researching health economics in Russia?
— I am. Health economics is one of the fastest growing areas of the economy, but in Russia it is still largely neglected. This mustn't continue, and changes are vital. That is another reason why I am so enthused about my new job. I hope that health economics and research in this area will play an important role in the curriculum and research of HSE students.
I am currently researching the economics of smoking in Russia. I'm attempting to identify the connection between changes in economic policy and tobacco consumption models.
I spent the last three years working part-time at the European University at St. Petersburg on a project aimed at developing health economics as a discipline in Russia, and I also was in close collaboration with the HSE in Moscow.
— Student exchange programmes between the HSE and University College London are one of the outcomes of this collaboration.
— In my opinion, international student exchanges and student and teacher involvement in international collaboration is an important task for universities. I hope I'll be able to apply the experience I've accumulated in this sphere and help develop ambitious plans for the internationalization programme at HSE St. Petersburg.
— What, in your opinion, distinguishes academic work in Russia from academic work in Great Britain?
— Broadly speaking, the goals of academic activities in Russia and Great Britain are very similar, but the ways in which these goals are reached differ dramatically. Here are the three main differences that I've identified. Firstly, learning and teaching approaches – in Russia, students receive fewer office hours, which slows down their academic research and limits academic development. Secondly, financing mechanisms for academic activities differ – the British government has now stopped financing education in the social and humanitarian sciences, and this creates a serious problem in the development of these academic fields. Thirdly, Great Britain focuses first and foremost on research and the results of research, and after this comes remaining university activities.
— You are currently the academic supervisor of the Department of Humanitarian and Social Sciences. What endeavours are you going to embark on in this field?
— I hope that this position allows me to share the positive experience I have gained over the course of my academic life outside of Russia. This experience will allow me to contribute to improving the learning and teaching process at the HSE, as well as to help students become more productive academically. I have some developments in Quality Assurance and Enhancement (QAE), and I would like to present an official strategy in this area soon. This strategy will protect students' interest, guarantee learning and teaching standards and broaden international collaboration at the HSE. This position is very closely connected with my other academic endeavours: the internationalization of curricula and students, innovation implementation, and personalized research based on the academic curriculum.  All of these areas are consistent with the principles currently being implemented at the St. Petersburg campus. If I am successful in carrying out these goals at HSE St. Petersburg, then I will know my time here was meaningful.
— What is important for you when working with students?
— When I create a course syllabus, I always try to join together separate elements with a single logical thread. I often see teachers and students start to dive into minor details, but in doing so they lose the overall point and do not see the whole picture.
It's most important for me that students be able to see for themselves why a given discipline or question is important. It's important they see how to gain a deep knowledge of a given area and determine what the main plusses and minuses of a given argument are. The main this is an ability to think critically.
— Professor Gerry, what do you like to do in your free time?
— I admit, I'm an ardent fan of football and the team Nottingham Forest. Aside from football, I really enjoy hiking in the mountain – my favourite are the Tien Shan Mountains – and I like to cook all different types of things. I'm particularly drawn to vegetarian cuisine.
— What are your favourite books?
— I unfortunately don't read a lot of literature since most of the time I spend reading is devoted to articles and books focused on my academic interests. But nonetheless, I really like fiction and autobiographical books, especially those that touch upon health-related problems, particularly issues with psychological health. I've traced back literature written on this subject over the last hundred years – a very exciting pursuit. This also helps come up with topics in the field of health economics. Recent favourites include Jeanette Winterson's Why be Happy When You Could be Normal?
Prepared by Natalia Gross