"Higher School of Economics and Saint-Petersburg in my eyes"
My name is Zhang Caiyu, I'm a graduate student of Higher School of Economics in Saint-Petersburg, where I study master's program 'Experience Economy: Hospitality and Tourism Management'. Actually, I completed my bachelor's degree in Ukraine, Kiev. My major was Russian language, so in the end of my study I decided to continue my education in Russia. I browsed several universities' websites and the university that at once attracted my attention was Higher School of Economics. I had an impression that it's completely different from the traditional Russian universities, as it's truly modern, internationalized, open and, what is the most important, actively developing educational institution. I've never experienced such a unique approach to education used here, but I was enthusiastic to try it, I even had a feeling that HSE is the university, where I always dreamt to study. Therefore, without any doubts I applied for a study in HSE, and after completing all the formalities I was successfully enrolled. In September 2017 my wish was fulfilled, I arrived at St. Petersburg and now I can say It was "love at first sight".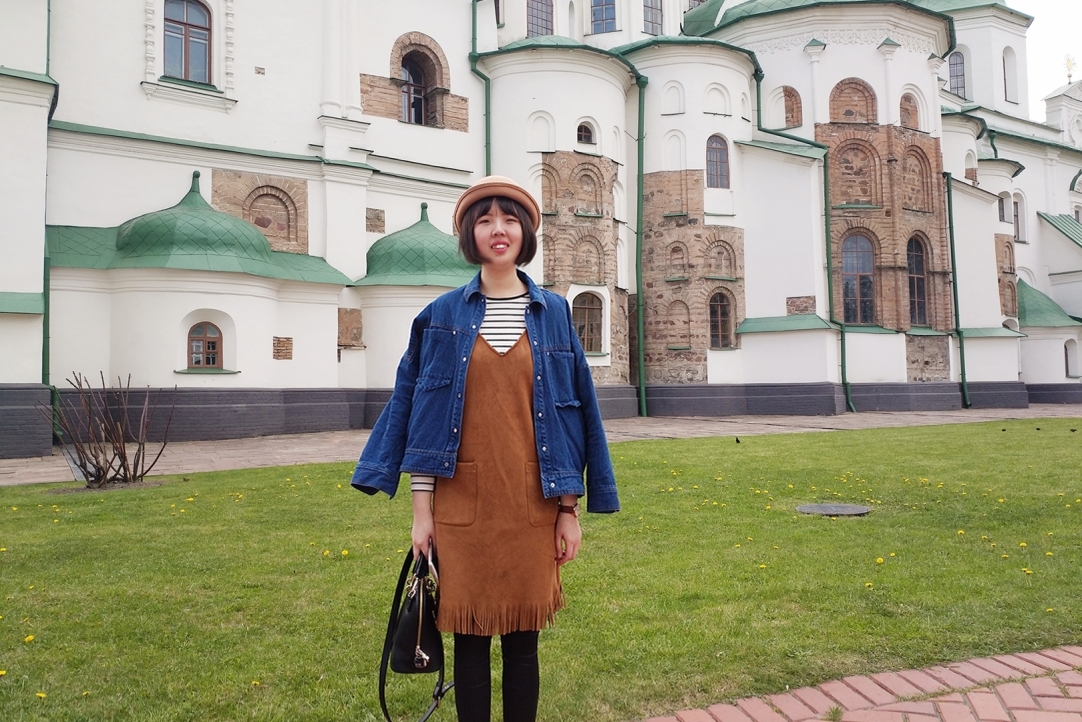 Saint-Petersburg is a beautiful "embattled city" with renaissance atmosphere, which combines imperial dignity with a charm of fairy-tail. Higher School of Economics is one of the world's first-rate universities with advanced educational technologies, so I feel very proud of this university and happy to study here.
St. Petersburg deserves to be called "cultural capital of Russia". I am impressed by its marvelous sceneries over and over again. Its deep cultural atmosphere attracts peoples from every corner of the world. In the center of the Decembrists square you can see a bronze statue of Peter the Great proudly sitting on the horse; In front of St. Isaac's cathedral there is a bronze statue of Nicholas I; 100 colleges and universities, a great number of libraries, museums, theaters with extremely talented actors reflect the spirit of the ancient city; Pushkin, Gogol, Tolstoy, Ulanova, Repin, Lomonosov are famous cultural celebrities, who contributed the long history of Russian culture, and they lived there all their lives. Voltaire, a famous French writer and philosopher once said: "St. Petersburg combines the best features of all European cities."
Ones you set foot on this beautiful city, you'll never forget the power of its culture. Historic buildings of the city are represented by the European baroque style of 18th century and classicism. The baroque buildings compose an architectural ensemble. The gorgeous, luxurious materials and many decorations used in the buildings make it even more impressive. Those details which are embedded in every building is a special language that tells romantic stories about the past. Hermitage, Smolny Palace are examples of the baroque masterpieces. 300 years ago, these buildings silently watched the human beings, and now they still make us exclaim in admiration.
The campus where I study is located in this marvelous city. National Research University "Higher School of Economics" St Petersburg (HSE St Petersburg) is a research-oriented university that has always been a Russia's market leader in teaching and research. The university's motto is "everything, that happens here, happens for the benefit of our students". In the latest QS rankings, the campus stands among Top 200 universities worldwide in the fields of economics, social science and humanities.
Interdisciplinary approach to education and research with the teaching philosophy focused on internationalization is one of the major features of HSE. The university organizes research-led academic, project, expert and socio-cultural activities based on international academic standards. There is an international team of teachers from 25 countries, who combining Russian education traditions with the best teaching and research practices from their countries. Moreover, there are over 120 courses in English. Therefore, HSE students have opportunity to accept the guidance of world-famous supervisors in different fields of study and participate in international exchange programs. The school is full of its own unique charm. In my major, I learn either Russian or English. It is a quite big challenge for me, but at the same time it helps me to train my ability to learn.
The professional teachers staff is another unique feature of HSE. The university has many excellent teachers, most of whom have master and doctoral degrees from the world-renowned universities. A lot of top-ranked universities in the world are academic partners of HSE in St. Petersburg. Every teacher has rich teaching and research experience and is very approachable, friendly and professional. If I have any difficulties, I always ask them, and they answer me as soon as possible, help to solve any problem, support me. Their teaching approach is also very interesting. We often play games in class and interact with each other. All of us are very positive and active. I think this teaching approach is very effective.
HSE St. Petersburg is comprised of 3 "big" faculties: St. Petersburg School of Social Science and Humanities, St. Petersburg School of Economics and Management, St. Petersburg School of Law. The educational system is designed to fully prepare the students for their careers, equipping them with the competencies and skills that they need to succeed.
Learning environment and first-class accommodation are big advantages of the university. There is very comfortable educational environment, bright, spacious and clean classrooms, advanced teaching equipment. The learning atmosphere in the campus is very strong – in every corner of the university you can meet Russian 'Xueba' (scholar-lords) preparing for the class or just self-studying.
My classmates are well-educated people and definitely very nice guys. We celebrate each other's birthday, work in team and do our homework together. I am a foreigner, that's why they help me in many situations, very polite and cheerful to me.
Housing and accommodation conditions provided by the university are great. There are 24-hour lift and hot water facilities. Full-time security guarantees the students' safety, to enter HSE student dormitory you need to use special card. All rooms are furnished with beds, desks, chairs, wall shelves and a wardrobe, each room with its own facilities. Each floor has a study room, a hallway with lockers and a shared kitchen with an electric cooker, fridges and microwave. Students from different countries, as well as Russian students, live here. They are very warm and polite, help and take care of each other.
HSE is a dynamic university, which sets itself apart with its international presence and cooperation. I really enjoy studying here and I will do my best to finish my master's degree and make myself an excellent specialist in my field.