Historical Heritage (Industrial, Cultural, and Natural) and Tourism in the Past and Present
The project is realized under the HSE Fundamental Research Program.
Period: February - December 2017
Head of the project
Julia Lajus
Лаборатория экологической и технологической истории: Ведущий научный сотрудник
Aim
The study of the complex process of understanding, creating and using the "heritage" (heritage) as a unique and significant resource that has an impact on the socio-cultural and economic transformations, both in the past and in the present. Particular attention is paid to issues relating to the conceptualization and representation of the past in the process of creating and preserving objects of cultural, industrial and natural heritage.
Main tasks
Study of different models of the interaction of the monastery as a cultural space and a heritage site with the surrounding socio-cultural environment using the cases of the Solovetsky and Kirillo-Belozersky monasteries;
Consideration of the approaches and practices of studying and representing the past with the museumification of estates that have arisen in the Russian Empire and found themselves beyond its borders, using the example of A. H. Benkendorf's "Fall" estate (Keila-Joa, Estonia) in a comparative perspective;
Studying the role of cultural and natural heritage (and attitudes towards it) in the history of tourism practices and the development of the tourism industry based on the study of visual materials;
The study of maritime tangible and intangible heritage (cultural and industrial practices - intangible heritage) on the example of lighthouses, port facilities and fishing practices on the Baltic and White seas;
Study of the functioning of the industrial heritage of the imperial and Soviet periods on the examples of individual infrastructure projects (roads, canals, hydroelectric power plants, etc.) and industrial urban settlements in different socio-cultural and natural environments in the north-west and north of European Russia, including the border areas with Finland and Norway, in the Arctic and in Africa;
Reconstruct the formation of the transnational cultural heritage of the Baltic region, associated with the production and use of amber in the second half of the XX c. (1950-1980e) and analysis of its usage for the development of modern directions of cultural and industrial tourism in this region;
Study the UNESCO's activities on the preservation of cultural heritage monuments during the Cold War and the analysis of selected modern case studies from the list of cultural heritage monuments protected by UNESCO in the territory of the Russian Federation.
Project participants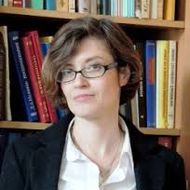 Kseniya Venediktova
Research assistant
Воскресенская Елена Владимировна
Research assistant
Галюта Екатерина Дмитриевна
Research assistant
Alexandra Babikova
Research Assistant
Репьев Александр Александрович
Research Assistant
Мануйлов Алексей Дмитриевич
Research Assistant
Maria Kulikova
Research Assistant
Хорошавин Антон Андреевич
Research Assistant
Irina Fedorova
Research Assistant
Чернышева Софья Игоревна
Research Assistant
Have you spotted a typo?
Highlight it, click Ctrl+Enter and send us a message. Thank you for your help!
To be used only for spelling or punctuation mistakes.